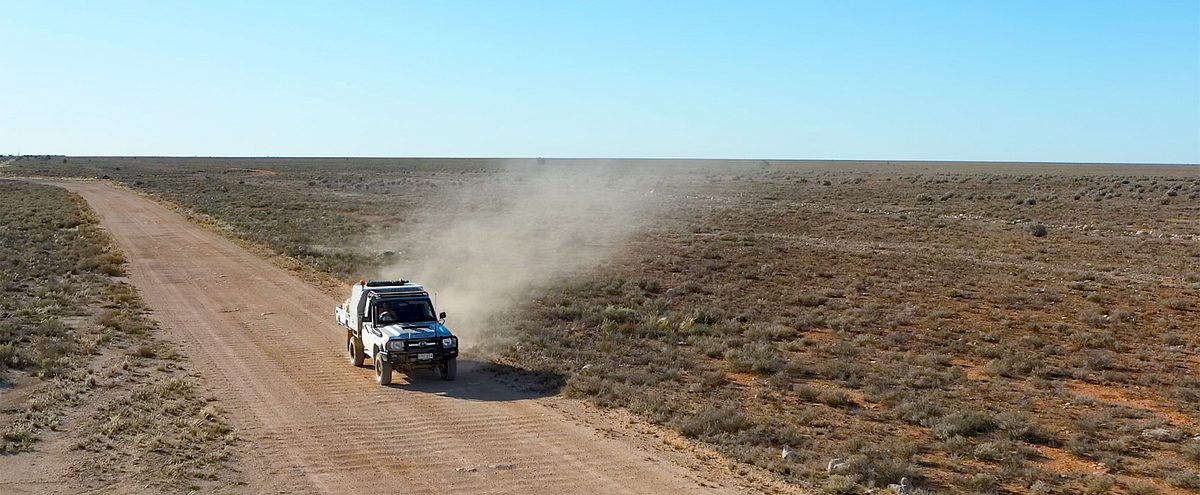 Visitor safety
Travelling in remote regions
When planning to travel into the remote regions of the Alinytjara Wilurara the most important thing to ensuring your safety is careful preparation. Driving through Australia's remote and rugged areas requires careful planning and preparation before heading into remote areas.
It is important that you ensure you have:
a roadworthy vehicle fitted with GPS and two spare tyres
good maps
extra food, water and fuel
an emergency plan
Plan your route carefully and notify a third party of your expected arrival. Check road conditions before beginning your journey, stay with your vehicle if it breaks down and avoid travelling in extreme heat conditions. If driving a conventional vehicle through remote areas, drive slowly on unsealed, dusty or narrow roads and always check road conditions before turning off major roads.
Remember that mobile phones have limited coverage in remote areas, so check your phone provider for coverage. The safest option is to have a satellite phone.
Walking in remote regions
When walking in remote regions, remember to:
avoid snake and spider bites by wearing protective footwear and taking care not to provoke a situation
if bitten, seek immediate medical attention
wear protective footwear, a hat, sunscreen and insect repellent
if possible take a topographic map and plenty of water
don't feed or play with native animals, you might get scratched or bitten
Medical assistance
For all emergencies phone 000
Flying doctor
Central Operations SA and NT (24 Hour Medical and Emergency calls)
Port Augusta Base: 8648 9555 (covering all South Australia and in NT, and everything south of Tennant Creek)
Health services and clinics
Oodnadatta Health ServiceTelephone: 8670 7803 Address: Ikaturka Terrace Oodnadatta, South Australia Opening hours: 9am to 5pm, Monday to Friday
Coober Pedy Hotel Telephone: 8672 5009Address: Lot 89 Hospital Road Coober Pedy, South Australia
Ceduna District Health Services Telephone: 8626 2110Address: 3 Eyre Highway Ceduna South Australia
Tullawon Health Service (Yalata)Telephone: Clinic: 8625 6237 Admin: 8625 6255 Address: Eyre Hwy, Yalata, South Australia Opening hours: 9am to 5pm, Monday to Friday
Yulara Health Centre Telephone: 8956 2286 Address: Yulara Drive, Yulara
Ernabella Health Clinic Telephone: 8956 2946 Address: Ernabella Community Pukatja Homeland
Amata Clinic Telephone: 8956 2910
Fregon Clinic Telephone: 8956 2918
Iwantja Clinic Telephone: 8670 7986
Mimili Clinic Telephone: 8956 2974/7251
Mimili blue phone Telephone: 89562816
Nyapari Clinic Telephone: 8956 7441
Pipalyatjara Clinic Telephone: 8956 7503
Pukatja Clinic Telephone: 8956 2946
Watarru Clinic Telephone: 8956 2852 or 8956 7721