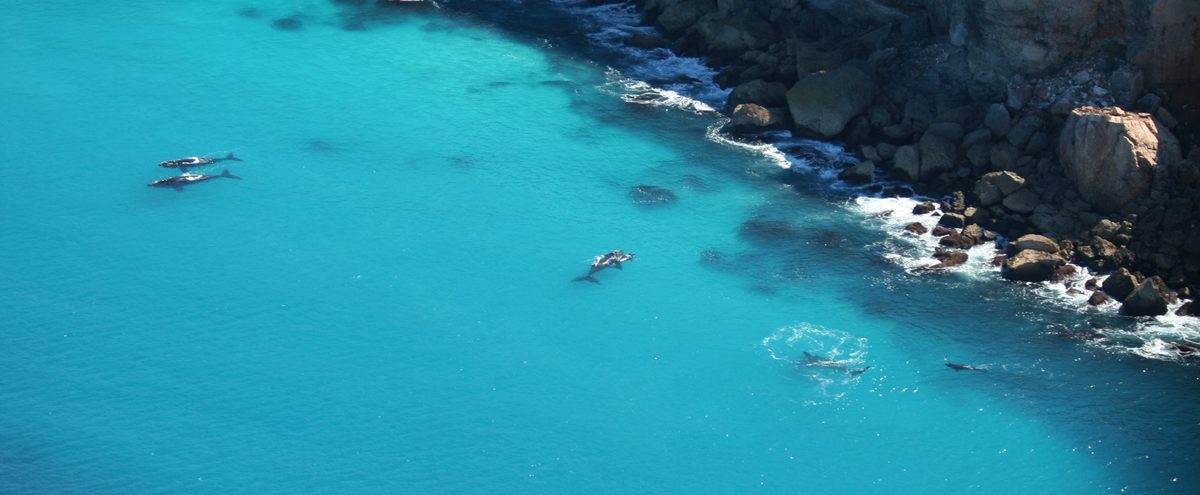 Whales
Large numbers of migrating whales are sighted each year in the waters off South Australia's west coast. These southern right whales usually live well offshore in the Southern Ocean. Between May and October they reside in the warm, shallow coastal waters for their mating and breeding season, where their young calves are protected from harsh weather conditions and potentially dangerous sea floors such as coral reefs.
Once abundant, southern right whale numbers were drastically reduced during intensive whaling activities in the 1800s. Today, the southern right whale is endangered, with the population estimated at just ten percent of that before whaling. Numbers are now slowly increasing, with the whales' breeding area in the Great Australian Bight protected by the Far West Coast Marine Park. Marine parks have been designed to help protect threatened and endangered species and the habitats they rely upon for breeding.
Whale watching
Whale watching can be spectacular! Weighing up to 70 tonnes, the whales can be seen close to the surface and by late August mothers with young calves are often spotted. The Head of Bight Tourist Centre provides a unique destination for whale watching. Built on Yalata land, the Tourist Centre offers boardwalks and a viewing platform, as well as events and kids' activities.
Whale survey project
The whale survey project at the Head of the Bight has monitored whale numbers since the 1990s by recording the patterns of callosities (area of skin covered in crustaceans) and other markings that are individual to each whale. Over 1000 individuals have been identified, significantly contributing to our understanding of the species.
More information
Head of Bight Tourist Centre
08 8625 6201