Sponsorship for the 2022 WoTL Thriving Women Conference
19 November 2021 until 17 December 2021
The Eyre Peninsula Landscape Board is offering two local women the opportunity to attend WoTL's conference next year.
The Thriving Women 2022 Conference will focus on the "Impact of Us", acknowledging and fostering the impact women are having on their own lives, businesses, communities and industries. It's also about securing a sustainable future for women living and working in agriculture and associated industries.
The conference will be held on February 21 and 22 at Hanhdorf.
We have two sponsorship packages to support two Eyre Peninsula women to attend the conference. The package includes the two-day conference ticket and two nights' accommodation in Hanhdorf (February 20thand 21st).
If you would like to apply for one of the sponsorship packages, please fill out this application form and return it to us by Friday, December 17, 2021 via email to EPLBAdmin@sa.gov.au.
Find out more about the conference.
Successful candidates will be expected to cover their own travel costs and arrangements to and from the event.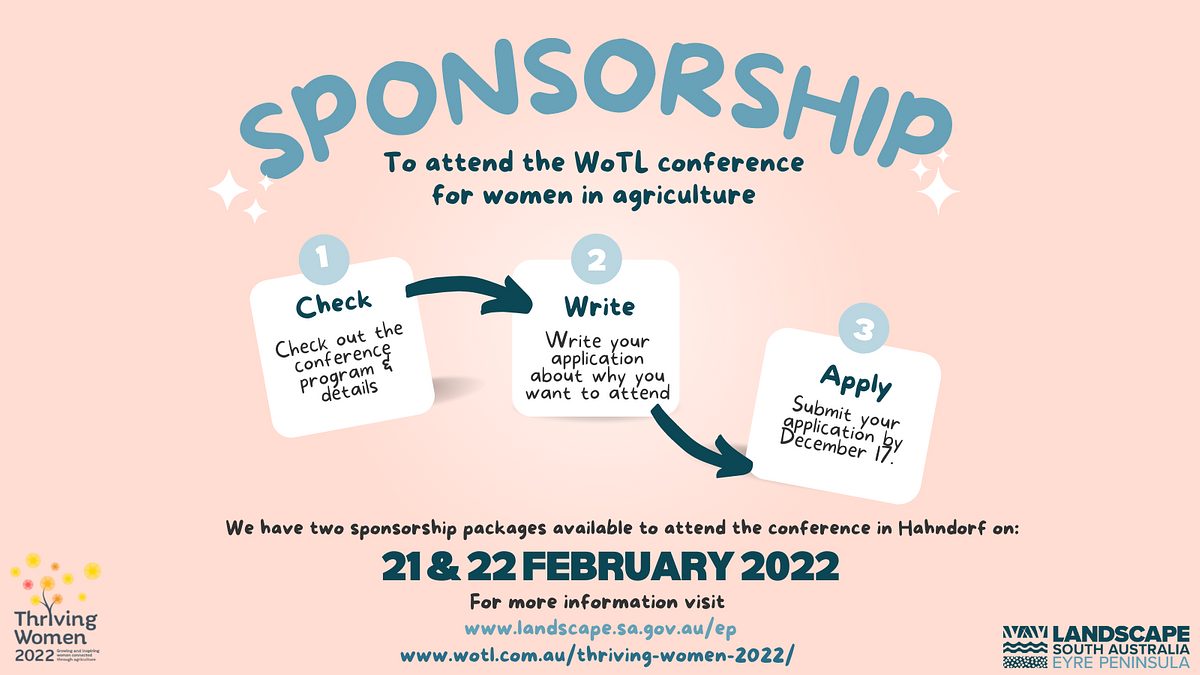 We expect to notify successful candidates before Christmas.
If you have any queries about this, you can contact our Communications and Engagement Officer, Katrina Phelps on EPLBAdmin@sa.gov.au or 0488 005 880, during business hours.