Rare orchid excites experts
News release
18 April 2017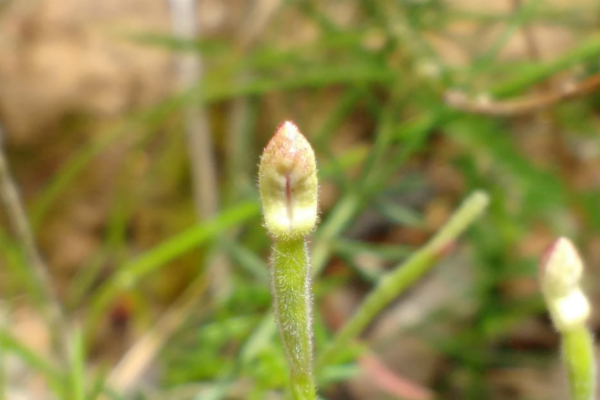 Photo: Closed fingers orchid. Credit Tim Jury.
A tiny patch of extremely rare orchids found recently banear Deep Creek Conservation Park is the only one known in all of mainland South Australia.
Until now, the Closed Fingers Orchid (Caladenia cleistantha) was known to only grow on Kangaroo Island and just a few locations on the eastern seaboard, where its small size and unusual shape makes it easy to miss.
This odd-looking orchid with a pale yellow flower that never really opens (thanks to its ability to self-pollinate) was sighted on a private property near the park by sharp eyed botanists.
Natural Resources Adelaide and Mt Lofty Ranges (AMLR) ecologist Elisa Sparrow said there is not much information on this species, with only two records known from Kangaroo Island.
"This is the first record on mainland in South Australia, and in the Adelaide and Mount Lofty Ranges," Dr Sparrow said. "It's very exciting."
As experts who are highly experienced in spotting unusual plants, Tim Jury and botanist Bob Bates from the Threatened Plant Action Group made the discovery, while working with Natural Resources AMLR staff to assess the biodiversity of the site.
The assessment was a preliminary step in creating a plan to protect remnant vegetation on the privately owned property, which could provide a home for endangered species such as the southern brown bandicoot and Mount Lofty Ranges Southern Emu-wren, known to be present in neighbouring Deep Creek Conservation Park.
The property is also home to communities of Fleurieu Peninsula Swamp, which are listed as critically endangered under the Environment Protection and Biodiversity Conservation (EPBC) Act.
Other treasures spotted on the day included Deep Creek Correa (Correa eburnea) which is nationally endangered and vulnerable in South Australia, and the Rough bush-pea (Pultenea scabra), which is listed as rare in South Australia and vulnerable in the Adelaide and Mount Lofty Ranges.
Landholders are now working with Natural Resources AMLR to improve fencing around the remnant scrub where the orchid survives, to protect it from grazing stock.
The Adelaide and Mount Lofty Ranges is a biodiversity hotspot, with around 1,500 species found in the region, of which 121 are threatened at national or state level and an additional seven regionally threatened – some of these may even be extinct, as they have not been sighted in the region for 20 years.
Dr Sparrow says this discovery shows we still don't know exactly what is in our own 'backyard' and that we can still discover new species in areas that we do not expect.
"We'd encourage other landholders in the area to be on the lookout for this orchid: it certainly could be more widespread.
"The best time to look would be in mid to late spring."
More information
Communications & Engagement Coordinator
0417 975 597