20 Weeds by 2023
Work is underway across the Hills and Fleurieu region to target 20 priority weeds and drive them towards long-term local eradication over the next 18 months.
You can read our media release here.
The 'Towards Eradication: 20 Weeds by 2023' project is being funded by the State Government's Landscape Priority Fund and is being delivered by the Hills and Fleurieu Landscape Board, with significant help private landholders, local councils and state government agencies.
The $600K project is using a two-pronged approach to get ontop of some established and emerging weeds of concern across the region. In many cases the board is working directly with landholders to tackle the priority weeds where they occur on private property. At the same time, the board is working in partnerships with the region's six local councils, National Parks and Wildlife Service South Australia (NPWSSA), SA Water and the Department of Infrastructure and Transport, to eradicate weeds on roadsides and in reserves, including within the Cherry Gardens fire scar.

The twenty weeds targeted in the project are: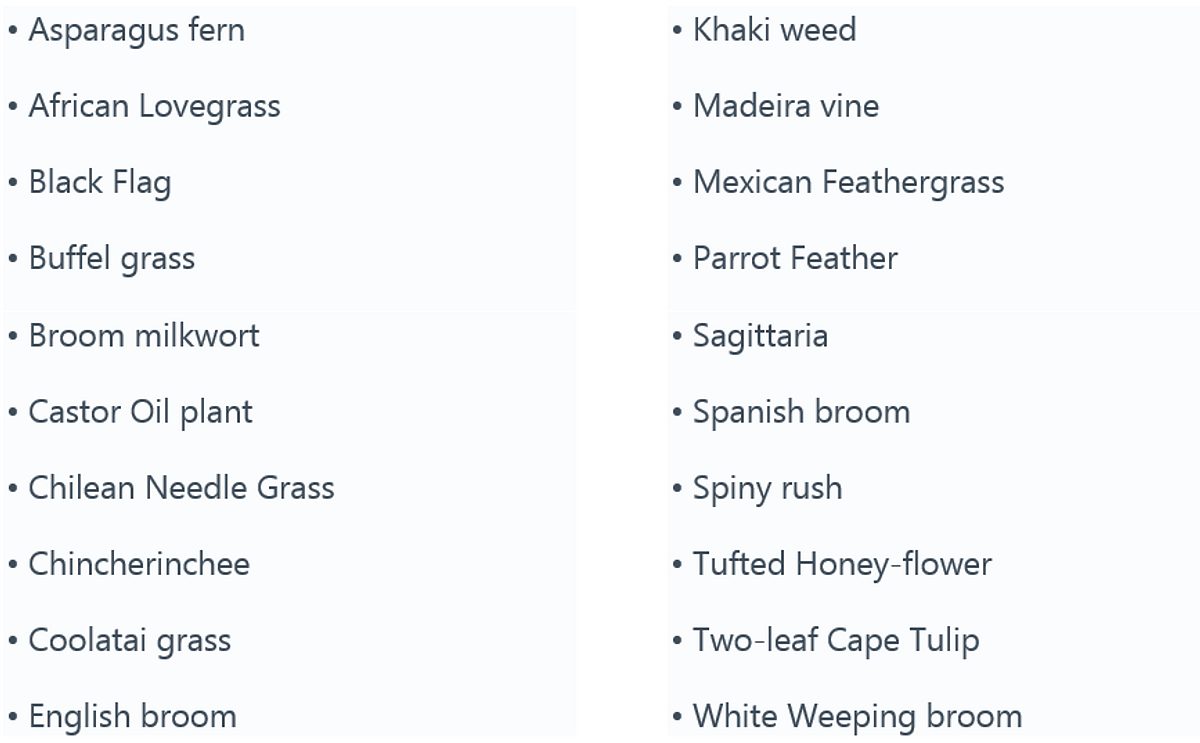 All declared (and undeclared) plant policies and a list of declared plants are available on the Primary Industries and Regions SA (PIRSA) website.
The PIRSA website also lists alternative common and scientific names for all plants prohibited from sale in South Australia, and a weed control handbook.

How we can help you
This project is targeting weeds were local eradication is achievable with a strong early focus and long term monitoring. If you suspect you have one of these weeds on your please make contact with one of our officers.
Control of pest plants is the responsibility of the landholder. Landscape board staff have extensive technical expertise and are available to help you plan your approach to the management of a broad range of pest plants.
The weed taxonomist, Chris Brodie, at the state herbarium is able to identify pest plants. If you have plants you are concerned about please provide a sample pressed between newspaper or similar. We can assist with some identifications and where we are not sure we will send them to Chris for identification.
Contact us on 8391 7500 to find out more.
The Landscape Priorities Fund is funded from landscape levies collected in the Adelaide metropolitan area and redistributed to South Australia's regional landscape boards to enable them to work in partnership with other groups and individuals and invest in environmental projects.