Cropping

On average, improved management of cropland, whether enhanced rotation, adoption of no-till or stubble retention, has resulted in small gains in soil organic carbon compared to conventional management across a range of Australian soils. However, even with improved management, declines in soil organic carbon stocks are still observed with traditional management practices often resulting in losing soil organic carbon at a greater rate.
Changes in management practices need to be carefully considered in relation to what is practical, economical and appropriate for the long-term goals of the enterprise.
Practices to build your organic matter in cropping
Applying the following agronomic practices can build organic matter:
adequate soil nutrition
suitable pH
appropriate crop and variety selection
companion or summer cropping (select species that invest more into roots, combined with fertiliser regimes that encourage root-microbe associations)
sowing at optimum time
pest management to promote vigorous crop growth
retention of stubbles
minimisation of tillage
alleviation of soil limitations.
Practices to decrease your organic carbon losses
Minimising the following agronomic practices will decrease organic carbon loss:
mechanical fallowing
chemical fallowing
cultivation
stubble burning
stubble removal
heavy grazing.
Greenhouse gas emissions in cropping
Below is an example of a cropping enterprise greenhouse gas emissions profile. Nitrous oxide is the predominant greenhouse gas for this production system.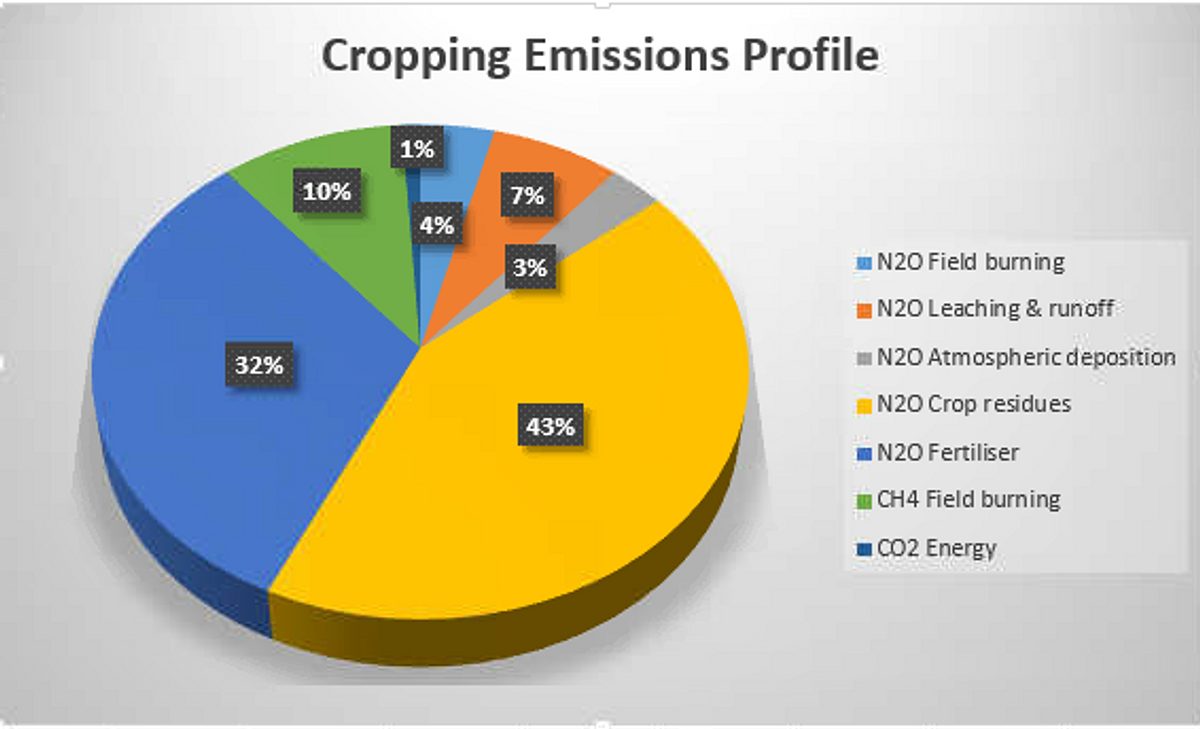 According to the Grain Research and Development Corporation (GRDC), Australian grain production is a low emitter of greenhouse gases compared to other global producers. CSIRO analysis has shown that the greenhouse gas emissions intensity of Australian grain production could feasibly be reduced by approximately 15% against the baseline by 2030. Read more about GRDC findings here.

Reducing emissions in cropping
Emissions reductions can be achieved through:
energy use efficiency including fossil fuels and electricity
livestock performance and numbers (including feed additives) - see our grazing management pages for more information on methane management
trees and revegetation
soils including increasing soil health and retention of organic matter
supply chain choices that utilise lower emission products
including a pasture phase in the cropping rotation.
Emissions reduction can also be achieved through better nitrous oxide management:
nitrogen use efficiency including the rate, source, timing, placement and formulation of applied nitrogen and use of legumes in the rotation

crop residue N2O emissions can be reduced by grazing crop residues.
minimum or zero tillage - soil disturbance causes big N2O losses through nitrification and denitrification
strategic nitrogen fertiliser application (rate, source, timing)
Use of specific fertiliser formulations:

urease inhibitors
controlled release fertilisers (polymer coating can contain micro plastics and have been banned in the EU, however biochar or natural wax could be an alternative)
nitrification inhibitors
New Zealand has developed Eco-N spray, it shows promising results but is not currently available
Most of these options do cost more, but may become more necessary to meet emissions reductions targets.
In the not too distant future urea may be able to be sourced from suppliers who produce urea without fossil fuels by using renewable energy. This will reduce Scope 3 emissions.