Climate Change

Climate change is a natural phenomenon of long-term shifts in temperature and weather patterns. However, human activities over the past century have been the main driver of climate change, primarily due to the burning of fossil fuels, such as coal, oil, and gas. The burning of these fuels has increased the concentration of greenhouse gases, namely:

water vapour - H2O
nitrous oxide - N2O
methane - CH4
carbon dioxide - CO2.
These gases contribute to the greenhouse effect by trapping the heat radiating from earth to space. The more greenhouse gases there are, the more of the sun's energy is trapped and the greater the rate of warming.
For the Limestone Coast, climate change has already resulted in hotter and drier fluctuations with more variable and extreme weather patterns that are projected to continue over this century and beyond.
There are many ways that primary industry businesses can adapt to a changing climate to sustain productivity in an environmentally responsible way, including:
incorporating climate change impacts into primary industry infrastructure planning (for example building confinement feeding pens, increasing shade and shelter for livestock)
selecting new crop, livestock, pasture species or genetics better adapted for a changing climate
building resilient soils through the addition of organic matter to improve soil structure and water holding capacity
responding to market signals for environmentally responsible primary industry practices
developing preparedness plans for higher bushfire risk days and periods of drought or shorter rainfall seasons
using seasonal forecasts to manage production risks
monitoring and responding to emerging pests
adopting technology to improve water use efficiency – e.g. satellite imagery, new crop or pasture genotypes and/or minimum or zero tillage
making the most of the 'good years'. The most profitable farmers are agile. They are able to adapt quickly to take advantage of higher rainfall years, while reducing inputs and costs in low rainfall and drought years.
continuously reviewing and changing primary industry practices when necessary.
Climate change in the Limestone Coast
It is predicted that a warming climate in the Limestone Coast will bring:

reduced quality of irrigated agricultural and horticultural produce
risks to water security

adverse impacts on the health of trees and shrubs
adverse impacts on the health, safety and wellbeing of vulnerable community members
disruption to road networks
adverse impacts on biodiversity and wetlands
reduced quality of public spaces
seawater inundation to properties along the coast
coastal erosion
adverse impacts on marine habitats and fisheries.
It is important for those working in primary industries to acknowledge the predicted changes and use the information to plan for the future to ensure their businesses are flexible and sustainable. To prepare businesses for climate change it is useful to look at climate projection models to assist with undertaking risk assessments and with selecting adaptation options.

Climate predictions for the areas of the Limestone Coast:
Ranges and Cross Border Creek subregion
Mallee Woodlands subregion
Dunes and Flats subregion
Volcanic Plains and Southern Dunes subregion.
Climate change in South Australia
The temperatures in South Australia have been increasing and rainfall has been declining. According to the Guide to climate projections for risk assessment and planning in South Australia 2022 (Department for Environment and Water) South Australia has been experiencing:
longer, hotter and more frequent heatwaves
an increase in dangerous fire weather
an increase in the intensity of heavy rain events
rising sea levels along our coast
increased frequency of drought.
Projections of future climate indicate these changes are likely to continue over the coming decades, increasingly affecting communities, industries, infrastructure and the environment in every part of the state and requiring every sector of society and economy to adapt.

South Australia has already become hotter and drier with more variable and extreme weather and these trends are predicted to continue over this century and beyond.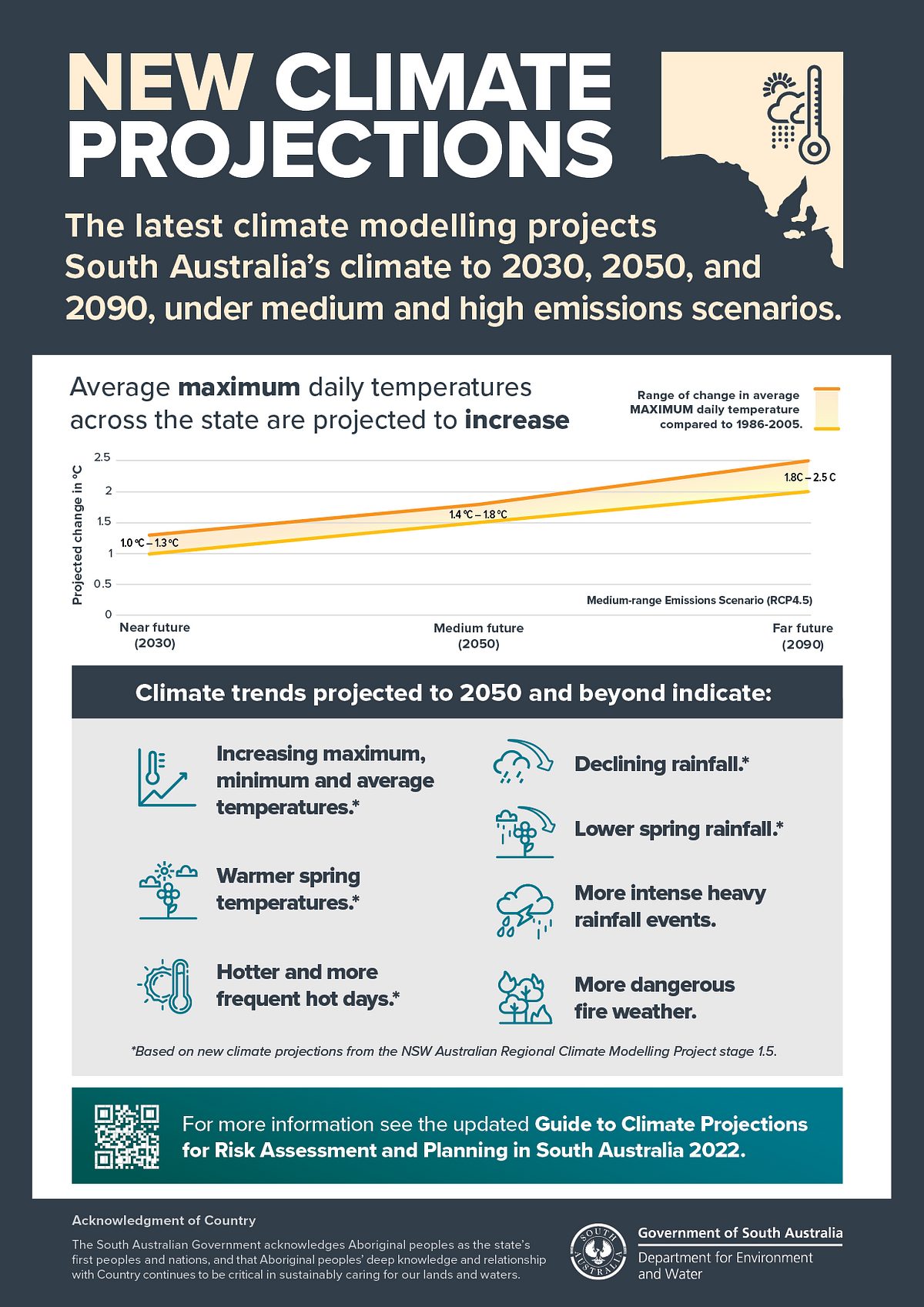 Climate change in Australia
The Australian Government Bureau of Meteorology have produced a State of the Climate report (2022) which predicts that Australia will experience ongoing changes to its climate over next few decades, such as:
continued increases in air temperatures with fewer cold extremes and more heat extremes
continued decrease in cool season rainfall across many regions of southern and eastern Australia, likely leading to more time in drought, yet more intense, short duration heavy rainfall events
a consequential increase in the number of dangerous fire weather days and a longer fire season for southern and eastern Australia
further sea level rise and continued warming and acidification of the oceans around Australia
increased and longer-lasting marine heatwaves that will affect marine environment, such as kelp forests, and raise the likelihood of more frequent and severe bleaching events in coral reefs around Australia
fewer tropical cyclones, but a greater proportion projected to be of high intensity, with large variations from year to year.
Below is an overview video with key takeaways from the State of the Climate 2022 report.

State of the Climate 2022 Report