Greenhouse Gases

Greenhouse gases let sunlight pass through the atmosphere, but they prevent the heat that the sunlight brings from leaving the atmosphere. The main greenhouse gases are:

Water vapor - H2O
Carbon dioxide - CO2
Methane - CH4
Ozone - O3
Nitrous oxide - N2O
Chlorofluorocarbons
Fluorocarbons
Sulfur hexafluoride - SF6
These greenhouse gases trap the sun's energy in the atmosphere. Greenhouse gases occur naturally as well through human activity. The more greenhouse gases there are, the more of the sun's energy is trapped and the greater the rate of change.

According to the CSIRO, greenhouse gases create the greenhouse effect - a natural atmospheric process that keeps the Earth's surface at a temperature comfortable for humans and other life to exist. The natural greenhouse effect keeps the surface of our planet at a habitable temperature, about 33°C higher than it would be without an atmosphere.
Approximately 48% of the Sun's incoming energy reaches the surface of earth and warms the ground. This warmed ground then emits heat as infrared radiation. A lot of the infrared radiation is trapped in the air by the greenhouse gases, which radiate heat back to the ground.
The natural greenhouse effect has been enhanced over the past two centuries by an increase in activities such as:
the burning of fossil fuels for energy and transport
expanding agriculture and deforestation.
These activities have led global atmospheric concentrations of carbon dioxide and other greenhouse gases to increase from 277 ppm in 1750 to 412 ppm in 2020. This increase in greenhouse gas emissions is causing global warming.
The Intergovernmental Panel on Climate Change, the world's leading body for assessing climate change, reports that human influence on the climate system is clear.
Greenhouse Gas Emissions by Sector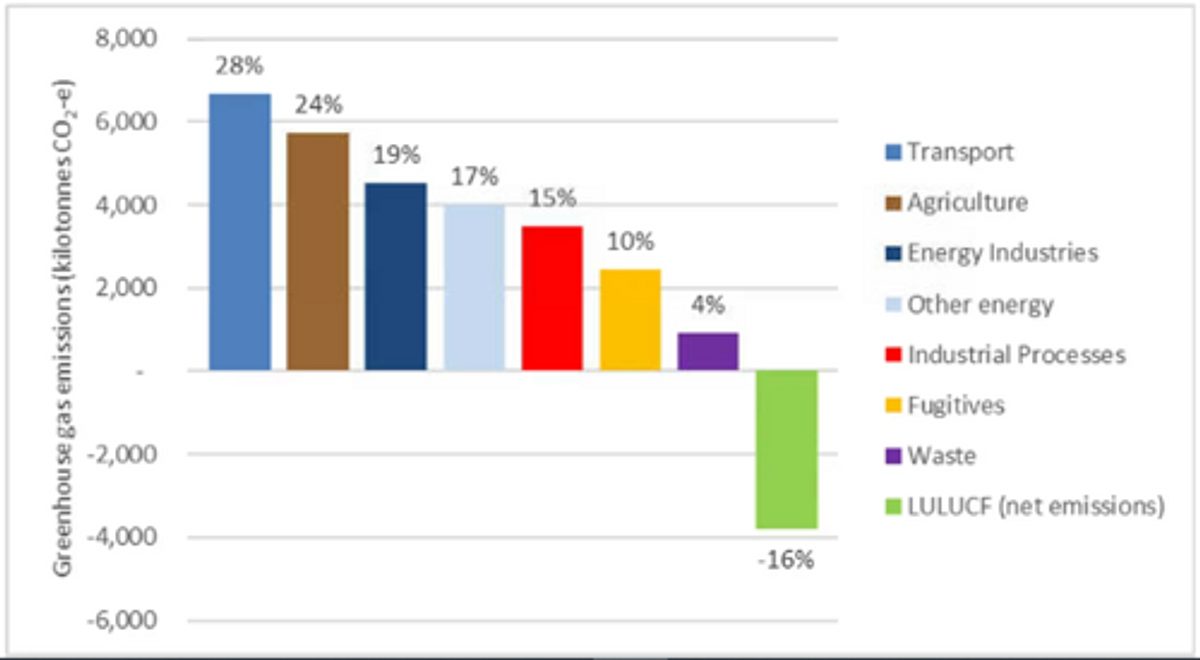 The above graph demonstrates the contribution of each sector to total net greenhouse gas emissions for South Australia in the 2019 financial year. Agriculture is the second highest emitter. The Limestone Coast is a significant primary production region and contributes to 20% of the state's agriculture income.
Source: Department for Environment and Water - Climate Smart South Australia
"Agricultural production contributed 24% of South Australia's greenhouse gas emissions in the 2018 financial year, with the major sources of emissions stemming from cattle, sheep and agricultural soils".
‐ Government of South Australia - South Australian Government: Climate Change Action Plan 2021 - 2025
Sources of greenhouse gases in agriculture
A carbon source refers to any process or activity that releases a greenhouse gas, an aerosol or a precursor of a greenhouse gas into the atmosphere. In agriculture this includes emissions from:
livestock
fertiliser
soil disturbance
decomposition of organic matter
land use change including deforestation, vegetation clearing, conversion of permanent pastures to cultivated crop lands and burnt areas/bush fire.
Why all the fuss about greenhouse gases?
Video source: Agriculture Victoria - developed as part of a collaboration between the The Department of Jobs, Precincts and Regions Victoria, Fertilizer Australia and the Australian Government via the 'Fertcare Carbon Farming Extension Project'.
Sinks of greenhouse gases in agriculture
Significant Agricultural Greenhouse Gases
The three most significant greenhouse gases produced from primary production are:
Carbon dioxide - CO2
Nitrous oxide - N2O
Methane - CH4.
Agricultural Greenhouse Gas Emissions Profile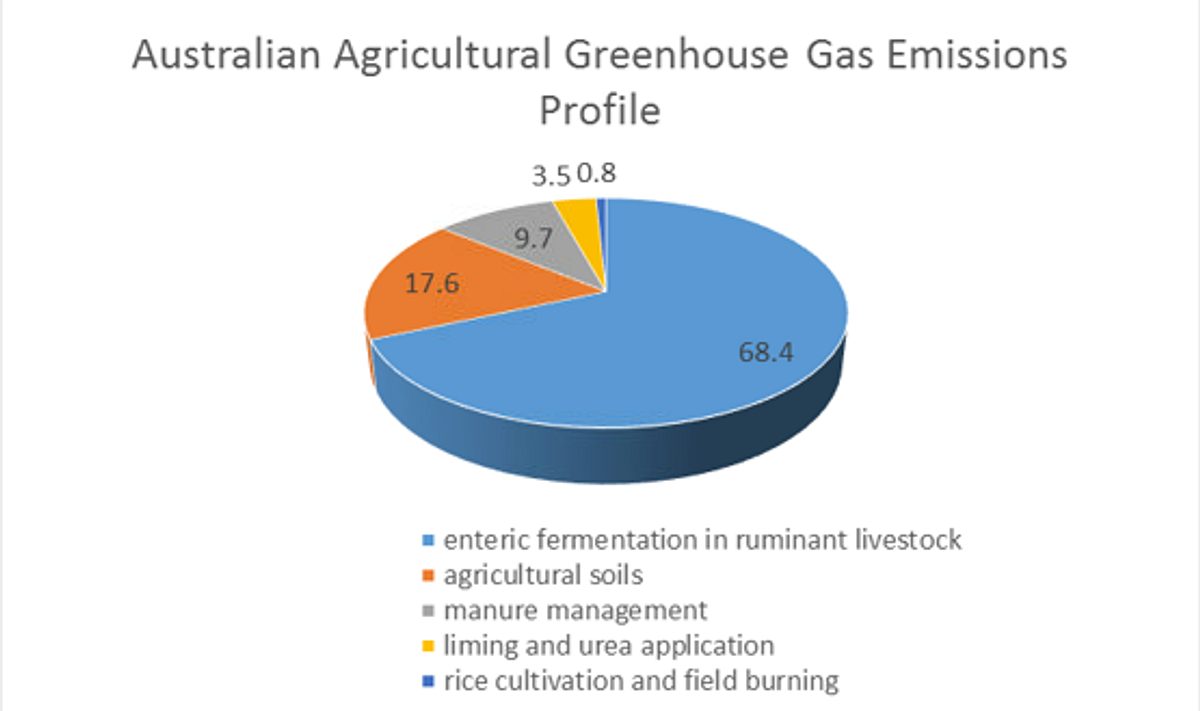 The above pie chart demonstrates Agriculture was responsible for about 13.5% of Australia's greenhouse gas emissions in 2018. Livestock and the manure they create were the dominant source of methane, accounting for 46% of total national methane emissions, and agricultural soils were the dominant source of nitrous oxide, accounting for 57% of total national nitrous oxide emissions.
Source: Department of Primary Industries and Regional Development, Western Australia.
Carbon dioxide
Carbon dioxide is the primary greenhouse gas because it is emitted in large quantities, and it has a long-lasting influence because it can stay in the atmosphere for hundreds to thousands of years. Therefore, CO2 emissions that are released today will continue to influence the climate for a long time to come.
Carbon dioxide is mainly released into the atmosphere through:
burning of fossil fuels
plant decay
microbial activity in soils.
Carbon is an essential element for all life forms on earth and the carbon cycle is nature's way of reusing carbon atoms. Carbon is in a constant state of movement as it makes its way through the:

hydrosphere - all the waters on the earth's surface
atmosphere - layers of gases surrounding earth
oceansphere - earth's oceans
geosphere - the solid earth
pedosphere - earth's soil
biosphere - all of earth's ecosystems.
The Limestone Coast Landscape Board created the animation video to provide an easy-to-understand explanation of the Carbon Cycle. The key point made is that historic carbon (fossil fuels) being burnt, speeds up and unbalances the carbon cycle by releasing much more carbon than would naturally be released.

Nitrous oxide
Nitrous oxide (N20) persists in the atmosphere for an average of 110 years and has a global warming potential about 300 times greater than carbon dioxide (CO2). 78% of the earth's atmosphere is nitrogen gas (N2) – whereas N20 is a trace gas (measured in parts per billion), but levels have increased since the industrial revolution.
The global nitrogen (N) cycle is complex, with N moving between the:
soil
living organisms
water bodies
the atmosphere.
Nitrogen is also an essential element for all living organisms and is in high-demand and so is often deficient for optimal plant growth. Nitrogen is primarily supplied to plants by soil organic matter, after the conversion of organic to mineral forms by bacteria. Ammonium (NH4+) and nitrate (NO3-) are the mineral forms of N that are also the plant-available forms.
Agriculture is the principal source of human induced N20 emissions. About 80% of the N20 emitted from agricultural land is released from the soil, roughly in equal proportions via:
microbial activity
fertiliser application
livestock manure and urine.
Some emissions are direct emissions from nitrification (conversion of NH4+ to NO2- and NO3-) and denitrification (conversion of NO3- to N20 or N2) pathways, and some are indirect emissions from volatilisation (loss as ammonia gas, NH3), leaching and cycling through the food chain.
More information about livestock nitrogen emissions can be on the Agriculture Victoria website. Agriculture Victoria also has an informative animation about the nitrogen cycle.

Methane
Methane is the second most prevalent greenhouse gas and globally, the leading sources of human-influenced methane emissions are from agriculture:
livestock
rice production.
Methane has a global warming potential 25 times that of CO2, however CH4 emissions generally only last between 10-12 years before cycling back to CO2.
Methane is described as a flow gas because it does not accumulate in the atmosphere, where as carbon dioxide is described as a stock gas because emissions are cumulative.
Methane from livestock production is part of the biogenic carbon cycle:
Atmospheric CO2 >>> Carbon in plants via photosynthesis >>> Carbon in plants consumed by livestock >>> CH4 released by livestock >>> CH4 converted back to CO2 in the atmosphere to rejoin the biogenic cycle.

In Australia, agriculture accounts for just over half of Australia's CH4 emissions. Given that grazing is the predominant land use in the Limestone Coast, methane is a significant greenhouse gas for the region.
Agriculture Victoria describes how methane moves through atmosphere and landscape in the following ways:
Methane is produced in the rumen (fore-stomach) during digestion, via a chemical reaction between carbon and hydrogen
Methane is released by cows and sheep burping following ruminant digestion
Small amounts of methane is released from fermentation of animal dung and urine under anaerobic (no oxygen) conditions
Methane is also released from dairy waste water settling ponds and from waterlogged soils, wetlands and some farm dams.
More information about methane emissions can be found on the Agriculture Victoria website.
Some information sourced from the State of Victoria is licensed under a Creative Commons Attribution 4.0 licence.