Poisoning of livestock a timely reminder to follow 1080 baiting Directions for Use
News article
|
01 March 2021
1080 Baiting-Poisoning of livestock a timely reminder to follow 1080 baiting Directions for Use
All landholders are reminded to ensure 1080 bait is stored and disposed of correctly in accordance to the Direction following a recent incident near Bordertown.
The reminder follows the recent poisoning of 61 sheep by 1080 bait north of Bordertown. The poisoning is suspected to have occurred when the bait had not been disposed of correctly and left in a drum on the property. The sheep then knocked over the drum and consumed the bait.
Michael McManus, Manager of Rural Chemical Operations at the Department of Primary Industries and Regions (PIRSA), reminds landholders that non-compliance when storing 1080 baits is an offence under the under the Agricultural and Veterinary Products (Control of Use) Act 2002.
"Improper disposal of disused bait can result in a substantial economic and animal welfare impact, as unfortunately is the case with this recent incident at Bordertown," he said.
"Landowners need to remember under the Directions for Use of 1080 bait, it clearly states that the bait must be must be securely stored when not in use. It also must be properly disposed within one week of completing any baiting campaign.
"Livestock or animal owners should contact their vet immediately if they suspect any poisoning with their stock."
Whilst the situation is very unfortunate, Kym Haebich, Team Leader with the Limestone Coast Landscape Board reiterated that "now is the perfect time to start rabbit control programs and our Landscape Officers can assist landholders to control rabbits by providing information, best-practise advice and integrated control services including bait and equipment hire".
Landholders are recommended to contact their local Landscape Officer through the Limestone Coast Landscape SA centres at Mt Gambier (ph. 8735 1177) or Keith (ph. 8755 1620).
Further information on Poison Baits in South Australia and Directions for Use can be found at www.pirsa.sa.gov.au.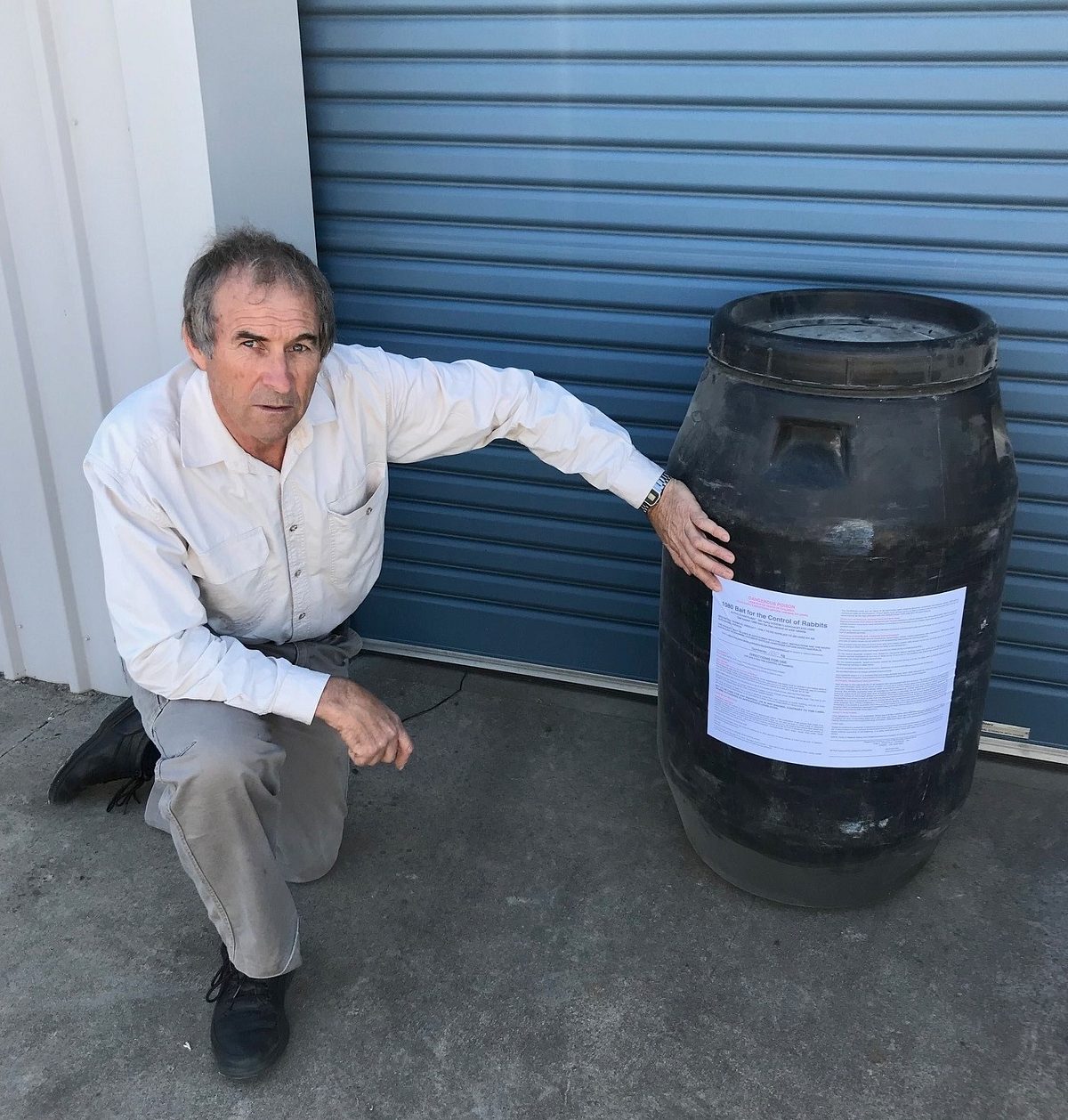 Image. Kym Haebich, Team Leader of the Limestone Coast Landscape Board alongside a 1080 drum and label.