Our Coorong Our Coast
The Coorong and Lower Lakes (Alexandrina and Albert) are a Ramsar listed wetland of international significance. The area is home to thousands of resident beach nesting shorebirds that lay their eggs throughout the Coorong, it's islands and its beaches. Each summer thousands of migratory shorebirds also travel to the Coorong from the northern hemisphere to feed in the mudflats before returning home to breed.
Over time, threats to beach nesting and migratory shorebirds in the Coorong have developed. The water quality has diminished and human activity has increased. Pest animals and plants also pose threats to these birds and their habitat, resulting in decreasing numbers within the region.
The Our Coorong | Our Coast project aims to restore and protect the habitat of beach nesting and migratory shorebirds throughout the Coorong and Limestone Coast. The five year project will help improve the habitat for threatened species along the Coorong and Limestone Coast such as the hooded plover, orange-bellied parrot, eastern curlew, malleefowl and others.
The project team implement on ground works such as revegetating vital habitat, limiting access to nesting sites and controlling pest plants and animals. Site Action plans have been developed to guide priority actions for the future and community engagement activities take place to educate locals and visitors to the region, driving behavioural change.
The project welcomes and encourages volunteers to take part in activities such as bird monitoring surveys and vegetation work.
Take the lead this summer – help protect shorebirds.
Take the lead is an initiative of the Our Coorong | Our Coast project.

Keeping your dog on a lead this summer is an easy and effective way to help protect beach nesting and migratory shorebirds.
Shorebird eggs are extremely hard to see making them susceptible to inquisitive dogs!
Other actions you can take to support our vulnerable feathered friends are -

Walking along the water's edge on the wet sand.
Looking out for informative signs that indicate nesting shorebirds are in the area.
Keeping your distance from any birds, chicks or nests that you see.
The Flock OZ!
Have you heard about the Flock?
The brightly painted wooden shorebird silhouettes, known as The Flock, is a creative and fun community driven project used to spread the word about migratory and resident shorebirds.
The Our Coorong | Our Coast project have been busy implementing this art project with schools across the Limestone Coast.
Check out the pics below to see some of the amazing artwork that has been created.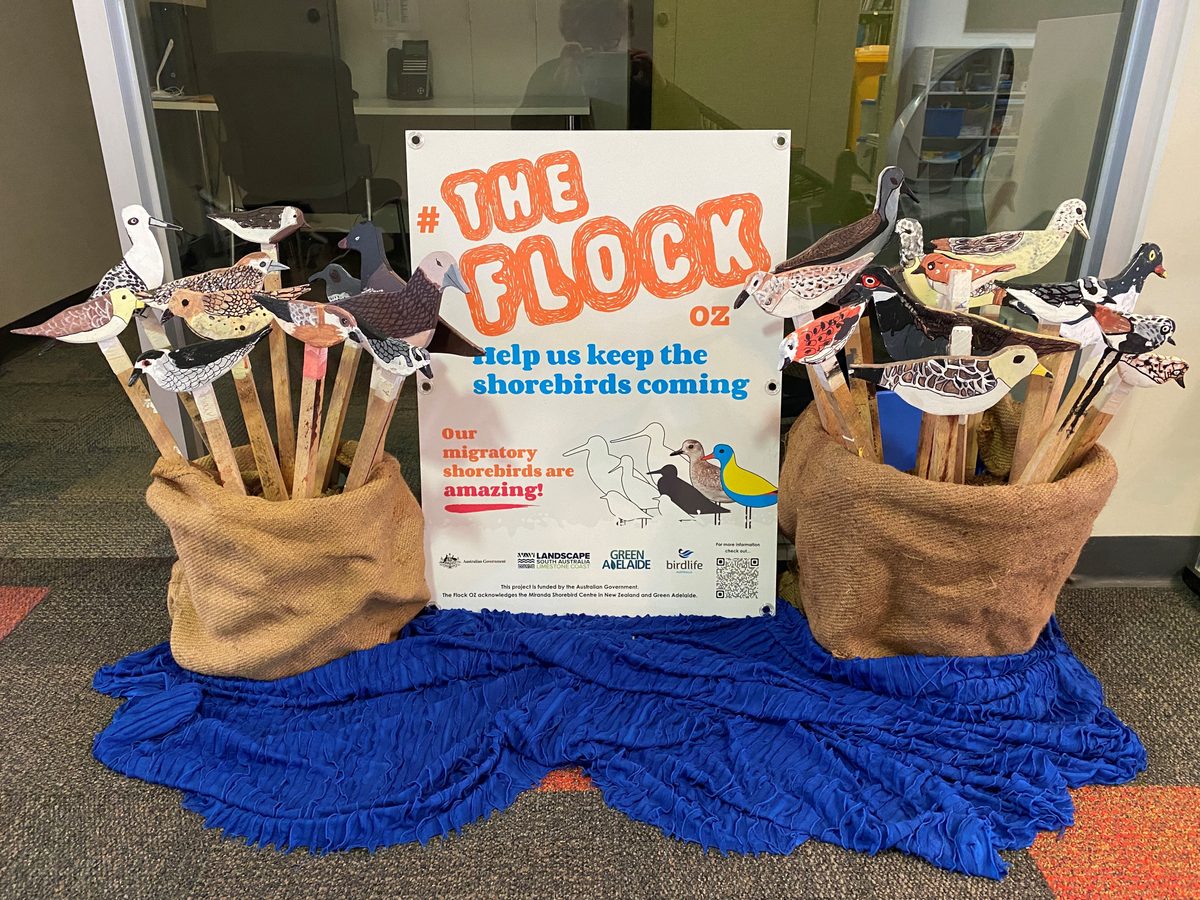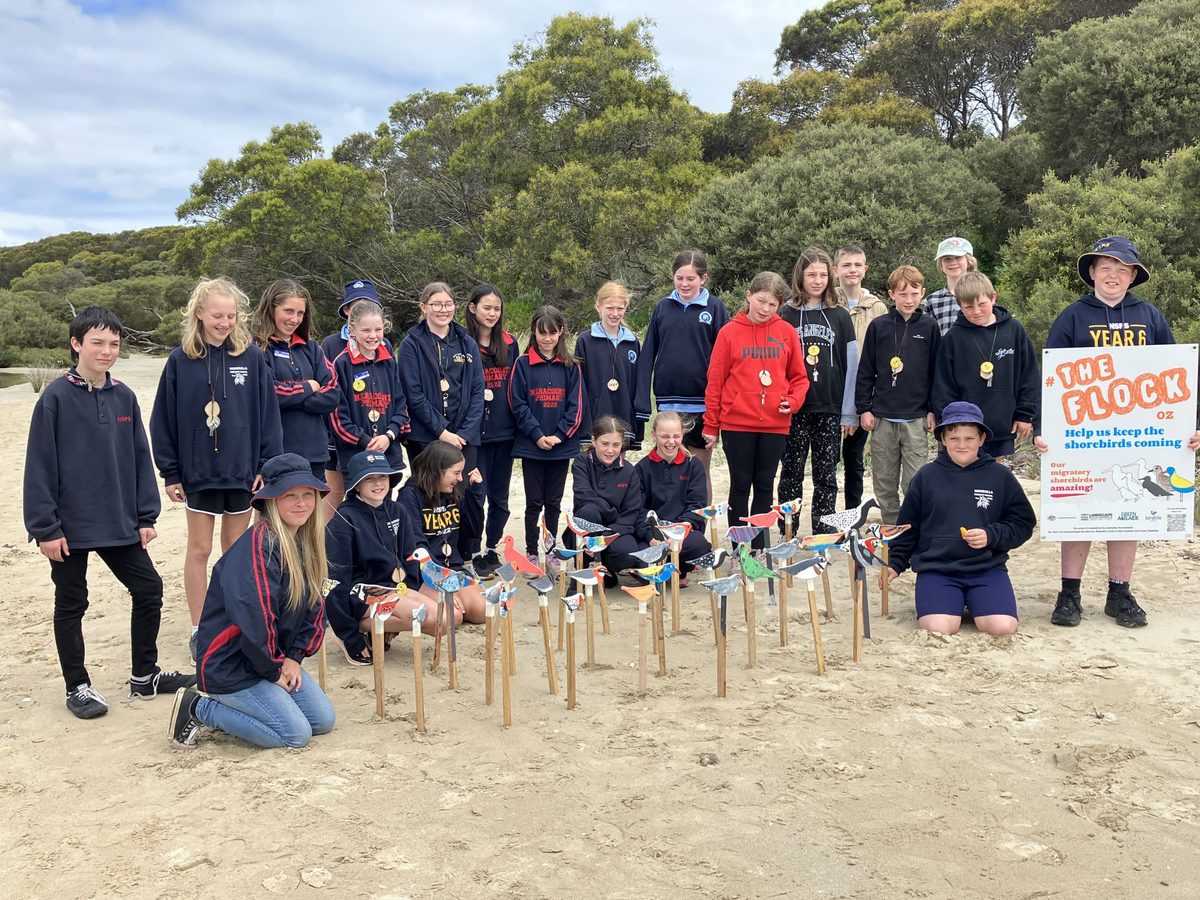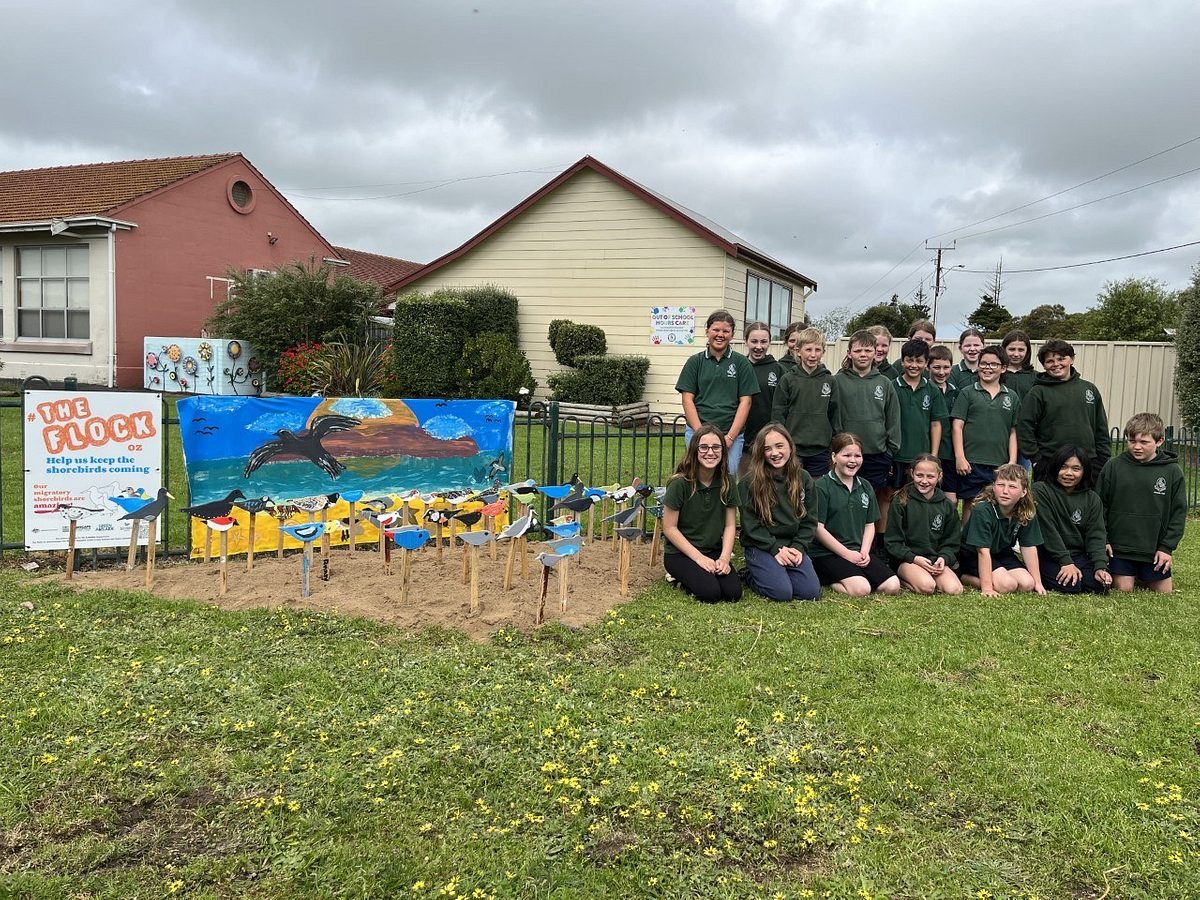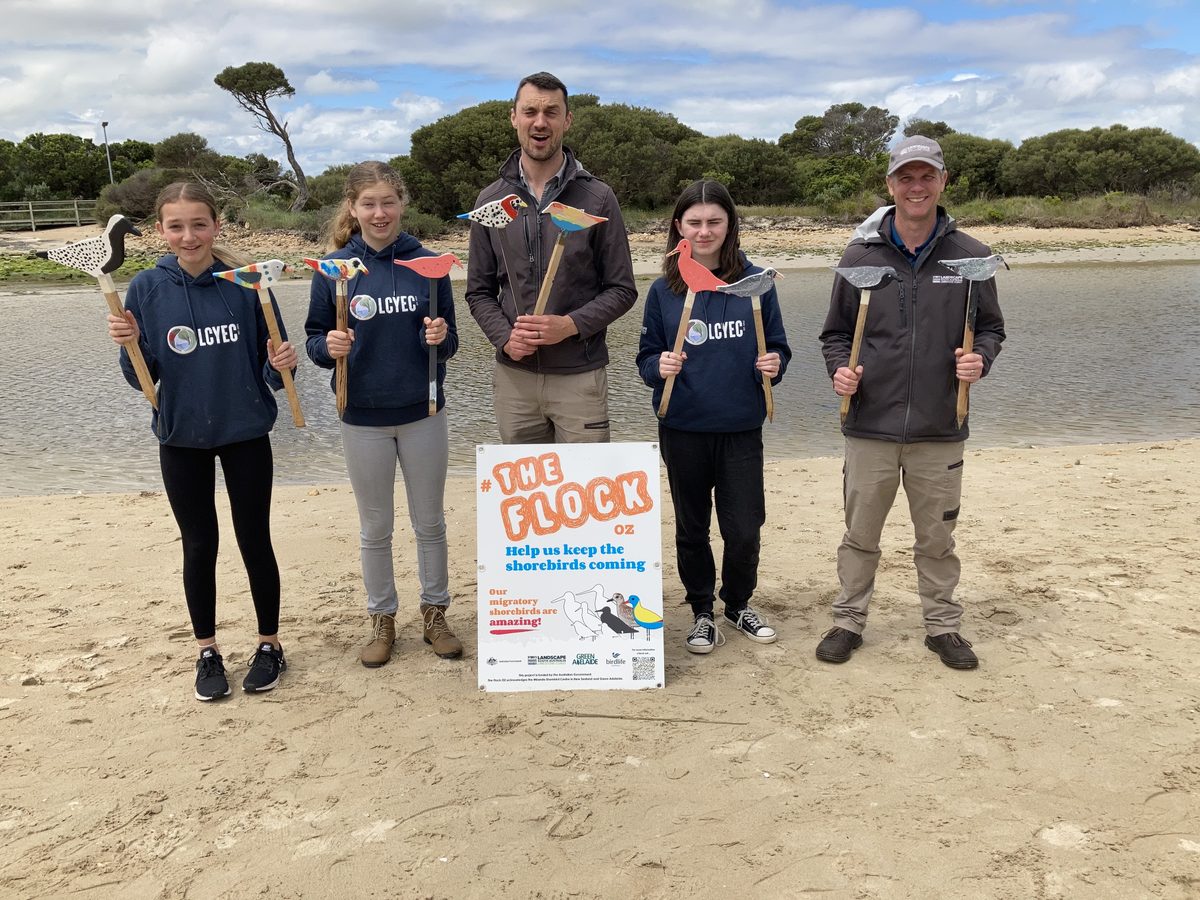 The Flock will be displayed at coastal towns along the Limestone Coast from November till March annually to create awareness to visitors and residents that migratory shorebirds will be on our beaches.
Being aware of the local landscape and the ways we can protect these birds when we visit our beaches is important for their survival.
The below video shows just how hard it is to see shorebird eggs on our beaches and provides some tips on how you can help protect these amazing creatures next time you visit the coast.
If you would like to start your own Flock contact The Flock Oz on facebook or email us at lclandscapeboardengage@sa.gov.au
Shorebird eggs are hard to see
Key achievements from the project's first three years are outlined below:
Site Action Plans for important bird areas
Site action plans have been developed for 10 important migratory and resident beach nesting sites throughout the region. The plans identify high priority, short and long-term management actions for habitat improvement and expansion, including opportunities for community engagement. They were developed in consultation with the community, land managers, scientists and Traditional Owners through collaborative workshops.
Murray Mouth
Coorong National Park
Carpenter Rocks and Port MacDonnell
Fox and Pub Lakes
Lake Hawdon
Lake George
Canunda Beach
Lake Bonney
Mullins Swamp
Lake St Clair, Lake Eliza, Lake Robe
Bird Monitoring Surveys
Bird monitoring surveys have taken place throughout the year by Birdlife Australia, Friends of Shorebirds South East, Avian Monitoring Services and volunteers. Surveys are vital for tracking the numbers of threatened and endangered species to guide management actions, including Orange Bellied Parrots, Hooded Plovers, Eastern Curlew, Malleefowl and others. Winter and Summer shorebird counts are undertaken from the Murray mouth to the Victorian border.
7 Hooded Plover counts (fledgling and nesting)
10 Orange Bellied Parrot counts
4 Malleefowl nesting mound counts
5 Summer shorebird counts
4 Winter shorebird counts
Pest Plant and Animal Control
Foxes and feral deer pose serious threats to nesting birds, as well as other native fauna and their habitat. Aerial feral deer and fox control has taken place annually, along with biannual ground based fox baiting. Invasive weeds encroach on native bird habitat and are controlled using aerial and ground based methods. The region has seen a significant reduction in our three target weeds; African Boxthorn, Polygala Myrtifolia and Spiny Rush. African Boxthorn control on priority bird nesting/feeding sit islands in the Coorong is also being undertaken followed by revegetation to maintain habitat and shelter.
540,000 Ha fox control
174,500 Ha feral deer control
135,000 Ha weed control
32 Ha African Boxthorn control on Coorong islands
Revegetation
Revegetation to buffer the Coorong Ramsar site and provide additional or enhanced habitat for threatened species along the Limestone Coast has taken place at three different sites; Marks Point, Parnka Point and Cantara Homestead. The Friends of the Coorong and Ngarrindjeri Lands & Progress Association have implemented the site preparation and planting of native vegetation across these areas.
56 Ha of revegetation undertaken
Over 50,000 local native plants in the ground
Over 30 different species
Community Engagement
Community understanding of the seriousness of the challenges facing the Coorong and Limestone Coast area and the willingness to get involved and support what needs to be done to protect the area is vital to this project and the survival of the region. Events are held throughout the year to increase the publics' knowledge of shorebird identification, threats to shorebirds and ways to help protect them. Keep an eye out for events on our website and social media.
55 community groups engaged
35 communication materials published
15 community workshops held
Educational materials produced
Improving Land Management
Increased infrastructure installed throughout the Coorong National Park and Limestone Coast is helping drive behavioural change, by reducing damaging human activities. Preventing access to fragile shorebird habitat and increased signage during breeding season helps to raise community awareness and reduce threats to these birds from human activity.
Revegetation zone signage
Shore bird awareness signage on 4WD beaches
Fencing to prevent dune access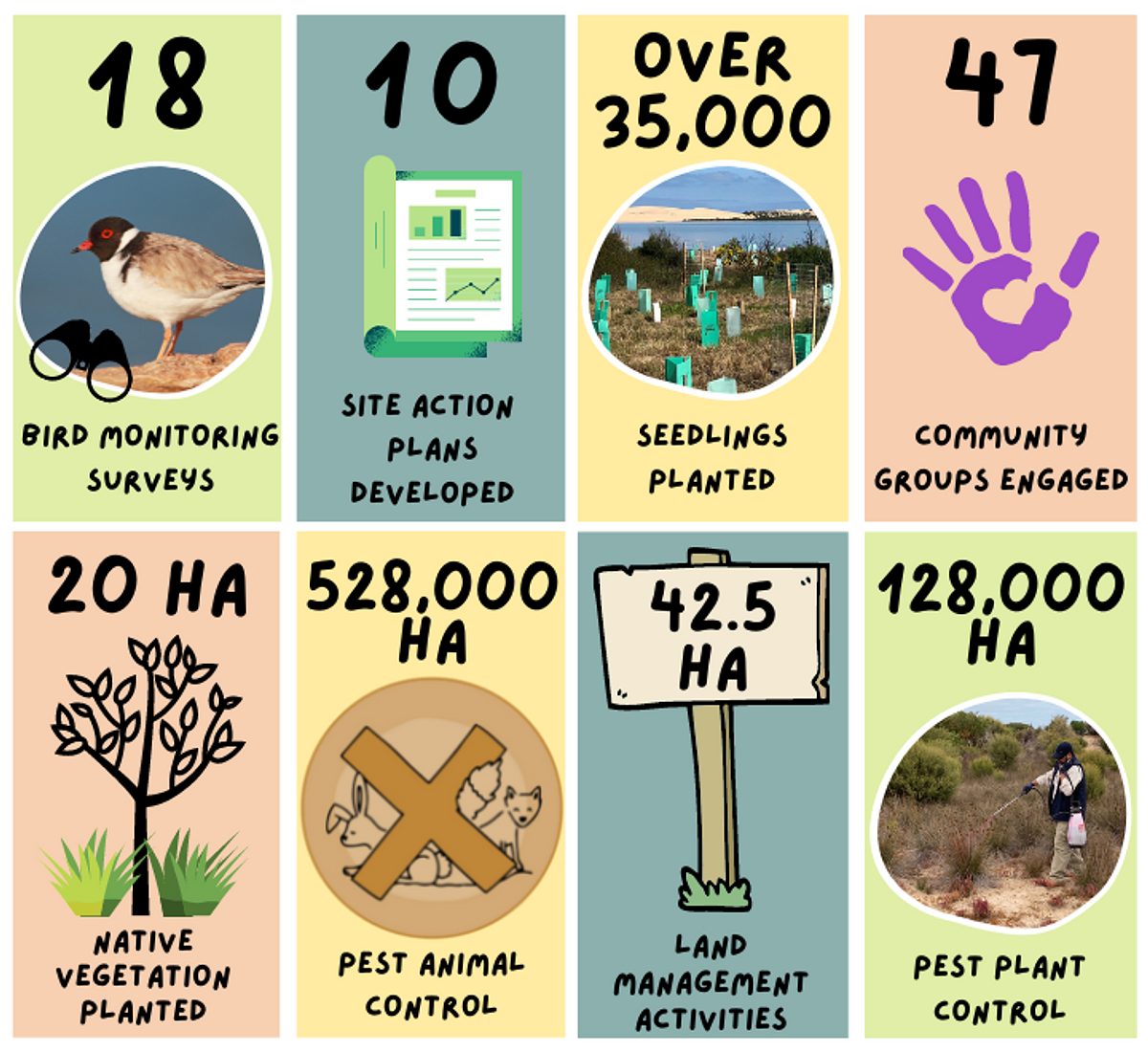 Click the map below for a detailed view into the project's activities.
For more information or to get involved…
Robbie Andrew | Project Officer
Robert.Andrew@sa.gov.au | 0428 645 664