Feral deer eradication program
This project delivers the Limestone Coast Landscape Board's feral deer control functions. It supports sustainable agriculture, productive landscapes and regional biodiversity by undertaking regulatory functions associated with the Landscape South Australia Act 2019 and South East Pest Management Strategy.
These functions include monitoring and reducing level of risks to agriculture by engaging with landholders to manage feral deer.
Updates
The 2022 Feral Deer Eradication Program has concluded, and thanks to landholder collaboration, we were able to cover a significant amount of the region, removing almost 3,500 feral deer from our landscape.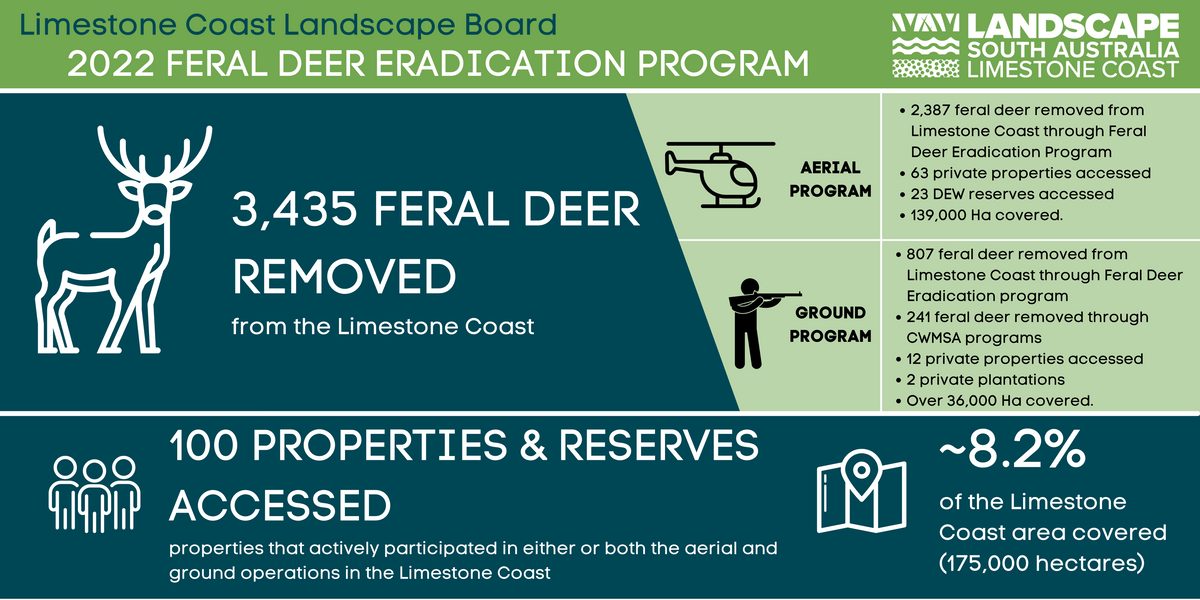 Get the latest updates on the Limestone Coast Landscape Board feral deer control programs. Sign up HERE

Expression of interest is sought from landholders looking to include their properties in our eradication programs
The Limestone Coast Landscape Board is committed to supporting landholders to eradicate feral deer on their property as such the Limestone Coast Landscape Board is seeking interested landholders in the region to participate in the Feral Deer Eradication program offered by the board. This confidential register of interest is held by the board and landholders will be contacted with more information when an eradication operation is planned for their area. Managing feral deer is best achieved by involving all land managers in the local area, as feral deer can wander across adjoining properties.
The Limestone Coast Landscape Board is implementing a variety of tools to achieve eradication such as aerial shooting, use of professional ground shooting contractors, commercial harvesting and supporting partnerships to trial new approaches such as deer traps and thermal-assisted ground and aerial shooting techniques.
Each program takes into account local terrain and individual landholder circumstances to ensure high standards of effectiveness are achieved.
To register your property and be alerted of future deer control programs in your area, and to find our more information on feral deer programs in the Limestone Coast.
Contact
Project Officer - Feral Deer
8429 7550