Wetlands
Wetlands play a vital role in our ecosystems. They are biodiversity strongholds, are important for aquifer recharge, nutrient cycling, water purification and support pollinators and insect predators, which all benefit primary production.
We would love to share some local wetlands with you and hope you can get out in our local landscape to visit these in 2023!


Piccaninnie Ponds
This wetland is a karst spring and an alkaline fen type wetland. Piccaninnie Ponds is located south of Mount Gambier. This wetland can be visited all year round. To find out more here.
The Coorong

The Coorong is an estuary type of wetland, located two hours' drive from Adelaide north of the Limestone Coast. The Coorong is home to thousands of resident and migratory shorebirds. To find out more here.
Robe Lakes
This saline lake, coastal dune wetland is located approx. 6 kilometres south of Robe in South Australia. The lake adjoins Little Dip Conservation park. Find out more here.

Ewens Ponds
This karst wetland is a series of three water filled limestone sinkholes, located at Eight Mile Creek approx. 25 kilometres south of Mount Gambier, South Australia. Find out more here.
Mosquito Creek
Mosquito Creek extends across the Victoria/South Australia border. The best place to visit this creek is at Naracoorte Caves Conservation park, when you follow the Stoney Point Hike. The best time of year to visit is winter or spring. You might be lucky enough to see some Red-tailed black cockatoo in the area! Find out more here.
Germein Reserve
This grass sedge wetland is a diverse and unique wetland area. Located on Springs Road, Port MacDonnell this wetland showcases an abundance of biodiversity during winter and spring. Find out more here.

Kungari Conservation park
The inland wetland found at this conservation park at Reedy Creek approx. 26 kilometres from Robe can be found at the north-west corner of the park. Access to this wetland is only via foot. Spring and early summer provide the best time to visit. Find out more click here.
Penola Conservation park
The freshwater meadow located at Penola Conservation park is located 12 kilometers west of Penola. This wetland is accessed via the walking trail. Find out more click here.

Bangham Conservation park
The seasonal herbaceous wetland located in this park is situated at the western end of the park. Walk along the access track that runs parallel to Frances Road to find these rare freshwater wetlands. Find out more here.

Bool and Hacks Lagoon
These freshwater wetlands comprise of a number of semi-permanent lagoons. These are located approx. 24 kilometres south of Naracoorte. This Ramsar site is one of the most important wetland areas remaining in the Limestone Coast and is home to many plant species. Find out more here.
Lake Bonney
This picturesque freshwater lake is located 13 kilometres south west of Millicent. Lake Bonney is bordered by Canunda National park. This wetland can be visited all year round. Find out more here.

Wetlands (or swamps), are areas of land that are permanently, temporarily or sometimes only occasionally covered in water.
The Limestone Coast is home to around 16,000 wetlands, and is widely recognised as the wettest part of a dry state.
Prior to European occupation, almost half the area in the region was home to wetland habitats. Worldwide, wetlands are disappearing three times faster than forests, and only 2.5% of the original wetland extent in the Limestone Coast remains.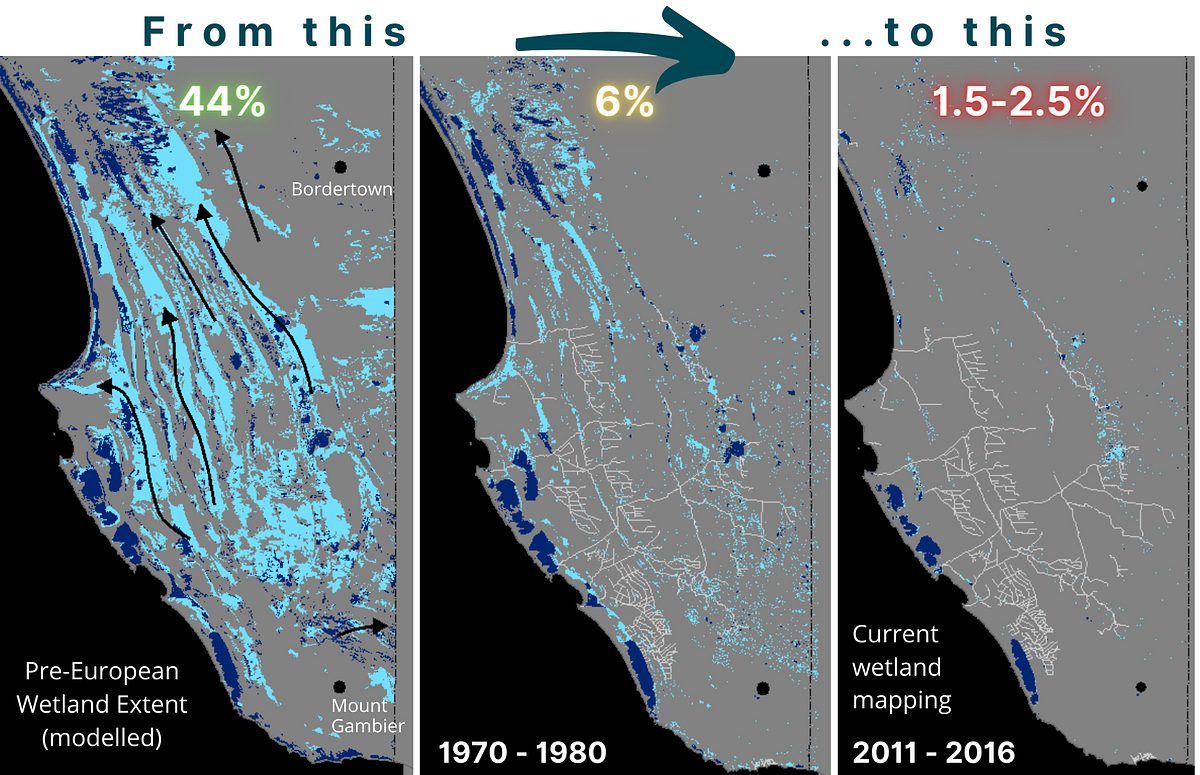 Major threats to wetland habitats include drainage, pollution, introduced species, overgrazing, vegetation clearance and climate change.
Types of wetlands
The Limestone Coast is home to a huge diversity of wetland ecosystem types, including the rare Karst Wetlands, and the critically endangered Seasonal Herbaceous Wetlands. More information about wetland types and their management can be found in the booklet All Wetlands Great and Small – A guide to the wetlands diversity of the South East.
What lives in our wetlands?
An immense variety of species of microbes, plants, insects, amphibians, reptiles, birds, fish and mammals can be part of a wetland ecosystem. Identification guides are available for:
What are the benefits of wetlands?
Wetlands are important for healthy landscapes and communities in many ways:
Help to retain water in our landscape and recharge our aquifers
Minimise bushfire risks
Store carbon and regulate our climate
Provide summer grazing
Provide habitat for pollinators, as well as predators of insect pests such as ibis
Remove pollutants from waterways
Hold cultural significance
Assist in flood mitigation
Provide habitat for many threatened flora and fauna species
Meet some of the landholders working to protect and restore wetlands in the Limestone Coast region