Community consultations
Marne Saunders water resource community consultation sessions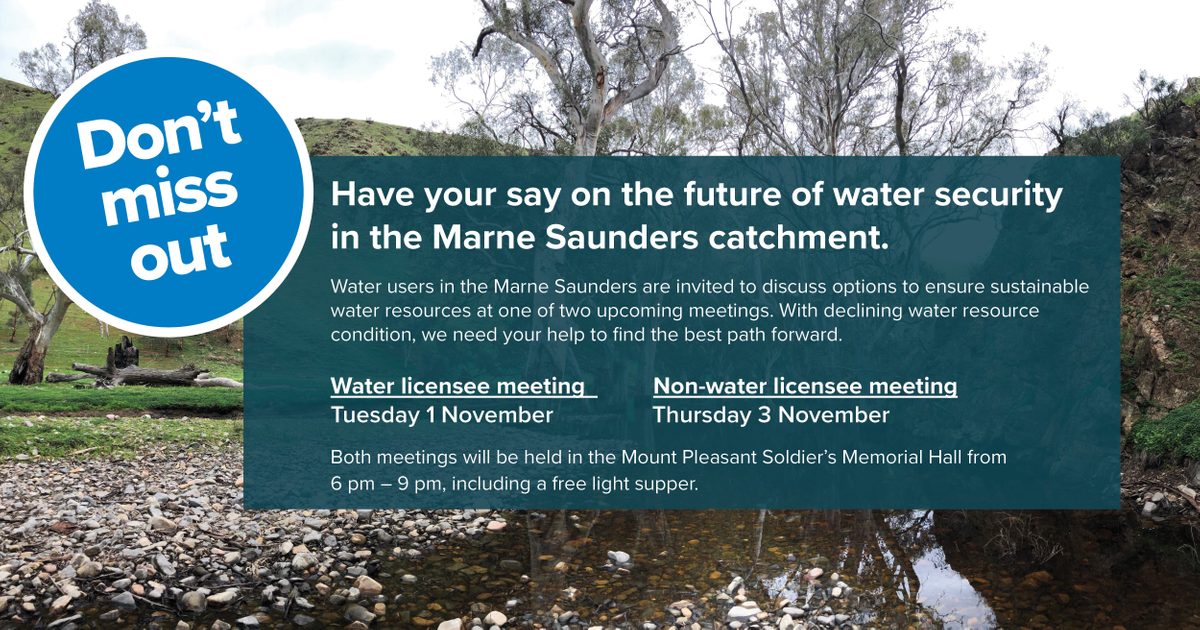 In February this year, a forum was held in Cambrai in response to the recent series of dry years which have reduced water resources and dependent ecosystems in the Marne Saunders catchment.

As a follow up to this forum, the Murraylands and Riverland Landscape Board is holding two meetings to continue the discussion among catchment water users.
Both meetings will include:
A presentation from the landscape board which will address outstanding questions from February's water forum, and present information about the water policy options available.
An opportunity for the community to suggest actions to address declining water resources.
One meeting will be held for water licensees on Tuesday 1 November, and a second for non-licensees on Thursday 3 November.
Both sessions will be held at the Mount Pleasant Soldiers Memorial Hall from
6 pm – 9 pm, and include a free, light supper.

To attend the water licensee meeting on Tuesday 1 November, register here

To attend the non-licensee meeting on Thursday 3 November, register here
Factsheets providing a recap of material presented in February, details of the landscape board's role in water planning in the catchment, FAQs, and potential options regarding pathways forward can be found below:
Factsheet 1: History, Licences, and Allocations
Factsheet 2: Hydrological cycle in the PWRA
Factsheet 3: Water development and use
Factsheet 4: Resource and ecosystem condition
Factsheet 5: Frequently asked questions
Factsheet 6: How to address concerns

Marne Saunders February 2022 Water Forum – Questions & Responses
For more information, please contact Stuart Sexton | Senior Policy Officer | Murraylands and Riverland Landscape Board | stuart.sexton@sa.gov.au |