Automatic Weather Station Network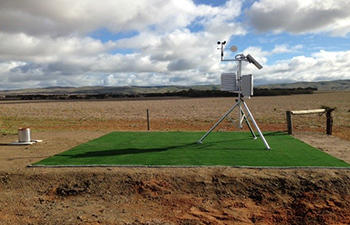 What is an automatic weather station?
Automatic Weather Stations (AWS) record various weather observations at set intervals during every 24 hour period. The Murraylands and Riverland Landscape Board has established a network of 40 automatic weather stations and seven automatic tipping bucket rain gauges across the Murraylands and Riverland region.
What data do AWS's record?
AWS's have a dual function – they record key climate data and combine some of these collected data sets to calculate important climatic indicators for agricultural and horticultural production.
Basic data collected
Rainfall (mm)
Temperature/Humidity (degrees Celsius and relative humidity (%).
Global Solar Radiation (Watts per m2).
Soil temperature (in degrees Celsius at 150 mm depth).
Wind speed (kilometres per hour).
Wind direction (compass degrees, pointing to direction wind is coming from).
Calculated indicators
Dew Point – (degrees Celsius) - the likelihood of dew formation with respect to atmospheric temperature and humidity levels (usually interpreted in conjunction with likely overnight temperatures and hence frost risk).
Apparent Temperature – (degrees Celsius) - an inferred rating of current temperature based on the combined effects of several climatic data sets to breed a 'feels like' temperature rating from a human perspective.
Growing Degree Days – Tally of hours where temperatures above 10 degrees Celsius have been sustained divided by the time maintained.
Chill hours (hours below 10 degrees Celsius) – an online calculator allows specific calculations of chill hours or portions respective to location.
Frost – recorded time below 2 degrees Celsius at a given location.
Evapo-transpiration (ET ) – inferred mm of moisture transpired from a plant surface during a 24 hour period. Two ratings one for short crop (0.12 m height) and one for a tall crop (>0.50 m height).
Delta-T – suitability of conditions for application of airborne sprays (safe operating standard is between 2 – 8 Delta –T degrees).
In – crop canopy temperature (degrees Celsius) relative humidity (%) and leaf wetness index (0% dry to 100% fully wet). This feature is available at a handful of sites in vineyard applications.
Calculated Minima/Averages/Maxima for most data sets.
How frequently is data collected and available on the internet?
Data from all stations is collected hourly and uploaded to the internet (see link at the bottom of this page). There are plans to increase this data collection frequency to 15 minutes to provide a greater degree of accuracy to users of the network.
Can data be viewed on a phone or tablet?
Yes, data can be viewed on these devices but it may require resizing the display to permit suitable viewing. Plans are currently underway to develop mobile and tablet friendly screen displays.
Locations of automatic weather stations and rain gauges
Automatic Weather Stations are funded by the Murraylands and Riverland Landscape Board through the NRM Levy. For details of their locations, refer to related links below.
Related links