Native plant - Coloured spider-orchid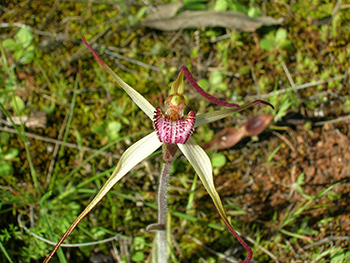 Description
leaves are dull green with a reddish base, erect, hairy and 4-10cm long, 6-9mm wide
flowers are 5-30cm long, wiry and densely hairy
single or multiple flowers, commonly cream-green with a maroon centre but can vary to blood-red, mauve and pink
flowers may have a faint petrochemical or musky odour.
Ecology
flowers through August and September

commonly found growing in sand or sandy loams.
Conservation rating
Coloured spider-orchid is listed as nationally endangered – approximately 4,000-5,000 plants remain in the Murraylands and Riverland region.
Threats
Grazing (kangaroos, stock and rabbits)
Weed competition (particularly bridal creeper and perennial veldt grass)
Small population size
Illegal plant collection and flower picking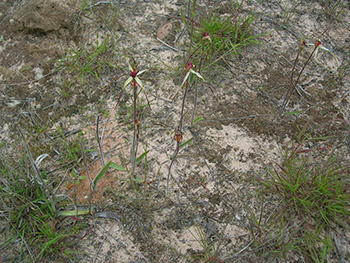 Habitat
Found in woodland and mallee habitats. In woodland habitats, the overstorey is dominated by:
pink gum (Eucalyptus fasciculosa)
blue gum (Eucalyptus leucoxylon ssp. leucoxylon)
mallee box (Eucalyptus porosa)
southern cypress pine (Callitris preissii).
In mallee habitats, the overstorey is dominated by:
coastal white mallee (Eucalyptus diversifolia)
golden wattle (acacia pycnantha)
drooping sheoak (Allocasuarina verticillata)
common boobialla (Myoporum insulare).
The undergrowth is typically dominated by scattered shrubs over native heaths, sedges and grasses.
Distribution
South Australia and Victoria. South Australian populations are found in:
Hartley
Tailem Bend
Coorong
Angus Plains and Finniss areas
How you can help
Please be aware of native plants and help preserve them by:
preventing damage caused by grazing
preventing removal/illegal collection
controlling weeds to reduce competition
taking a photo instead of picking native flowers
volunteering with the Murraylands and Riverland region or joining your local native vegetation group
reporting any sightings of these endangered plants to our offices (contact details below).
Related links