Native plant - Peep Hill hop-bush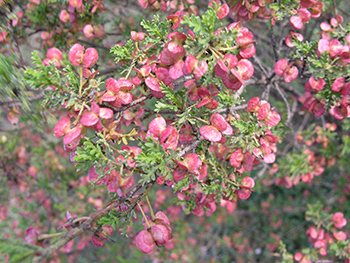 Description
erect, perennial shrub up to 2m high
leaves are 1.5cm long, with leaflets and raised glands on the underside
flowers occur in groups of 2-3, with 3-4 wings that change from greenish-yellow to deep maroon
populations found on sandy plains have darker foliage and more compact appearance than those on hills.
Ecology
dioecious (it has separate male and female parts)
probably an early coloniser following fire or soil disturbance
flowers from February to August.
Conservation rating
Peep Hill hop-bush is listed as nationally endangered – estimated 45,000 to 50,000 plants remaining.
Threats
grazing (stock and rabbits)
fire (either too frequent or not frequent enough)
disturbance (road maintenance).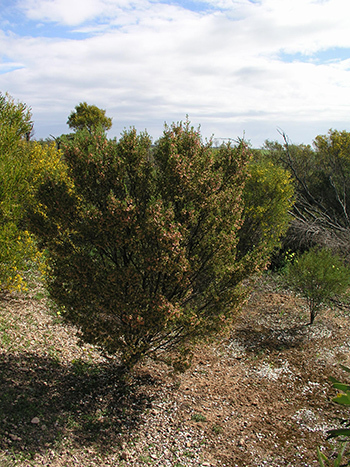 Habitat
Low hills and plains on loamy soils with rocky (limestone, slate, shale) outcrops. Found in mallee woodland, often with Callitris preissii and sheoak. It also has been found in acacia shrubland.
Distribution
Endemic to South Australia. In the Murraylands and Riverland region populations are found in:
Walkers Flat
Black and White Hill (near Sedan)
Peep Hill
Robertstown
Notts Well
How you can help
Please be aware of native plants and help preserve them by:
preventing damage caused by grazing
preventing removal/illegal collection
controlling weeds to reduce competition
taking a photo instead of picking native flowers
volunteering with the Murraylands and Riverland region or joining your local native vegetation group
reporting any sightings of these endangered plants to our offices (contact details below).
Related links