Native plant - Silver daisy bush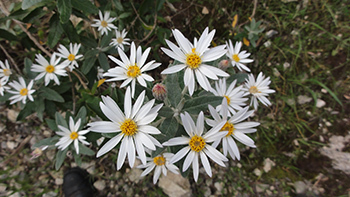 Description
shrub growing to 1.5m that produces root suckers
stems are woody at base, branched and without ribs
leaves are 3-9cm, underside is covered with short, soft, matted hairs
leaf top is shiny and somewhat wrinkled
single, daisy-like flower heads – white or occasionally pale mauve – on stalks 12-30cm long
seedling leaves have teeth on their edges, whilst leaves of vegetative shoots do not.
Ecology
perennial shrub that flowers from August to October
grows in flat, sandy terrain and areas with rocky soils
seeds ripen by December, seed dispersal as late as May the following year.
Conservation rating
Silver daisy-bush is listed as nationally vulnerable – approximately 1,000 individual plants remaining in the Murraylands and Riverland region. Due to the suckering nature of the plant it is often difficult to determine individual plants.
Threats
fragmentation
weed competition (agricultural weeds and bridal creeper)
small population size
disturbance (road and rail maintenance, wind, spray drift)
lack of new plants.
Further research is required into the species ecology and population trends.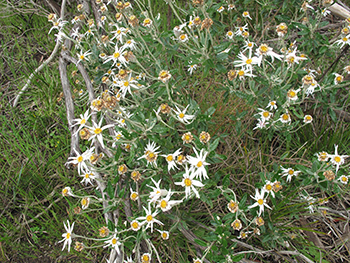 Habitat
Found in mallee and woodland habitats. In mallee habitats the overstorey is dominated by:
sessile-fruit white mallee (Eucalyptus phenax ssp. phenax)
coastal white mallee (Eucalyptus rugosa).
Mallee species less commonly found in the overstorey of these habitats:
beaked red mallee (Eucalyptus socialis)
square-fruit mallee (Eucalyptus calycogona)
narrow-leaved red mallee (Eucalyptus leptophylla).
In woodland habitats the overstorey is dominated by:
peppermint box (Eucalyptus odorata)
pink gum (Eucalyptus fasciculosa).
The undergrowth is typically dominated by acacia, melaleuca, chenopod shrubs, sedges and grasses.
Distribution
South Australia, Victoria and New South Wales.
In the Murraylands and Riverland region, populations are found from Goolwa to Strathalbyn and through to Mannum, and as far north as Burra and Terowie.
How you can help
Please be aware of native plants and help preserve them by:
preventing damage caused by grazing
preventing removal/illegal collection
controlling weeds to reduce competition
taking a photo instead of picking native flowers
volunteering with the Murraylands and Riverland region or joining your local native vegetation group
reporting any sightings of these endangered plants to our offices (contact details below).
Related links