Pest plant - African lovegrass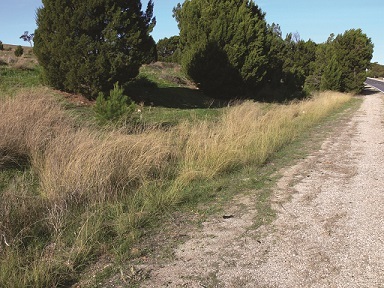 African lovegrass (Eragrostis curvula) is a perennial tussock grass that competes with other grasses, annuals and perennials. It has high seed production, a high germination rate and is difficult to control with herbicides or management practices.
Description
perennial grass, forms dense tussocks 30-120cm high
leaves are dark green–blue green and rough, 30cm long and 3mm wide
the sheath at the base of each leaf is smooth and there is a ring of hairs at the opening of the sheath
flowering stems are slender and arching, ending in loose, finely branched tufts 10-30cm long
seeds are 1 mm long and cream to brown in colour when ripe
root system is shallow and fibrous
Why is it a problem?
competes with other grasses, annuals and perennials, and can form dense stands excluding other species
high seed production, high germination rate and difficult to control by herbicides or management practices
abundant on open grasslands on light sandy soils
invades disturbed areas such as roadsides
Distribution
Eyre Peninsula – isolated patches
Northern pastoral – isolated plants on roadsides.
Related links