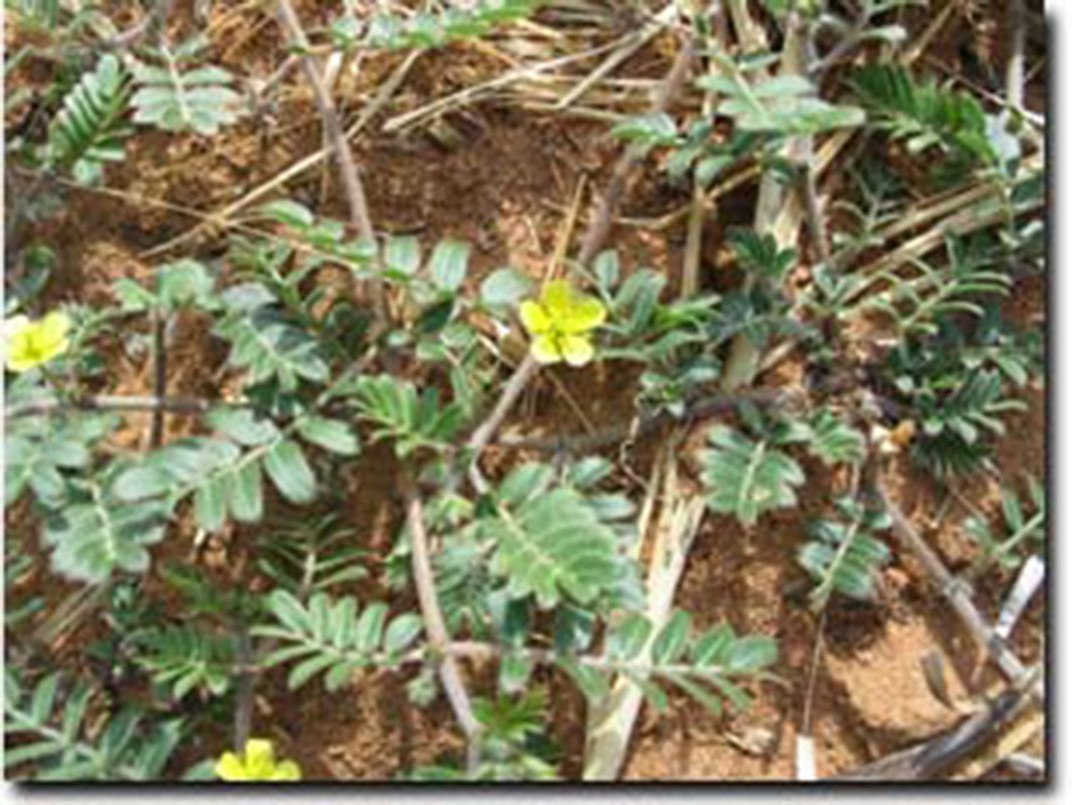 Caltrop (Tribulus terrestris) is a summer growing weed that reproduces from seed. It is a major contaminant of produce and is dangerous to animals.
Description
prostrate weed with green to red-brown stems that radiate for up to 2 metres from the central taproot
leaves consist of several pairs of opposite leaflets, 5-12mm long and 3-5mm wide, leaves may be hairy or almost smooth
upper surface of the leaves is grey-green, undersides are paler
flowers are 8-15mm in diameter with five bright yellow petals
flowers open in the morning and close or shed their petals that afternoon
fruit is a woody burr 1cm diameter, with sharp rigid spines to 6mm long
ripe fruit splits into 5 wedge-shaped segments with two pairs of spines, containing up to 4 seeds
seeds are yellow, ovoid in shape and 2-5 mm long
taproot is long, slender and branched, there are many fibrous lateral roots.
Why is it a problem?
burrs can damage animal feet and injure humans
burrs can also contaminate produce such as dried fruit and wool
toxic to stock and can cause nitrate poisoning, photosensitisation and staggers
may also chemically inhibit the growth of some other plants.
Distribution
Eyre Peninsula – widespread with broadacre infestations
Northern pastoral – common in most towns
Northern agricultural districts and Yorke Peninsula – widespread
Murray Mallee – widespread
South East – common in all towns and in north, scarce in south
Central region – widespread on the Adelaide Plains.
Ecology
most abundant on light sandy soils but will grow on almost any soil type
seeds germinate after late spring and summer rains and the plant grows rapidly flowers appear within three weeks of germination, fruits in 5-6 weeks
flowering continues for several months
plants die off in autumn or early winter, as they are sensitive to frost
Caltrop seeds germinate in several batches (staggered germination) throughout the summer, making control very difficult.
How it spreads
mainly spread by seed, burrs attach to animals, clothing and machinery.
Related links