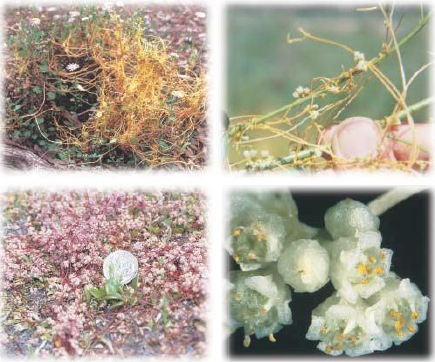 Dodder (Cuscuta species) is a parasitic weed of broadleaf plants, including lucerne and vegetables. Australia currently has a dodder-free status in the world seed export market. It is important to recognise and destroy new infestations before they become established.
Varieties are: red dodder (Cuscuta planiflora), Chilean dodder (Cuscuta suaveolens) and golden dodder (Cuscuta campestris).
Description
fine twining stems without leaves
golden dodder has yellow stems, red dodder has red-pink stems and Chilean dodder has cream stems
stems attach to host plants with small suckers that penetrate the leaves and stems of the host plant
flowers are white, cream or pink, bell shaped and 3-4mm in diameter
fruits are the same size as the flowers, minus the petals, containing up to 4 seeds
seeds are brown, yellow or grey, 1-2mm in diameter, enclosed in a hard, rough seed coat
dodder has no root system.
Why is it a problem?
shades the crop, absorbing nutrients and water from the host plant
reduces crop yields significantly
infested areas may be quarantined, causing significant financial loss.
Distribution
Murray Mallee – golden dodder is common on the Murray River flood plain between the border and isolated outbreaks below Overland corner and the Marne River
South East – isolated infestations of golden dodder in pastures
South East – red dodder and Chilean dodder is established in native vegetation.
Ecology
reproduces from seed that germinate during summer
seedlings have no roots and live only for a few days unless the shoot attaches to a host plant
entirely dependent on the host plant for nutrients and moisture
stems grow rapidly over the host plant, flowering and seed set can begin in a matter of weeks and continue for months
seeds can remain viable for up to 60 years in good conditions
do not confuse with native dodder laurel – it is common throughout the state but only parasitises native shrubs.
How it spreads
dispersal is mostly via seed contaminating harvested seed, then being sown elsewhere
seed can also be transported by animals and deposited in their droppings
Related links