Pest plant - Innocent weed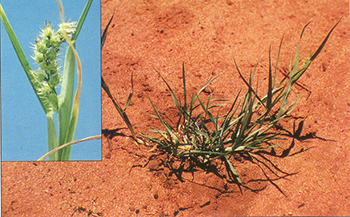 Innocent weed (Cenchrus longspinus and Cenchrus incertus) is an annual grass that produces small barbed burrs. It can have a significant negative impact on stock and agricultural produce.
Description
erect or prostrate annual grass to 60cm high
several nodular stems branching from the base of the plant
leaves 20cm x 5-8mm, smooth surface with serrated edges, often with a slight twist
fruit are straw-coloured burrs in clusters of 3-7mm, with barbed spines 7mm long
fibrous root system is generally shallow although can be over 30cm deep in some soil types.
Why is it a problem?
affects crop or pasture systems, grazing land, irrigated crops, horticulture, recreational and amenity areas, roadsides and cultivated land
can severely reduce the value of wool, hides and crops through contamination
increases the cost of shearing and slaughter, and can hamper use of working dogs
burrs can become stuck in the mouths of grazing stock and cause ulcers.
Distribution
Widespread in the Murray Mallee and isolated patches in irrigated areas along the River Murray
Eyre Peninsula
Northern pastoral and agricultural districts
South East – isolated patches.
Ecology
establishes in low fertility dry sandy soils and other disturbed areas
seeds can remain viable for up to three years
seed is known to germinate from a depth of 25cm beneath the soil surface.
How it spreads
seeds are easily dispersed by machinery, clothing, wool and fur.
Related links