Pest plant - Serrated tussock grass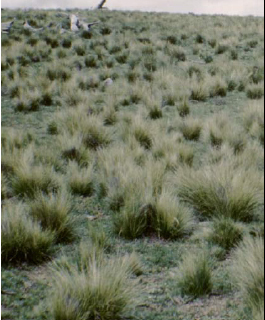 Serrated tussock (Nassella trichotoma) is a highly invasive, unpalatable, tussock-forming perennial grass. It produces large quantities of seed that easily outcompete and dominate pastures and native grass ecosystems.
Description
grows to a height of 600mm
leaves are approximately 0.5mm in diameter and tightly rolled, appearing circular in cross-section
noticeable serrations can be felt when running fingers from top to bottom of leaves
small white hairless flap (ligule), approximately 1mm long, protruding vertically at the junction of the leaf and the leaf sheath
flowering stems are multi branched, initially erect up to 950mm long, drooping at maturity to touch the ground.
Why is it a problem?
competes with desirable pasture plants
dense infestations can totally dominate pastures, rendering large areas incapable of supporting livestock
unpalatable or indigestible with no grazing value
control programs can be expensive and time consuming
reduces biodiversity in native vegetation
fire risk.
Distribution
does not occur wild in South Australia, but is naturalised in Victoria, New South Wales and Tasmania.
Ecology
produces up to 100,000 seeds that can remain viable in the soil for years
can flower throughout the year, but main flowering period occurs from spring (October) to summer (January)
affects non-arable grazing, native vegetation and crops or pastures
lives for up to 20 years.
How it spreads
spread by seed, primarily dispersed by wind
seed heads break of at the base of the plant and can blow up to 20km
seeds catch on bodies and hooves of animals
known to remain viable for 10 days in the stomach of grazing animals
seed can also be spread via machinery, clothing, hay and firewood.
Related links