Pest plant - Variegated thistle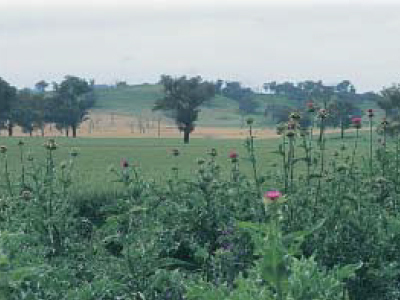 Variegated thistle (Silybum marianum) is an annual herb also known as St Mary's thistle, milk thistle or bull thistle. It is a competitive pasture weed.
Description
erect annual or biennial herb to 2.5m with a thick taproot
stems branch from the base, thick but hollow or full of pith, ribbed with small spines and often downy with cobwebby hairs
leaves have a shiny, mottled green upper surface and a slightly hairy lower surface; they are deeply divided into toothed segments with short spines along the edges
flowering heads are 4-8cm and round, packed with purple florets to 5cm long, protruding from the head and ending in spines
seeds are long and shiny, 6-8 mm, mottled black and grey with many fine bristles, joined together in a ring attached to one end of the seed.
Why is it a problem?
will eliminate most plants by shading them out, and via competition for moisture and nutrients
unpalatable and not readily grazed by stock unless sprayed or cut
of little nutritional value and becomes poisonous under certain conditions
spines of the plant can cause physical injury and restrict stock movement.
dense stands of variegated thistle may also harbour vermin.
Distribution
Eyre Peninsula – isolated plants
Northern pastoral – isolated patches in towns only
Northern agricultural districts and Yorke Peninsula – isolated plants, more common in higher rainfall areas
Murray Mallee – small isolated patches
South East – scattered in upper south east, widespread in lower south east
Central region – scattered patches in higher rainfall areas.
Ecology
prefers heavy, fertile soils with high nitrogen, needs bare or disturbed ground to germinate
no growth in winter, then grows rapidly in spring before producing flowering stems
flowering starts in October, continuing into early summer
plants die during summer, dry stems can remain standing for several months.
How it spreads
reproduces only by seeds that germinate after autumn rain but can remain viable in the soil for up to 9 years.
Related links