Pest plant - Yellow burrweed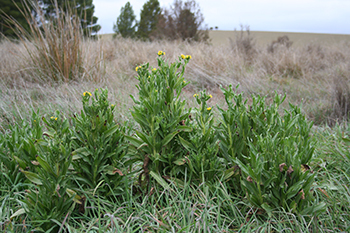 Yellow burrweed (Amsinckia species) is an annual herb that is highly competitive with cereal crops and can contaminate grain and wool.
Description
erect annual herb, 20-70cm high
stems are branched and covered with short stiff hairs
leaves are to 20cm long also with tiny hairs
leaves at ground level form a rosette, smaller leaves are arranged alternately along the stem
flowers are bright yellow with five petals fused into a trumpet shaped tube 5mm long
flowers are grouped along one side of a curved spike, to 15cm long and curled over on itself at the tip
fruit is a group of 4 seeds surrounded by a bristly green husk
ripe seeds are brown to black, ridged and roughly pyramid-shaped
has a stout taproot with many lateral roots.
Why is it a problem?
can drastically reduce crop yield
seeds contaminate grain
bristly fragments of the plant cause vegetable fault in wool
may be poisonous to stock as it contains alkaloids.
Distribution
Eyre Peninsula – isolated infestations
Northern agricultural districts and Yorke Peninsula – scattered patches, more common in southern area
Murray Mallee – isolated to widespread
South East – widespread in upper south east, isolated in lower south east
Central region – one small infestation, otherwise isolated plants.
Ecology
not restricted by soil type but favours disturbed areas
germinates in large numbers after autumn
seedlings develop into a rosette during winter
growth is rapid in spring, flowers appear in August and continues for two months
flowers emerge progressively from the base of the spike through to the tip resulting in progressive seed production – ripe seeds fall while new flowers are opening at the tip of the spike
plants die at the beginning of summer.
How it spreads
reproduces only by seed – spread by stock and other animals, by machinery and in produce.
Related links