Wildlife for Wine
Wildlife for Wine is an exciting project that promotes the positive ecological role that wildlife can play in local vineyards. Working with growers, Wildlife for Wine aims to nurture more resilient and productive vineyards with the help of native species like microbats, birds of prey and plants.
Growers involved in the project establish an individualised Biodiversity Action Plan that identifies issues and opportunities for completing environmental works in the vineyard, including an activity time line. The plan also opens up opportunities for landholders to work with other growers and local environmental groups to go beyond their own boundary to support the region as a whole.
Wildlife for Wine was successfully rolled out in the McLaren Vale region in 2018, before being adopted in the Barossa Valley in 2019, with the involvement of 18 growers. It is now open to Clare Valley growers, with the official launch supported by the Clare Valley Wine & Grape Association in February 2021.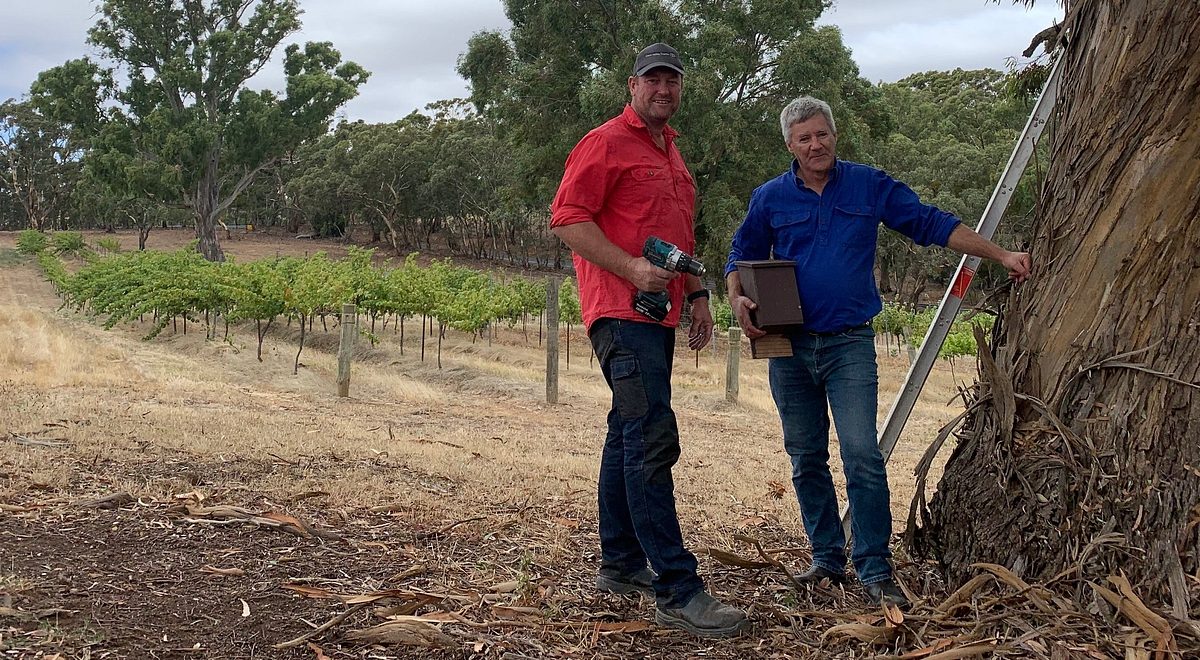 Paulett Wines Owner/Director Matt Paulett and Landscape Officer Jamie Pook ready to install a bat box as part of the Clare Valley Wildlife for Wine project.
Wildlife for Wine Clare Valley
Read about the launch of Wildlife for Wine in the Clare Valley. The project will focus on:
Microbats: Natural pest controllers
Insect eaters that can consume half their body weight in bugs each night, microbats are cheap, effective and natural pest controllers that can help reduce chemical use. Through the project, growers identify which bat species are already present on their property and look at installing bat boxes to increase roosting sites.
Predatory Arthropods: Natural enemies of pest insects
Natural enemies such as parasitic wasps, lacewings and spiders act as free biological control to reduce pest issues including Light Brown Apple Moth and Scale within the vineyard. Planting native insectary species can reduce pesticide inputs and provide an economic return.
Birds
While grape growers are aware of the damage birds can cause to crops, Wildlife for Wine provides advice about the specific bird species that may benefit vineyards, including insectivorous birds and birds of prey that scare away fruit-eating birds.
Clare Valley growers interested in Wildlife for Wine can contact Landscape Officer Jamie Pook on 8841 3444.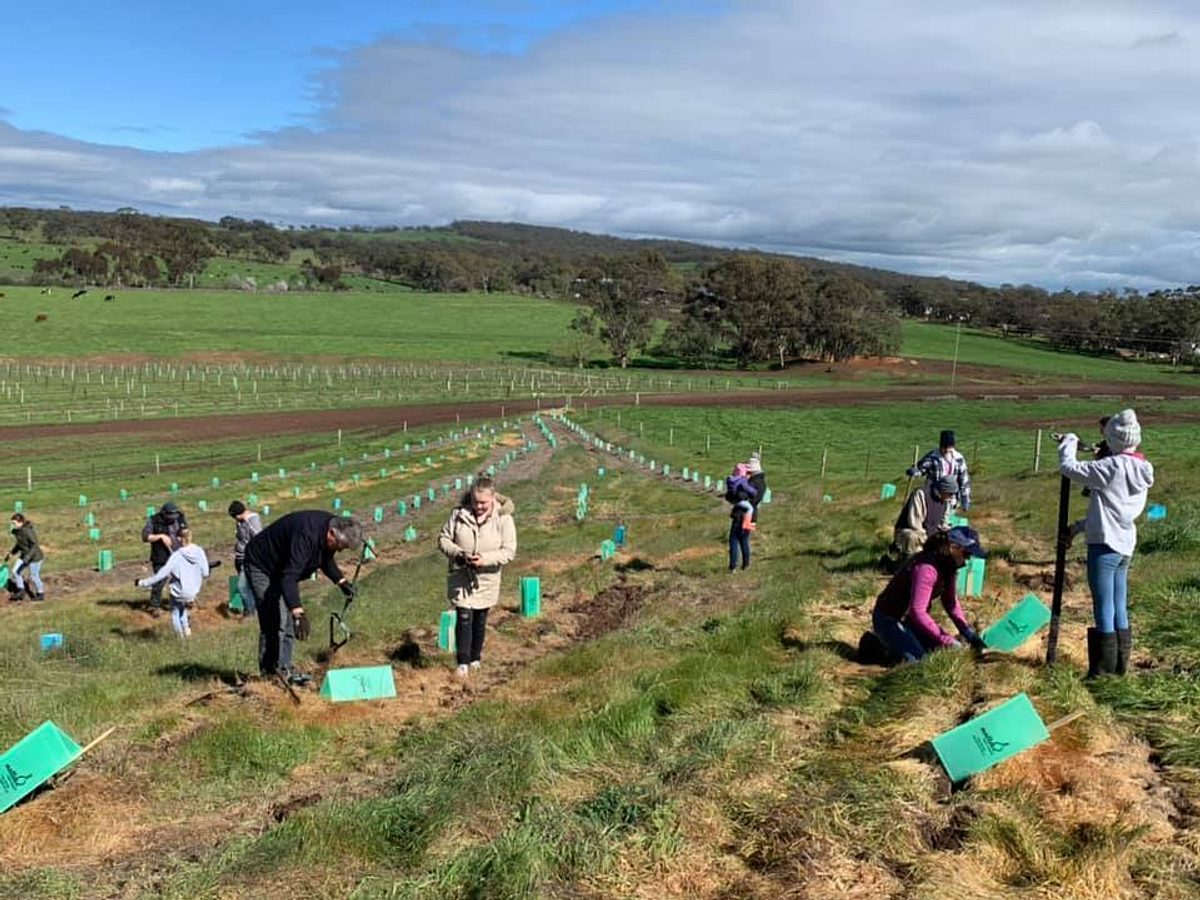 An enthusiastic Wildlife for Wine Barossa crew braved chilly conditions to plant 500 native trees at Nietschke's vineyard at Moppa in the Barossa Valley in 2020.
Wildlife for Wine Barossa
The Board continues to work with the Barossa Grape and Wine Association to deliver Wildlife for Wine in the Barossa Valley. Here's how three Barossa vineyards have benefited from the project. (Read the case studies, view the videos and listen to the podcasts)
Stonewell Cottages and Vineyards
VIEW EPISODE 1 featuring Evan Gobell and Ian Falkenberg discussing the benefits of encouraging native bird species within the vineyard landscape.
"I can do something, so I am. I've got young kids, I want to be an example, that Dad has been a positive contributor to the environment. We're not just farmers, we're conservationists." – Evan Gobell, Stonewell Cottages and Vineyards
Laughing Jack
VIEW EPISODE 2 featuring Shawn Kalleske of Laughing Jack and Mary Retallack discussing how native plants and grasses encourage beneficial insects in the vineyard.
"What I find is that when you have very healthy biodiversity you need less chemicals and the soil holds nutrients and water better." – Shawn Kalleske, Laughing Jack
Seppeltsfield
VIEW EPISODE 3 featuring Seppeltsfield's Matthew Pick and Terry Reardon investigating microbat populations in Barossa's vineyards.
"Bats eat half their body weight in insects every night… so they're consuming enormous amounts of insects that could be pests in vineyards. How do we bring more bats into vineyard areas." – Terry Reardon
More information
Landscape Officer
88413444