How people power is returning a spectacular raptor to Yorke Peninsula
News article
|
08 August 2023
An endangered bird that once patrolled Yorke Peninsula's coastline is now making a comeback thanks to an incredible collaborative and community-led effort.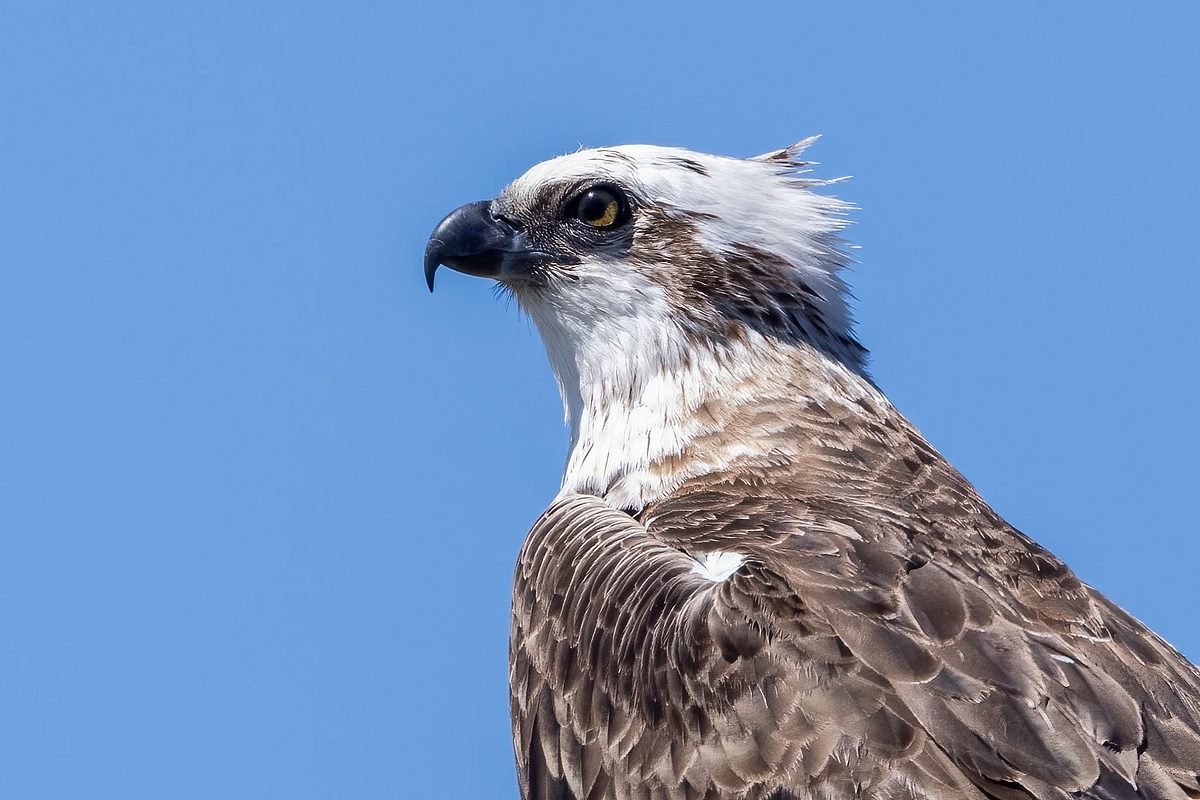 Only 7 years ago the future looked grim for the fish-eating eastern osprey.
Sensitive to human disturbance and vulnerable to fox predation, monitoring between 2014 and 2016 revealed no breeding pairs remained on Yorke Peninsula's mainland.
But a sliver of hope emerged in 2017, when the late Kent Treloar, a dedicated bird enthusiast and former president of the Southern Yorke Peninsula Landcare Group, heard about an osprey pair nesting on a navigation beacon in Wills Creek Conservation Park near Price.
There was a high chance of nest failure and abandonment due to local fishing activity, but Kent was determined to ensure a better outcome.
"He came up with the idea of putting an artificial platform in the mangrove trees nearby," said Rick Hawthorne, current SYP Landcare Group President.
It was a breakthrough concept that proved successful and led to much hard work by the group and its partners before the first artificial nest platform was installed at Price. "It was a bittersweet moment because we'd lost Kent by then…but at least he would have been there looking down with that grin on his face thinking, job well done," said Mr Hawthorne.
Bringing endangered ospreys back

Since then 5 composite fibre platforms have been helicoptered into place along Yorke Peninsula, including the most recent installation at Coobowie and 2 single pole platforms installed by Maritime Construction.
The Coobowie platform, the second to be supported by the Northern and Yorke Landscape Board's Djulda-wawa Badja project, was lowered into the Coobowie Estuary on 11 June 2023 in front of an enthusiastic audience of about 50 people, including many of the volunteers and community members who helped make the platforms possible.
A true community project, all the platforms were constructed by volunteers at the Ardrossan Community & Men's Shed, with each platform taking about 80 hours to construct.
"We knew very little about what the ospreys were about. We didn't even know what an osprey was, so it was all a bit of a learning process for us," revealed Kevin Betterman from the Men's Shed.
"The members have been really interested to learn about the requirements of nesting birds and the issues that they face, and they've been really proud to be involved in the whole process, where they can see what they're doing is benefiting a threatened bird."
They have been ably supported by Friends of Osprey, another passionate volunteer group, who have played a key role in construction logistics, transport and at the Coobowie installation.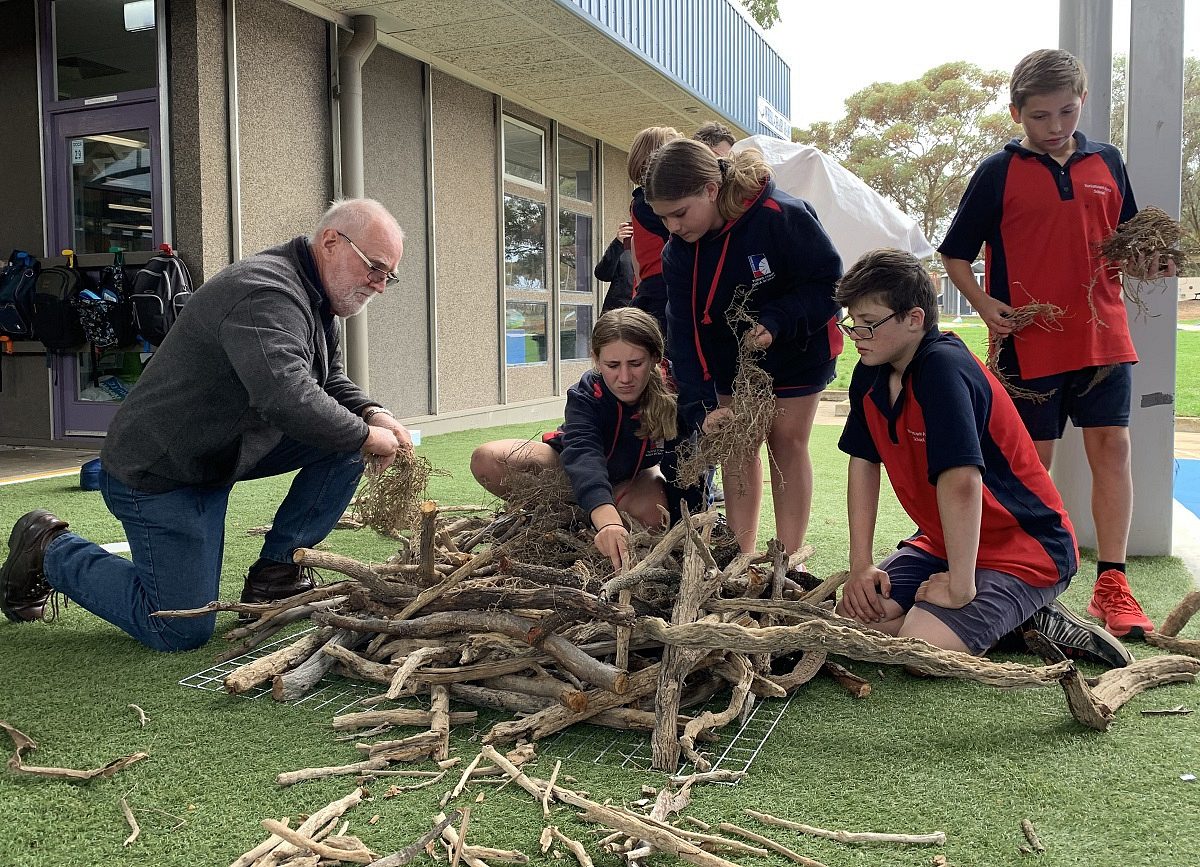 The Coobowie site was chosen for a breeding pair of ospreys who had created a nest on a mobile phone tower at nearby Edithburgh, which wasn't ideal for the birds or local telecommunications.
And much to the delight of everyone involved, just 4 hours after the Coobowie platform was installed, the ospreys flew in and adopted the new nest. They were back the following morning, carrying sticks and seaweed to refurbish their nest, which a group of year 7 students at Yorketown Area School created, and have been spotted on the nest each day since.
It is an encouraging sign for the plight of ospreys in South Australia which surveys have shown a 26% decline in the past 15 years, according to Ian Falkenberg, Friends of Osprey coastal raptor expert and a key driver of the project.
"That means there's less than 50 breeding pairs of ospreys left in South Australia," he said.
"What's been found in the Northern Hemisphere is that ospreys adapt very well to artificial nest platforms. In fact in some areas of Europe and America, 50% of the ospreys are now on artificial nesting platforms, so there's no reason why ospreys here in South Australia wouldn't take up those artificial structures.
"To date, 11 platforms have been put up in South Australia, most of those on Yorke Peninsula and 6 of those have been taken up by breeding ospreys."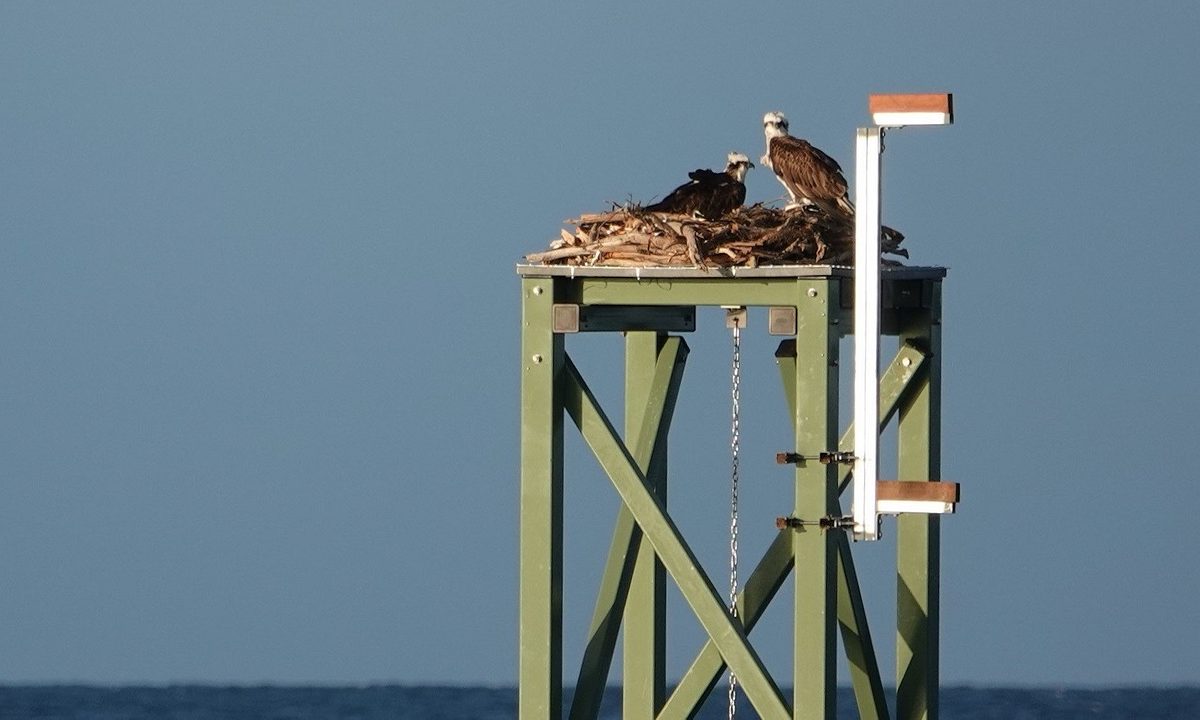 Northern and Yorke Landscape Board's Djulda-wawa Badja Project Manager Janet Moore said the landcare group and its supporters had effectively brought the birds back to Yorke Peninsula's mainland.
"The towers have been incredibly successful," she said. "We've had a situation at Gleeson's Landing where a pair had been attempting to nest on a low rocky outcrop for a number of years, and after the tower was installed there…they successfully fledged their first young in 12 years."
All eyes will be on the osprey pair at Coobowie with fingers crossed they can produce and fledge osprey young in the coming months.
Find out more about the Eastern Osprey Recovery and Djulda-wawa Badja projects.
The SYP Landcare Group acknowledges the support and guidance that it has received from the Northern and Yorke Landscape Board, Department for Environment and Water, Yorke Peninsula Council, Barunga West Council, Point Pearce Community, Formby Bay Environmental Action Group, Friends of Osprey, Birds SA, BirdLife Australia, Ardrossan Community Shed and Progress Association, Corny Point Progress Association, and community members.