Rural women find their inspiration at Thriving Women's Conference
News article
|
08 November 2022
South Australia's landscape boards supported 7 women from 3 landscape regions to attend the WoTL Thriving Women's Conference this year to celebrate the contribution of regional women to agriculture, agri-business and land management.
Keynote speaker and well known political journalist Annabel Crabb delivered a powerful message about stepping into leadership and continuing to provide a strong voice for rural and regional areas.

All of the women were thrilled to have the opportunity to attend, and have shared their highlights from this inspirational event.
Ellen Zibell, Buckleboo, Eyre Peninsula
Ellen is involved with the family farming business which farms 7700 ha with broadacre crops, merinos and cows. Ellen is also involved in Workshop 26, a retail space that opened up in an abandoned tractor shed in Kimba to give small business owners a place to connect and share their creations with the wider community.
'The conference highlights were spending time with other women who were keen to connect and network; as well as listening to the speakers, hearing their stories and engaging in new ideas.'
'For rural women to come together and meet with like-minded individuals is extremely valuable. Also giving women a reason to step away from home, kids, businesses and do something for themselves, is an amazing opportunity to gain clarity, inspiration and a fresh perspective - I think some women just need a reason to justify this, which is exactly what this event offers.'
'I gained a number of skills and regained the confidence to continue to chase my dreams and keep investigating some ideas that I have for my businesses, for future growth and sustainability.'
Judy Bates, Butler, Eyre Peninsula
Judy works with her husband to manage 3500 ha of land on which they produce and sell grain, hay, lambs for meat and flock rams via a sheep stud. Judy was keen to attend to further increase her knowledge, gain support and inspiration and confidence for a sustainable future in agriculture.
'The conference was a good opportunity to listen to speakers from diverse backgrounds and take home or back to business messages and apply if and when required.'
'The conference is valuable for rural women with the great networking opportunities and creating connections with the speakers and attendees from either business women or primary producers for both short and long term.'
'Since the conference, I have continued to liaise with several businesses from the conference to further enhance knowledge and develop changes within our business for sustainability in our agricultural business.'
'My favourite speaker was Yung Nietschke. I admire her resilience in her past and her courage to speak in public and share her journey in an excellent visual presentation.'
'Another excellent speaker was Kaurna Elder Lynette Crocker. Her answers were spoken with great passion; respect for the land; knowledge of the past; and for the sustainable future of both the land and the people, animals and plants which share the land. Since the conference, I have shared and quoted several of her statements to family, friends and other business people.'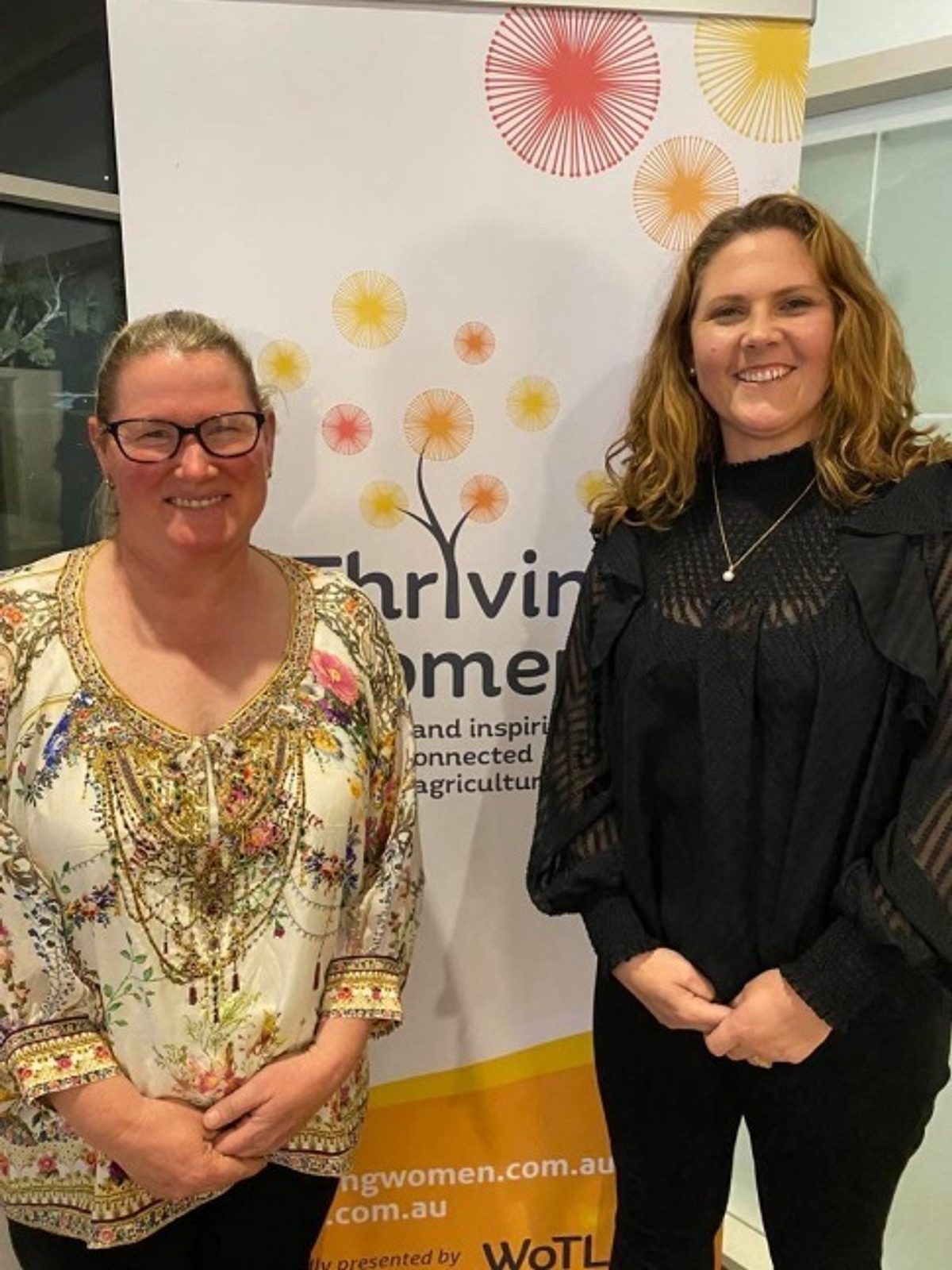 Judy and Ellen, Eyre Peninsula
Michelle Desmazures, Limestone Coast
Michelle works on farm with her husband, running a mixed grazing and dryland lucerne business in the upper Limestone Coast. Michelle was keen to attend to grow her understanding about agriculture following a recent career change from working off-farm for 25 years to now working on farm with her husband.
'Having an opportunity to immerse yourself for two days in an environment that immediately felt supportive and welcoming instantly promoted a sense of belonging. Such an environment allows you to be open to exploring and contemplating new ways of thinking and, you feel encouraged to step outside of your comfort zone. '
'Over the course of the two days I attended five 'Toolbox Talk' breakout sessions totalling five hours of having access in small groups to some highly knowledgeable people across a wide range of topics.'
'The key note speakers were another highlight. Hearing them share their stories and journeys was fascinating and at times highly emotional, but this was also balanced with a few laugh out loud moments too.'
'One of the 'best bits' was having time to meet new people, re-connect with some familiar faces and to also establish new connections and networks in the ag space, which for me is something that is really important as I grow my identity as a farmer.'
Michelle's take-home messages:
'Listening is the most important thing you can do' - Annabel Crabb, keynote speaker
'Do you know how financially secure you are?' Paula Liddle - William Buck Accountants
'Investing in yourself (your wellbeing) has huge benefits in the long run for you and your business' Kate Gunn - ifarmwell
'Trust is like an egg - if it breaks it is impossibly hard to put back together (think Humpty Dumpty)' Tony Catt - Catapault Wealth
'Think about what the other person is currently experiencing, be empathetic and have listening ears.' Dr Emily Buddle - Ellimata Consulting
'Listen to understand' Yung Nietschke, keynote speaker
South Australian Arid Lands
The SA Arid Lands Landscape Board sponsored four women to attend the bi-annual event: Lisa Edwards of Muloorina Station, Ros Breeding of Teetulpa Station, Fiona Warwick of Holowiliena South and Port Augusta Quorn Landscape Group chair Renata Hackett.
They were joined by SAAL staff Di Makotter, Andrea Tschirner and Cherie Gerlach.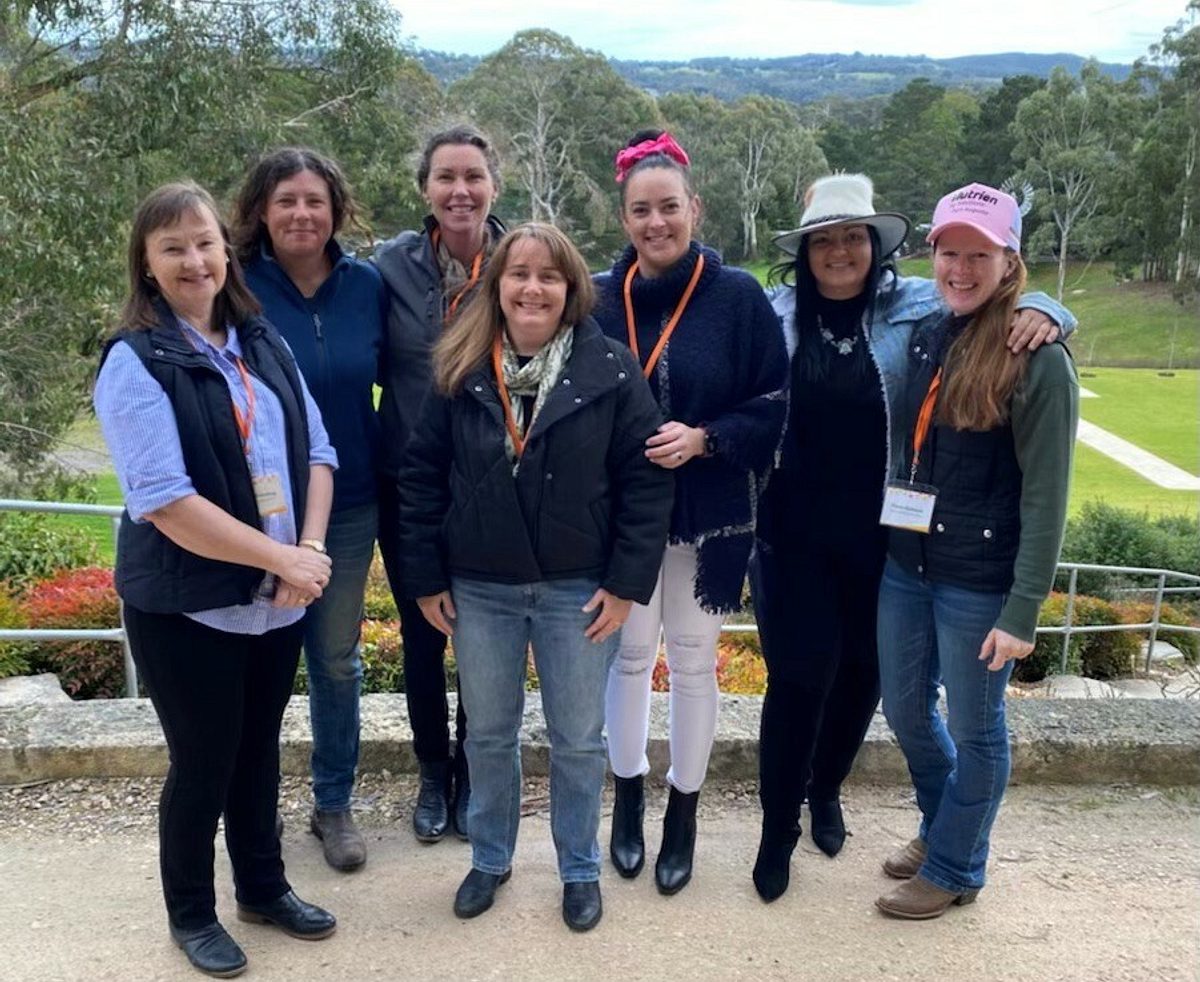 At the Thriving Women's Conference, from left, Ros Breeding, Di Makotter, Andrea Tschirner, Cherie Gerlach, Lisa Edwards, Alice Smith and Fiona Warwick
Ros Breeding, Teetulpa Station
'Meeting with 200 women involved in agricultural and agribusiness was inspirational'
'I found the workshop speakers engaging, insightful and thought-provoking – as were the guest speakers Annabel Crabb and Yung Nietschke'
Fiona Warwick, Holowiliena South
'The chance to visit another region, speak with strangers about their lives and goals and immersing [myself] in the bigger picture really put things into perspective.'
'The two main guest speakers were the highlight for me and I think they set the bar fairly high for the talks on both days.'
'Danielle England's focus on HR management of Gen Zs will be helpful as [I find myself] managing more and more young staff. I love being able to get young people into the industry and want to build that environment so we can retain them as they've loved the experience and culture they've found while they are here.'
'It was also fascinating to see how Emily Riggs is developing her brand. It was a feel-good moment to be connected through our Merino wool connection.'
More information
South Australia's nine landscape boards support communities to care for land water and nature.
You can stay up to date with opportunities to be involved in your area by contacting your local landscape board. Find your local landscape board here.
You can also subscribe to the Landscape SA Newsletter to get news from SA's nine landscape boards in one place.