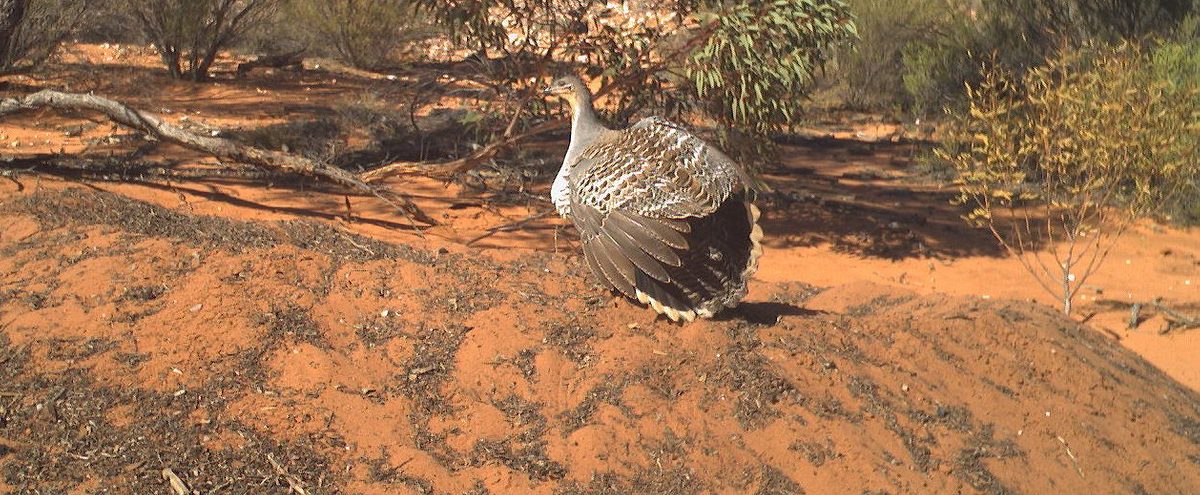 Malleefowl
Previously found throughout much of semi-arid to arid Australia, the range and population of this stocky ground-dwelling bird is severely reduced. Nationally, the *nganamara (malleefowl) is listed as Vulnerable under the Environmental Protection and Biodiversity Conservation Act (1999). This decline is mostly attributed to land clearing for farming. Nganamara prefer the same sandy mallee habitat that is highly sought after for agriculture. In addition, the species is at threat from various introduced species such as the cat and red fox which prey on young nganamara and adults.
Over the past 15 years, AW has monitored populations and behaviours of nganamara in the Alinytjara Wilurara region throughout much of Maralinga Tjarutja (MT) Lands, the Yellabinna parks and the Anangu Pitjantjatjara Yankunytjatjara (APY) Lands. However, relatively low population numbers combined with the vastness of their habitat area make locating nests and birds very difficult.
In 2018, AW secured funds under the Australian Government's Regional Land Partnerships program (RLP) to undertake LiDAR (Light Detection and Ranging) surveys across sections of known nganamara habitat.
LiDAR surveys use a plane fitted with a LiDAR sensor which is able to record extremely detailed and accurate imaging of the topography of the ground. This is followed by ground truthing surveys of locations considered likely to be nganamara mounds.
In 2019, of the 63 mounds identified by LiDAR, only four were not nganamara mounds. Remote trail cameras have since been placed to monitor mounds, enabling AW to record activity around the nests including breeding behaviours and the presence of predatory feral species. Information obtained is used for the adaptive management of threats.
In dry years many mounds remain dormant as rain is needed to support composting of the leaf litter which creates the warmth vital to successful incubation of the eggs.
AW's ongoing commitment to the protection of malleefowl in the region is supported by our partners particularly the Oak Valley Rangers who undertake regular monitoring and land management in the Maralinga Tjarutja lands, the Friends of the Great Victoria Desert and the Far West Coast Aboriginal Corporation Rangers.
*nganamara is Pitjantjatjara for malleefowl (Leipoa ocellata)