Paddy the green turtle on tour in SA waters
News article
|
18 September 2023
Did you hear about Paddy, the green turtle earlier this year?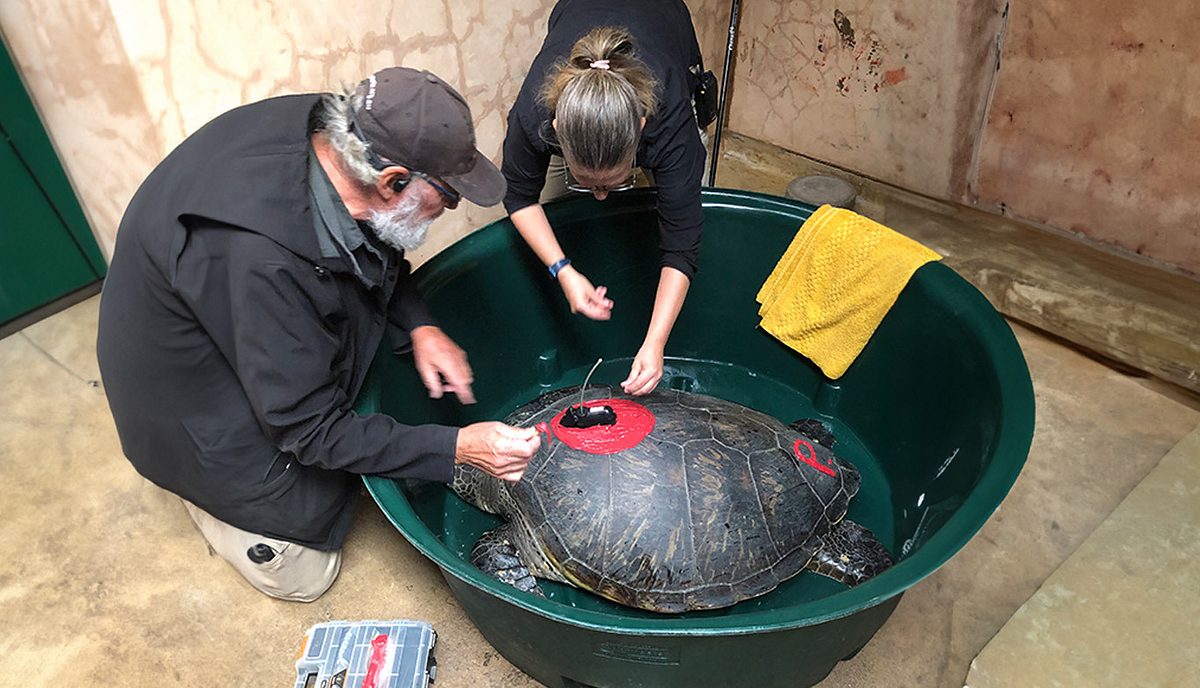 In March, Paddy, an 82kg, 35 year-old, female green turtle was rescued from Middleton beach in the Encounter Marine Park by local rangers, the Wildlife Welfare Organisation SA and the RSPCA.
She was taken to the Adelaide Zoo where she spent 2 weeks recovering under the watchful eyes of the zoo's vets. You can view 7News footage of the rescue here.

Green turtles are considered an endangered tropical species, with distinct populations residing in waters off Queensland and north-west Western Australia. DNA testing indicated Paddy is linked to the Queensland population. Sightings of single turtles are occasionally reported in SA, but it is thought our waters are generally too cool for turtles to reside here and they are simply passing through on their journey to warmer areas.
However, Paddy is teaching us a thing or two about green turtles.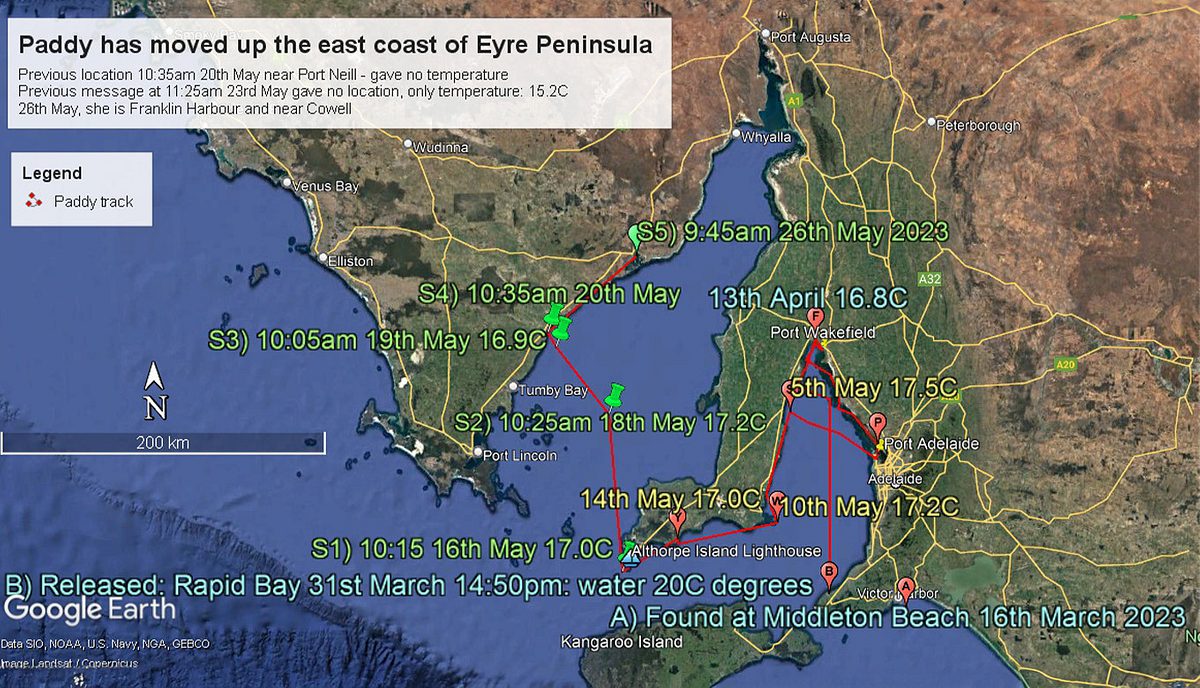 In a fortuitous turn of events, former Queensland marine parks ranger and turtle expert Aub Strydom – now a resident of Murray Bridge – saw the 7News coverage and volunteered his services, teaming up with the zoo vets to secure a satellite tracking device to Paddy's shell. Following her release back into Encounter Marine Park at Rapid Bay on 31 March, Aub has diligently tracked Paddy's movements for the last 5 months, with some unexpected results.

First, Paddy travelled north to the rich seagrass meadows off Port Wakefield, in the Upper Gulf St Vincent Marine Park, before heading south to Outer Harbor and the Adelaide Dolphin Sanctuary. From there she ventured across the gulf to Port Vincent, then south to Edithburgh and the Lower Yorke Peninsula Marine Park, before heading west to Marion Bay in the Southern Spencer Gulf Marine Park. Once she rounded the tip of Yorke Peninsula, Paddy headed north once more to Cowell and the Franklin Harbor Marine Park. Paddy then spent June and early July around Port Pirie before travelling further north to Port Augusta in the Upper Spencer Gulf Marine Park. She is currently at the very top of the gulf.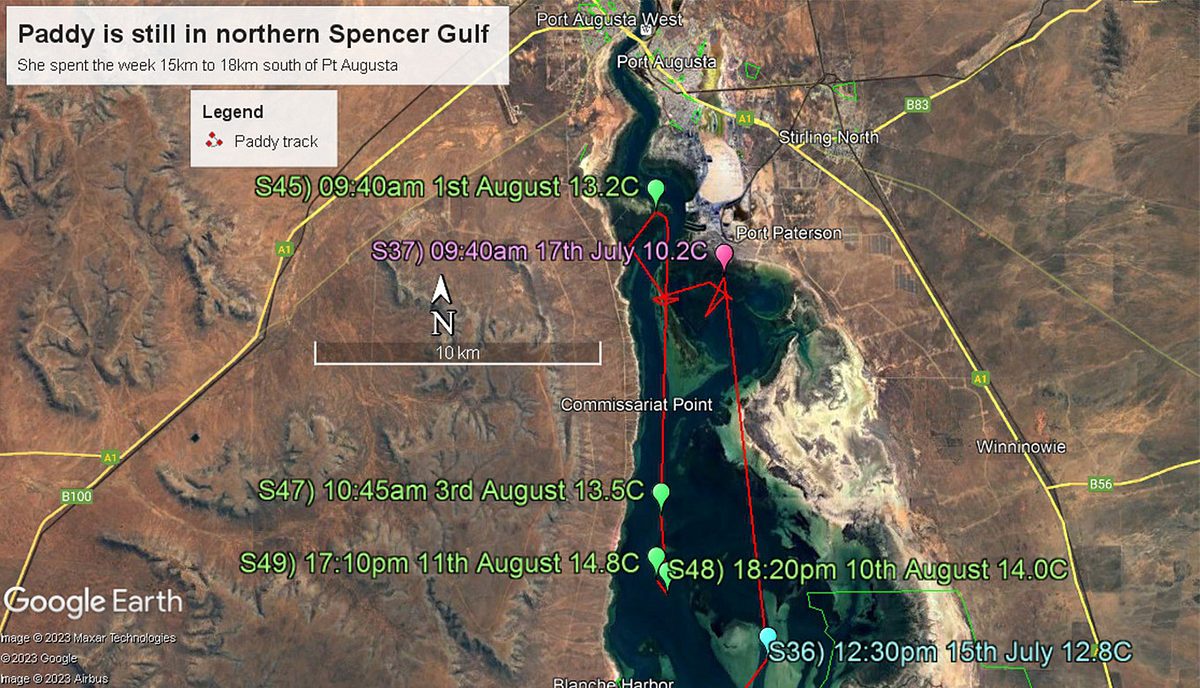 Incredibly, Paddy has survived water temperatures of only 10.2 degrees in mid-July near Port Augusta, which many experts consider close to fatal for a tropical turtle species. ​

Since mid-August she has been enjoying slightly warmer temperatures there of 14.8 – 16 degrees, which means she has survived the cold winter weather. Fortunately, Paddy's travels have passed through plenty of large seagrass meadows, a favourite green turtle food, enabling her to maintain her energy levels.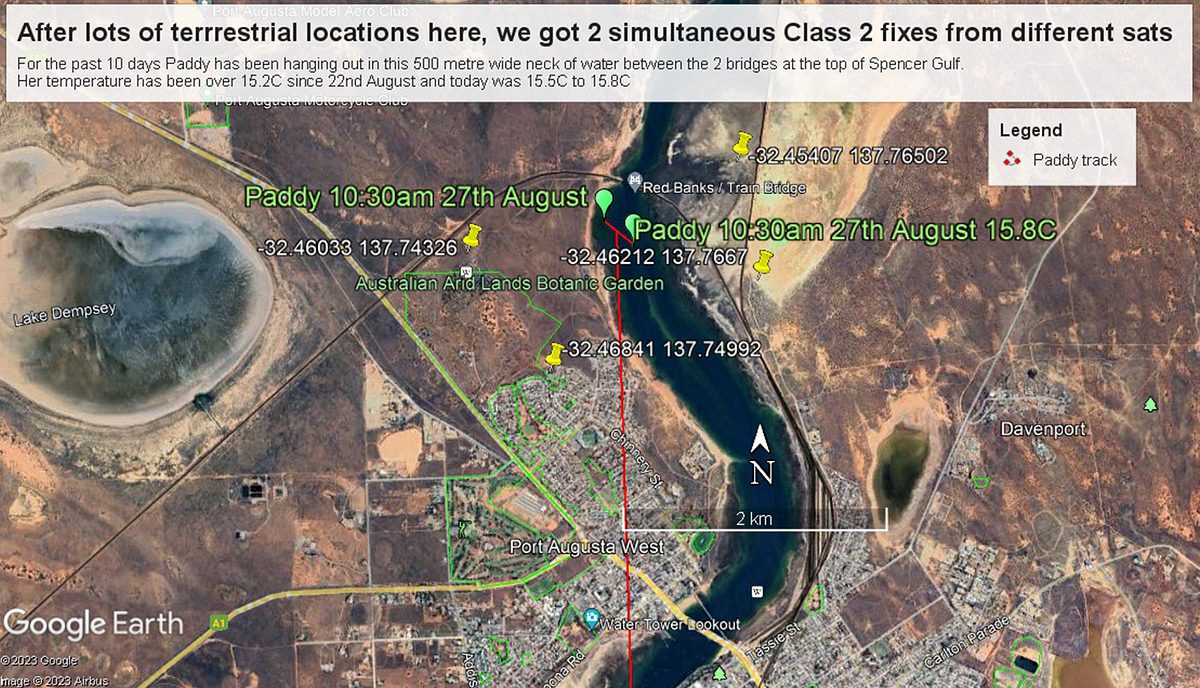 With Aub's help, and for as long as the satellite tracker continues to function, we'll follow Paddy's future travels. Maybe green turtles can be residents of our waters after all?
You can follow Paddy's journey on the website.
Story courtesy of the Department for Environment and Water.