First Nations partnerships
Acknowledgement of Country
We have much to learn from First Nations in caring for Country.
The Hills and Fleurieu Landscape Board respects the Peramangk, Kaurna and Ngarrindjeri Nations as the Traditional Owners of the region and respects First Nations peoples' deep knowledge and relationship with Yerta/Ruwe.
We are committed to walking together with First Nations people in learning about and managing the landscapes of the region.

View the Landscape boards of SA Aboriginal and Torres Strait Islander Statement of Commitment.

__________________________________________________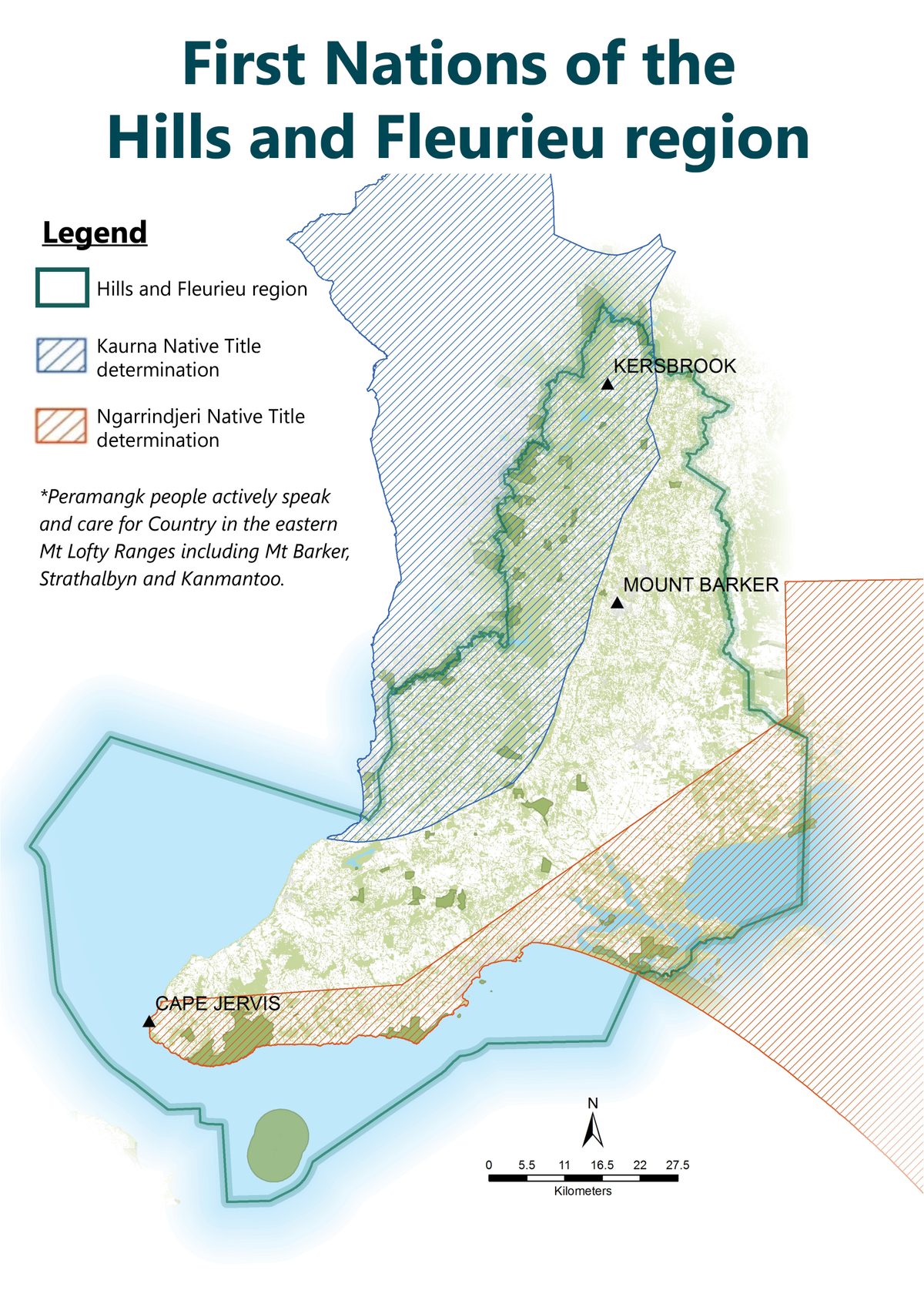 What is our First Nations Partnerships program?
The program aims to meaningfully involve traditional owners and Aboriginal people in natural resources planning, management and on-ground implementation, creating lasting two-way benefits.
The program builds the cultural competency and awareness of staff to work respectfully and inclusively with traditional owners and Aboriginal communities. This is done through formal training sessions and by providing positive experiences and places for staff to come together with traditional owners and Aboriginal communities to share knowledge, stories and discuss what's important to all of us.
The First Nations partnerships project is supported by the Hills and Fleurieu Landscape Board through funding from the Australian Government's National Landcare Program.
Heritage protection
The First Nations Partnerships program aims to ensure the protection of Aboriginal heritage sites, which are places of physical and/or spiritual significance for Aboriginal people. This is done through assisting staff to understand and adhere to the Aboriginal Heritage Act 1988 and other locally appropriate mechanisms.
The program also builds the cultural knowledge and capacity of staff to engage with Aboriginal people early in project planning and delivery. Early engagement aims to ensure that Aboriginal interests and cultural heritage implications are valued and inform project planning.

Read a recent media release about connecting with First Nations to care for Country.
Fleurieu swamps project
Launched in late May 2021, the Aboriginal Knowledge and Values in Fleurieu Swamps project was implemented by the Kula-Tind-Jeri enterprise, led by State Aboriginal Heritage Committee Chair Mark Koolmatrie, and supported by a Grassroots Grant from the Hills and Fleurieu Landscape Board.
Yarluwar-Ruwe Assessment - Swamp Revival
More information
Partnerships Officer
(08) 8391 7500