From crays to cockatoos and saltmarsh to daisies – how landscape boards are helping protect threatened species
News article
|
06 September 2023
Across the state, landscape boards are partnering with a wide range of organisations, including Indigenous rangers, community groups, government agencies and other stakeholders, to safeguard the future for our threatened flora and fauna.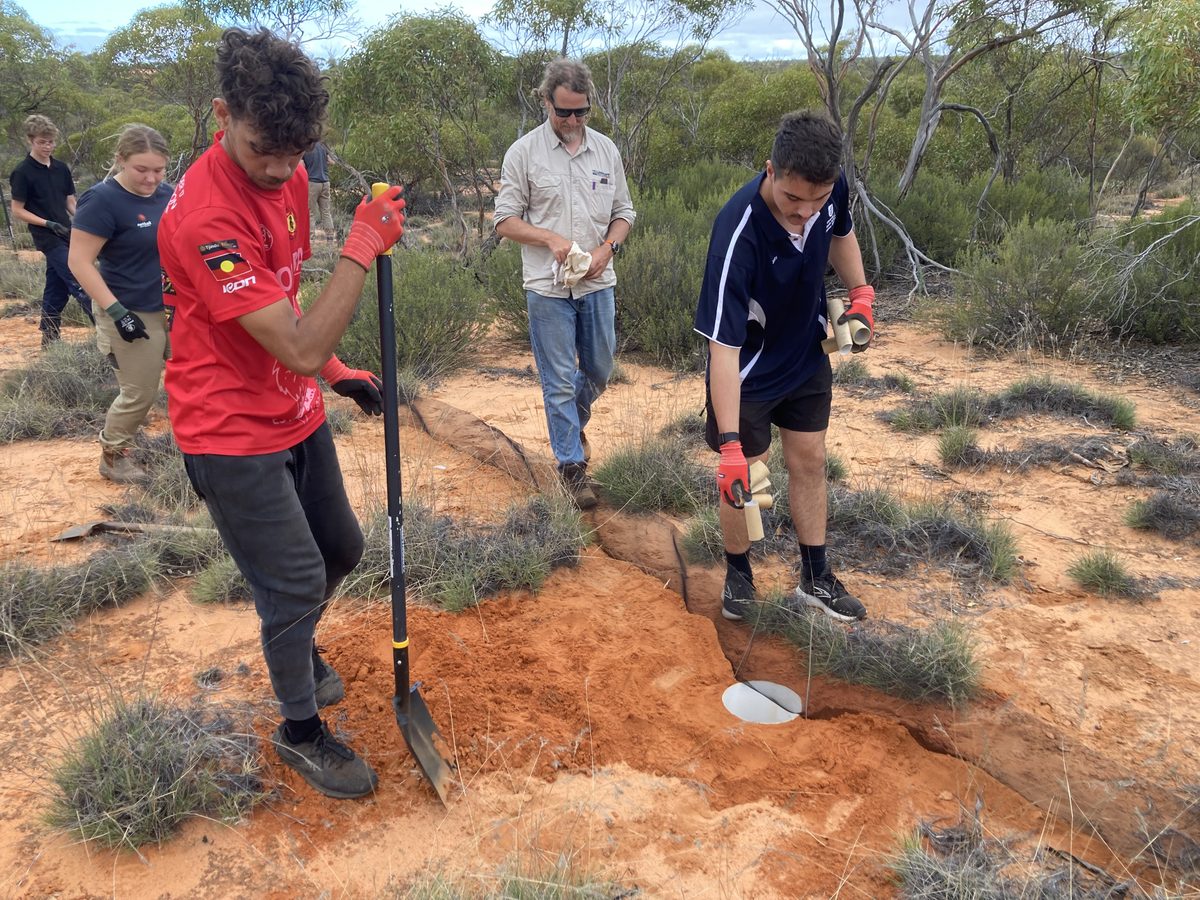 Digging for dunnarts - Alinytjara Wilurara
Sandhill dunnarts have been found further south than ever before in a fauna survey carried out by the Alinytjara Wilurara Landscape Board (AW) this year.
A group of Year 12 students from Ceduna Area School were part of the expedition, which set out to find the vulnerable species in the dunes along Goog's Track, in the Yumbarra Conservation Park about 50km north of Ceduna.
The sandhill dunnart (Sminthopsis psammophila) is small carnivorous marsupial, usually 10-16cm long and weighing 30-44g. They're members of the dasyurid family, a group of carnivorous marsupials that includes Tasmanian devils, quolls, numbats and the extinct thylacine, or Tasmanian tiger.
One of the largest and rarest dunnarts, the sandhill dunnart is listed as "vulnerable" under the Environment Protection and Biodiversity Conservation Act 1999.
The school group helped dig in the pitfall traps, setting up six lines of six pits on the first day. They were thrilled when a sandhill dunnart was found in a trap on the first morning, and the trapping also yielded a second sandhill specimen on the final day.
"Both of the sandhill dunnarts caught were sub-adults, born either late last year or early this year," says AW Ecologist Brett Backhouse. "They're only the second and third of their kind recorded in the Yumbarra Conservation Park, the first being caught in our survey in 2019."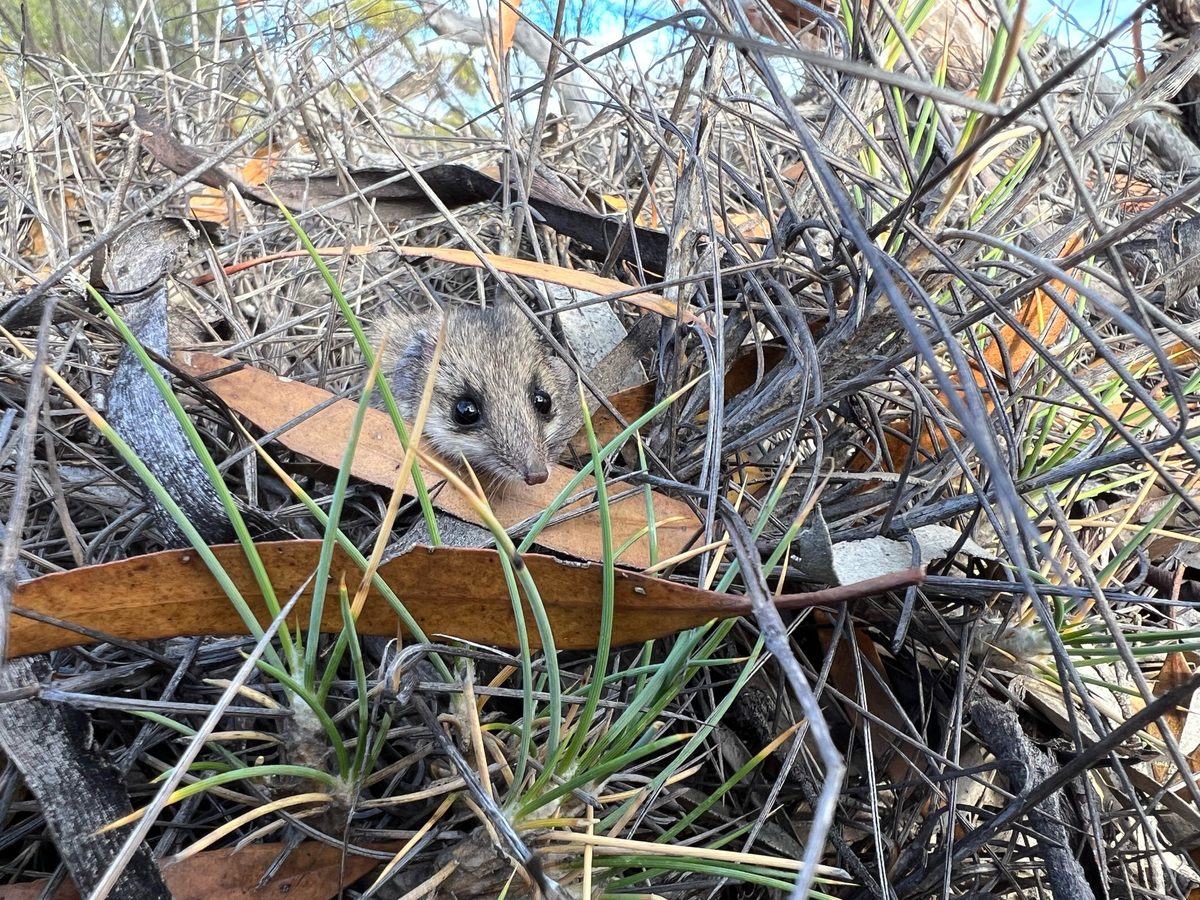 After checking the traps, students helped measure the surrounding spinifex, which is done on each dunnart trapping trip. This information has helped to refine our understanding of the precise conditions preferred by the dunnarts, which rely on spinifex of a certain size and density to provide protection from predators.

The pitfall traps also collect a variety of other species. This year's catch included southern ningaui, little long-tailed dunnarts and western pygmy possums, which were a hit with the kids.

Find out more about sandhill dunnarts.

This project is supported by the Alinytjara Wilurara Landscape Board, through funding from the Australian Government's National Landcare Program.
Shorebirds at home in a threatened ecological community - Eyre Peninsula
Did you know that temperate coastal saltmarsh is a threatened ecological community? These distinctive coastal plant communities are low-growing and salt-tolerant – and one of the most efficient ecosystems for storing blue carbon.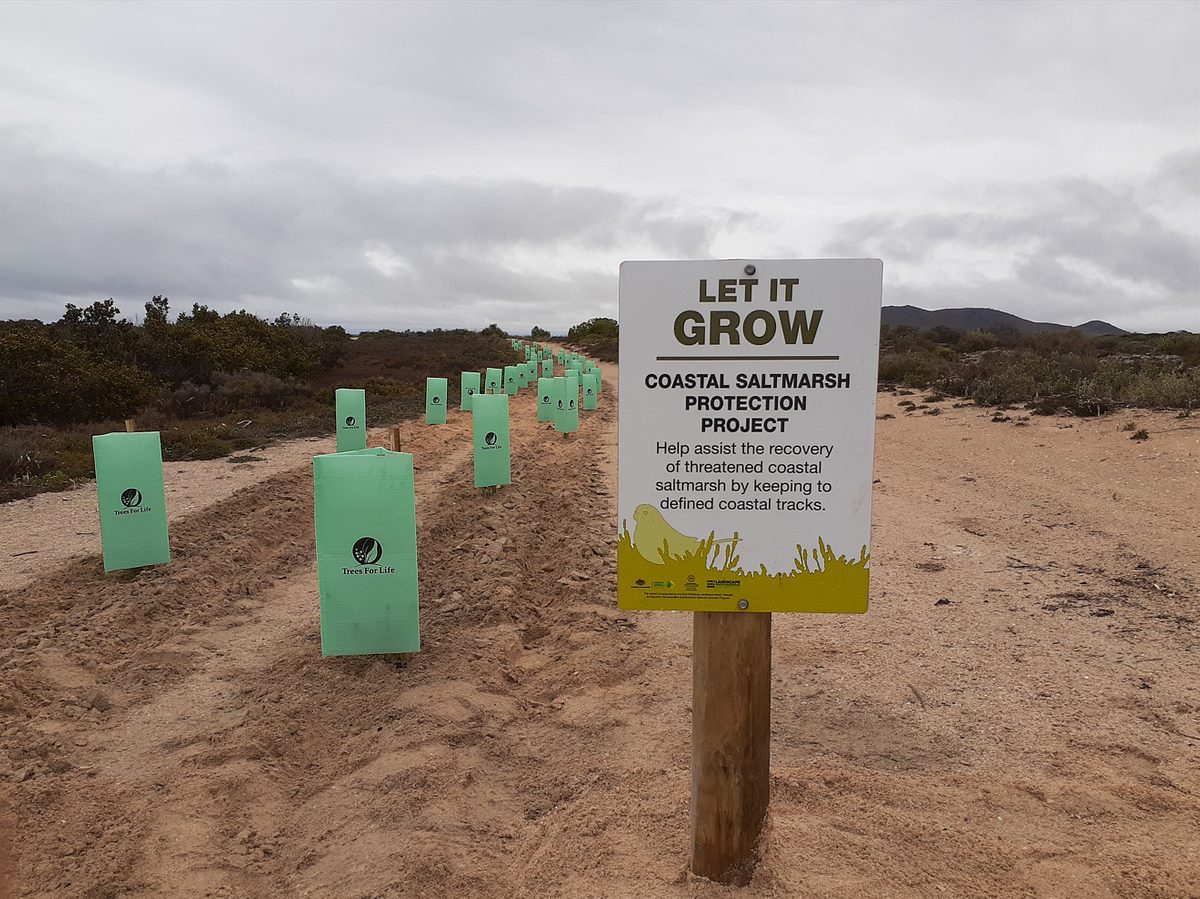 Saltmarshes are important as a nursery habitat for many fish species as well as providing habitat, food and shelter for a variety of species including threatened shorebird species. This includes resident shorebirds such as hooded plovers and fairy terns, and migratory species like eastern curlew and curlew sandpiper.
For migratory shorebirds this is the time of year when they are beginning to return to our coastline to feed and rest following their long journey from the northern hemisphere.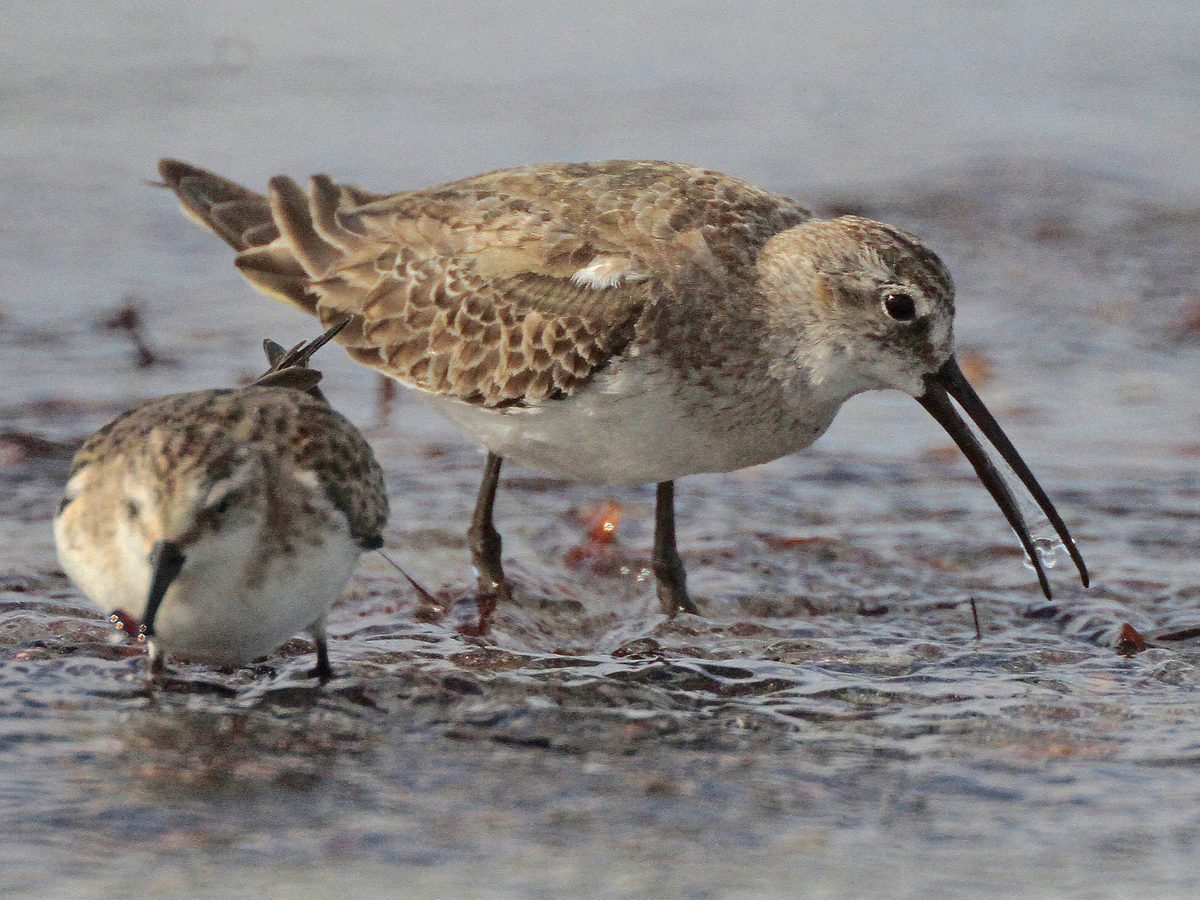 On Eyre Peninsula, a four-year project has focused on improving the condition of local saltmarsh with more than 7,500 ha benefiting from debris and weed removal, access control, revegetation, rabbit control and hydrological improvements.
At Whyalla, the Eyre Peninsula Landscape Board is seeing new samphire plants growing in local saltmarsh areas after revegetation, while at Seagull Lake near Streaky Bay rabbit control, ripping and revegetation has been improving local saltmarsh condition.
These are just two of the key saltmarsh sites on Eyre Peninsula which have been given a helping hand during the Eyre Peninsula Landscape Board's Saltmarsh Threat Abatement and Recovery Project, funded by the Australian Government's National Landcare Program.
Find out more about how the Eyre Peninsula Landscape Board has been helping local saltmarsh communities.
Bio-banking for bell frogs - Hills and Fleurieu
Landscapes Hills and Fleurieu and partners have been working to reduce the extinction risk of the nationally Vulnerable (EPBC Act) southern bell frog (Litoria raniformis) in SA's lower-Murray region.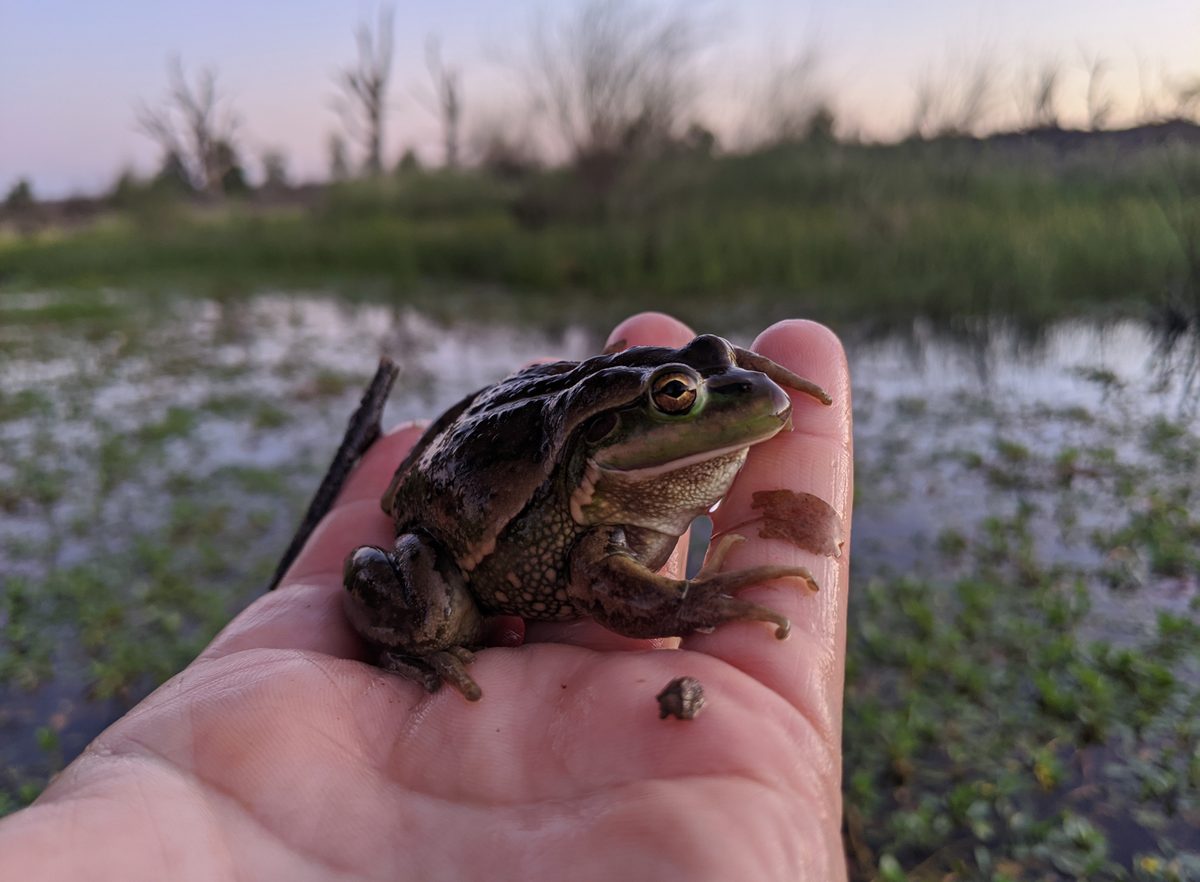 Southern bell frog populations have declined in abundance through the lower-Murray region, disappearing from many areas of the Coorong and Lower Lakes region during the Millenium Drought. In 2022 Landscapes Hills and Fleurieu secured funding from the Australian Government's Environment Restoration Fund to deliver a recovery project with a team of dedicated partners.
Two new outdoor breeding tanks for southern bell frogs have been set up at Clayton Bay where there is an existing captive breeding program, while others have been set up at Urrbrae Agricultural High School and Investigator College's Victor Harbor campus.
The project has also seen the development of assisted reproductive technology (ART) which involves the cryopreservation of sperm, also known as bio-banking. The bio-banked sperm can be used for future genetic management. A pilot trial was used to establish a protocol for the cryopreservation of sperm and workshops held to teach participants the techniques. Southern bell frog sperm has since been sent to the Ian Potter Australian Wildlife Biobank in Melbourne for long-term storage and Repromed in Adelaide.
Other activities to help future reintroductions include developing a southern bell frog translocation plan, buying a portable water pump to deliver water at critical times to reintroduction sites, and improving habitat at a future reintroduction site.
Further information on the project.
Project partners included Landscapes Hills and Fleurieu, Murraylands and Riverlands Landscape Board, Nature Glenelg Trust, University of Newcastle, University of Canberra, Clayton Bay Nursery and Environment Group, Clayton Bay Community Association, Zoos South Australia, Investigator College and Urrbrae Agricultural High School.
Glossy black cockatoos on the rise - Kangaroo Island
A record number of endangered glossy black-cockatoos have been banded on Kangaroo Island this nestling season.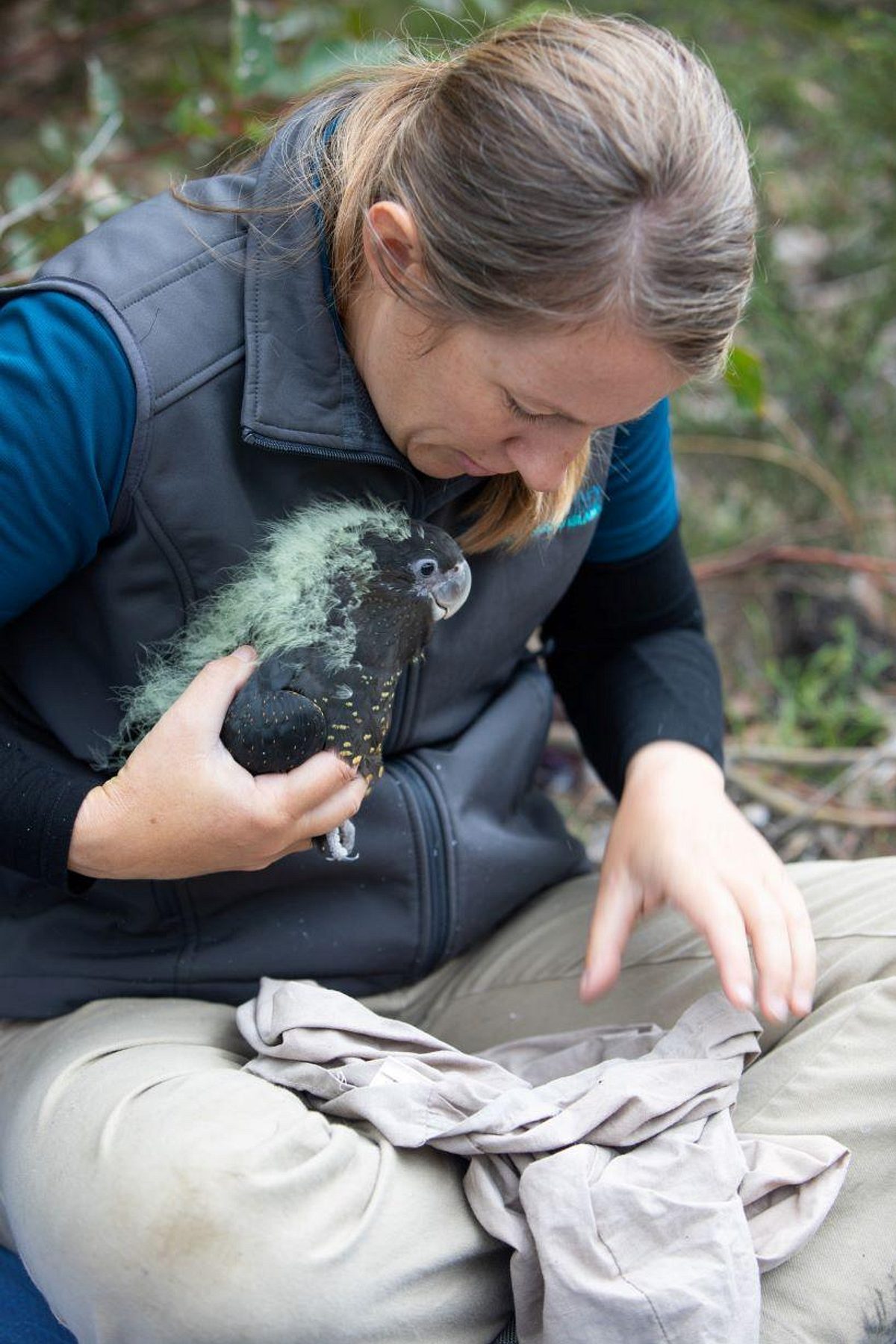 A total of 49 newly hatched birds have been recorded by the Kangaroo Island Landscape Board (KILB) glossy-black recovery team, the highest tally since banding began in the mid-1990s when their numbers had dipped to 158.
It is an incredible result given the devastating loss of habitat after the 2019-20 Black Summer bushfires that burnt half the island.
Before the fires, numbers of glossy black-cockatoos had reached 450 thanks to predator control and the installation of nesting boxes. The KILB team now believes there are about 420 of the birds, with their growth slowed by the loss of habitat.
Each of the birds found in the island's specially designed nest boxes have been banded with individual numbers to trace them throughout their lives.
Glossies raise only one chick per year and it is not yet known how long the Kangaroo Island subspecies typically live. The oldest banded bird is 25 and it's suspected that, like other cockatoos, they often live for more than 35 years.
To help in the bounceback of vegetation for the glossies to live and feed in, the KILB is planting areas of well-spaced sheoaks which will be able to produce seeds for the birds in under 10 years. Glossies only eat drooping sheoak seeds and the recovery team has planted almost 25,000 sheoaks across the island over about 50 hectares of land. In the fire recovery areas, the sheoak is rebounding thickly, in some places with up to 400 seedlings per square metre.
Forty years in the making: iconic Murray crayfish re-released into the South Australian Murray River - Murraylands and Riverland
In the Murraylands and Riverland a landmark trial has seen the reintroduction of the threatened Murray crayfish for the first time in 40 years.
Once common in the waters of the South Australian Murray River, the number of Murray crayfish declined to a point of virtual extinction because of overfishing, the effects of river regulation and declines in water quality.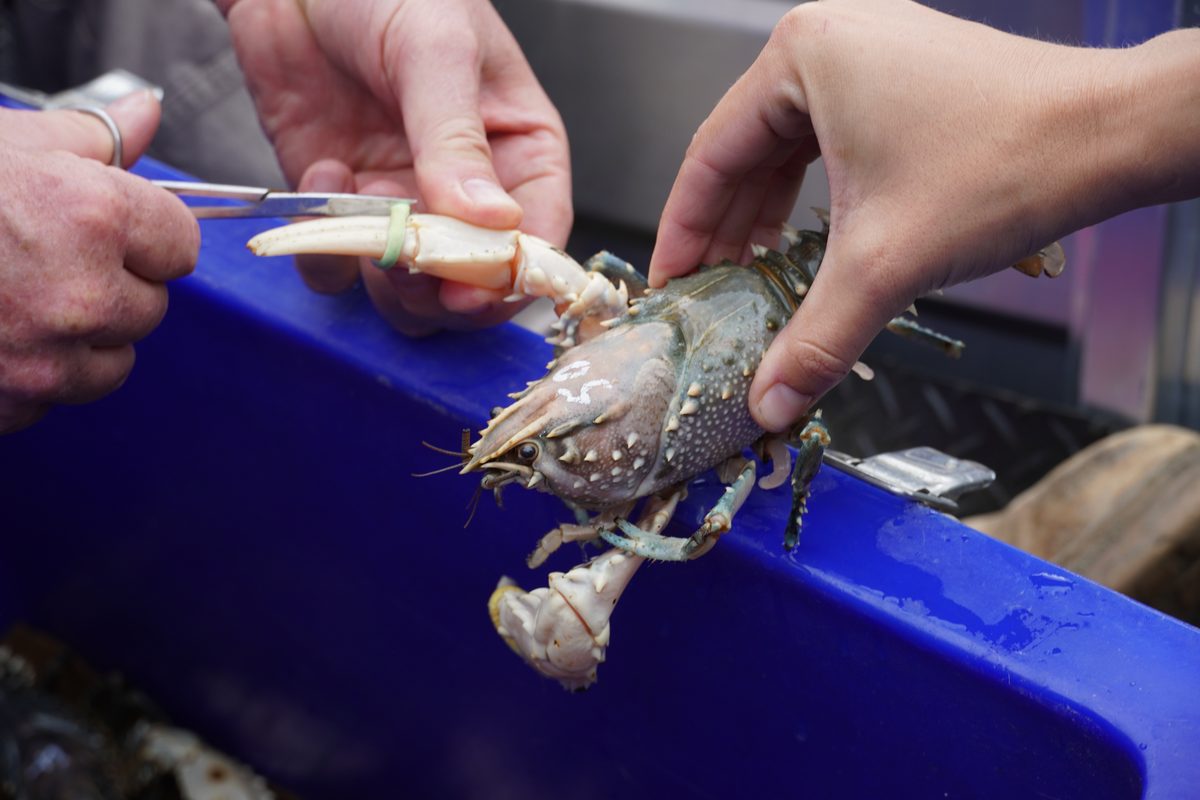 Improved understanding and recent improvements to these conditions meant that 2023 was opportune for the species to be reintroduced.

In June, around 200 Murray cray, rescued from blackwater events upstream, were released into a site in the South Australian portion of the Murray River. The exact location has been kept secret to provide the crays with the best chance of survival. Around 30 of the released crays were fitting with tracking devices which will allow the project partners to monitor their survival over the coming months and years.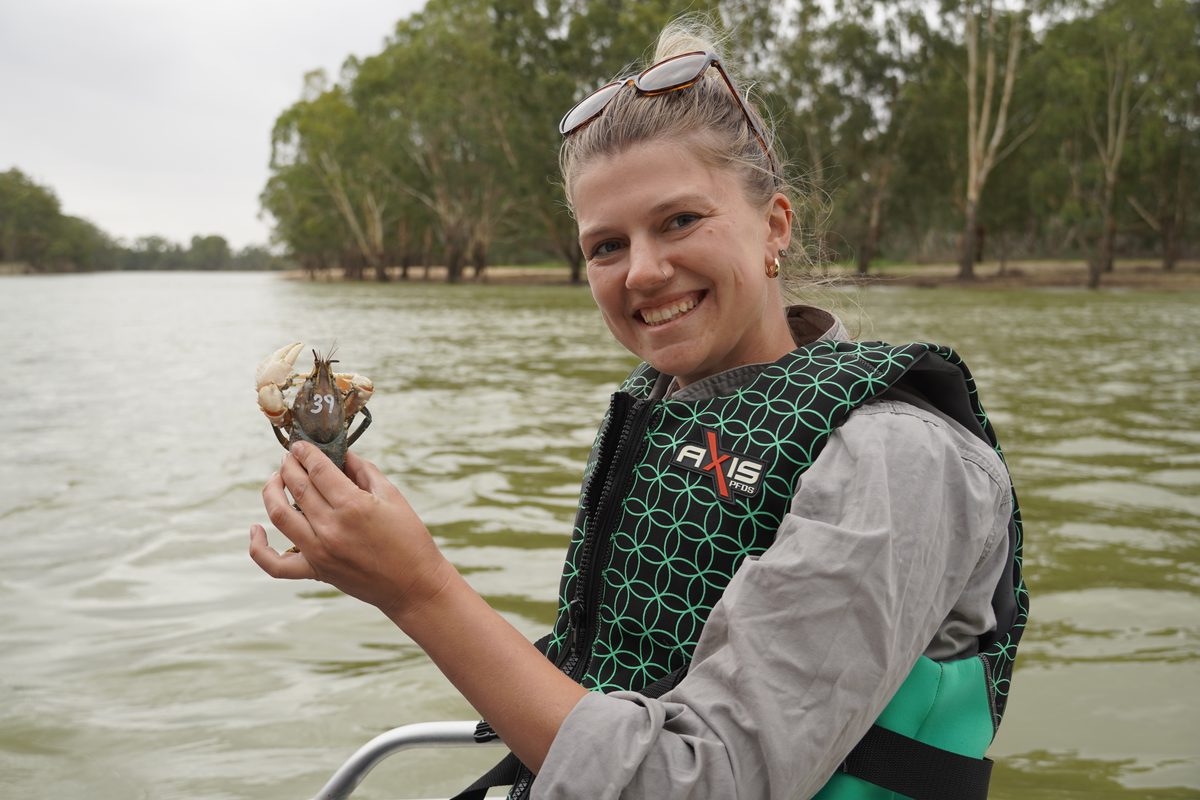 Find out more about the Murray cray translocation project.
This initiative is a partnership between Nature Glenelg Trust, and the Murraylands and Riverland Landscape Board through funding from the landscape levies, with support from New South Wales DPI, OzFish, North West Aquaculture, Victoria Fisheries Authority, River Murray & Mallee Aboriginal Corporation (RMMAC) and PIRSA.
Bettongs on board: marsupials fly interstate to new home on Yorke Peninsula - Northern and Yorke
Seven commercial flights landed in Adelaide in June this year with some unusual passengers – a group of critically endangered marsupials.
Seventy-three brush-tailed bettongs were flown more than 2,000 kilometres from WA to a new home in Dhilba Guuranda-Innes National Park as part of an ambitious project to restore locally extinct species to South Australia's Yorke Peninsula.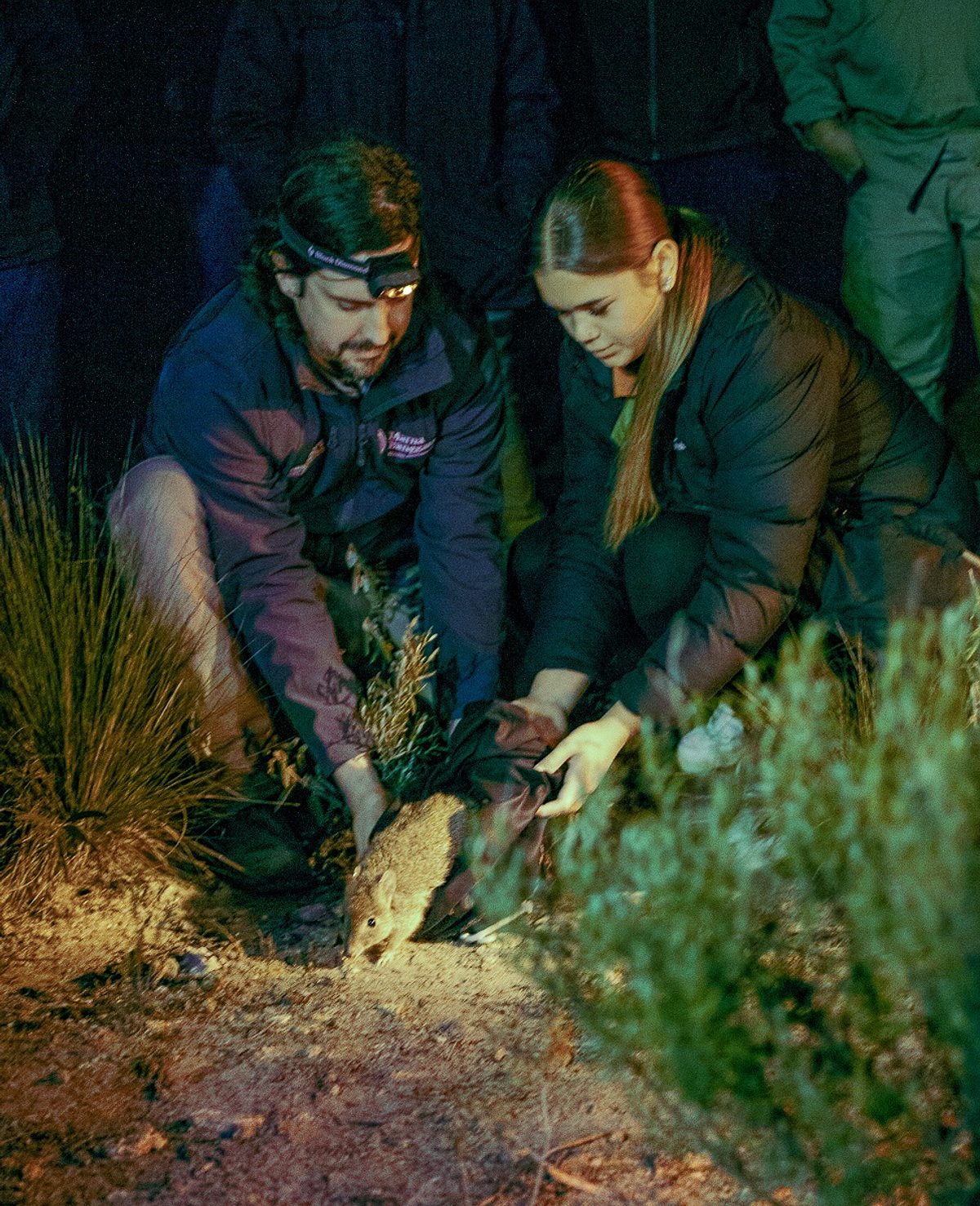 The project, called Marna Banggara, is jointly funded through the Northern and Yorke Landscape Board, the Australian Government's National Landcare Program, the SA Department for Environment and Water (DEW), WWF-Australia, and Foundation for National Parks and Wildlife, in partnership with the Narungga Nation Aboriginal Corporation and with the support of Traditional Custodians, the Narungga people.
The 49 male and 24 female bettongs were collected from a healthy wild population in Dryandra National Park and from within the fenced Dryandra Woylie Numbat Sanctuary, 180 km south-east of Perth.
Representatives from the Narungga Nation travelled to WA to meet the Traditional Custodians of the area, the Noongar Gnaala Karla Boodja People. A translocation team from Zoos SA, Northern and Yorke Landscape Board, DEW, WWF-Australia and the WA Department of Biodiversity Conservation and Attractions worked to safely capture the bettongs.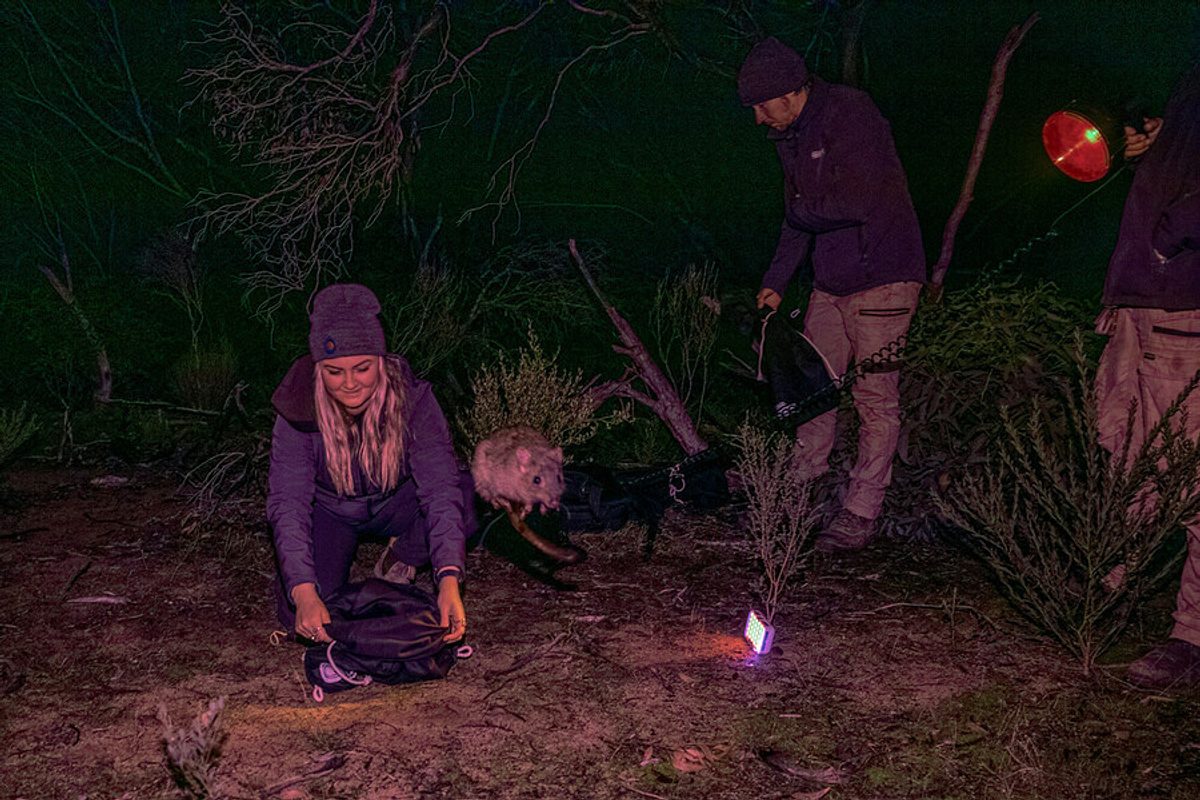 This is the fourth and largest group of bettongs, known as yalgiri to Narungga people, to be released on southern Yorke Peninsula during the past three years.
Recent monitoring revealed these bettongs are breeding and thriving. Almost half of the 85 bettongs caught by researchers were born on Yorke Peninsula, and nearly every female was carrying pouch young. The new arrivals from WA will add important genetic diversity and resilience to the population.
Flora trio persists in microclimate niches - South Australian Arid Lands
Despite its low rainfall, the SA Arid Lands (SAAL) region hosts precious and unparalleled landscapes that provide critical habitat for a variety of threatened flora species.

This includes the Environment Protection and Biodiversity Conservation Act 1999 listed Nationally Endangered Arckaringa daisy (Olearia arckaringensis), Nationally Vulnerable freckled duck (Xerothamnella parviflora) and slender bellfruit (Codonocarpus pyramidalis).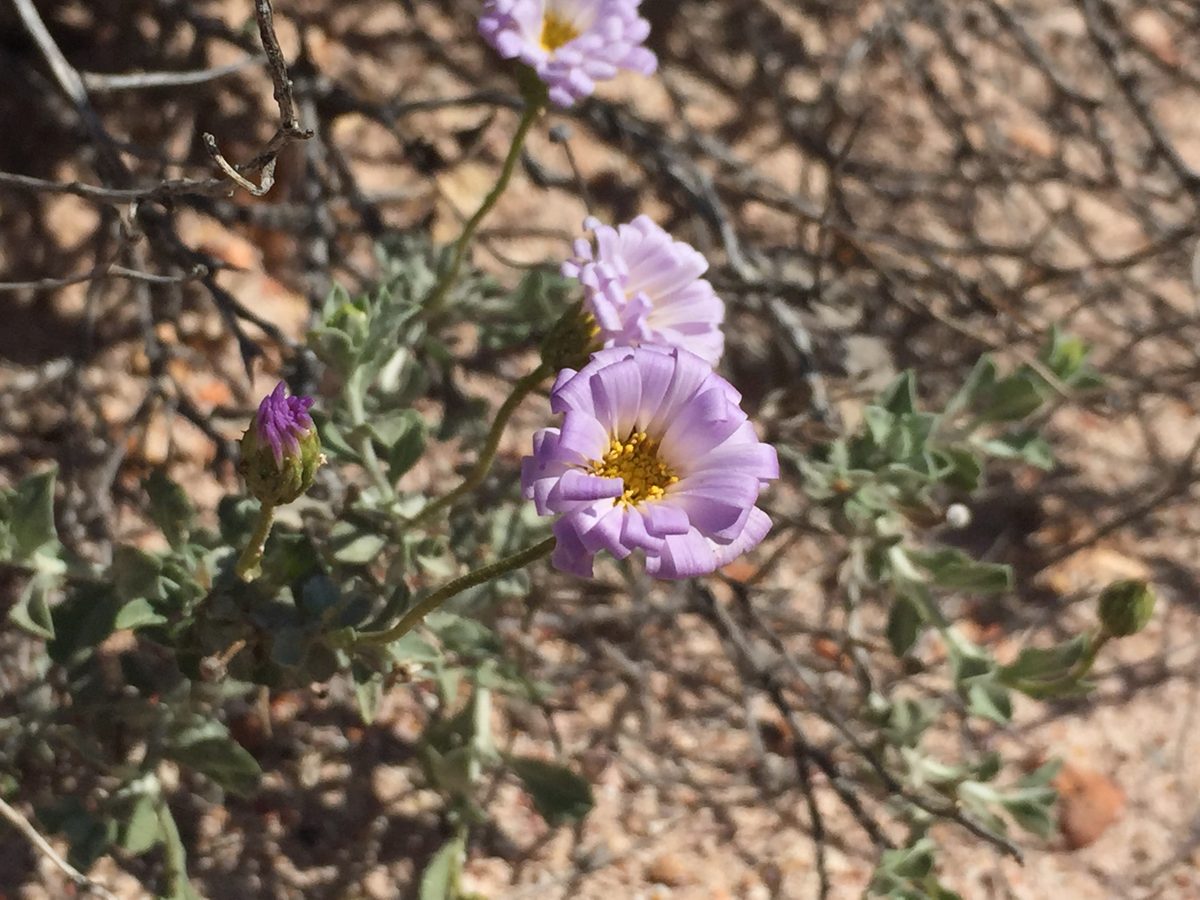 Known to exist in an area of less than three square kilometres north of Coober Pedy, the pale purple or occasionally white-flowering Arckaringa daisy has been protected from livestock and large herbivore threats as part of the Implementing Short and Long-term Safeguards for Arckaringa Daisy in SA project. The work was completed in partnership with Antakarintja Traditional Owners, pastoralists and non-government organisations to protect the daisy across the extent of its known range.
The slender bellfruit and freckled duck plants were studied as part of the SAAL Landscape Board's Bounceback and Beyond project, delivered through funding from the Australian Government's National Landcare Program. Both species have adapted to unpredictable weather patterns and are believed to have survived due to microclimates. They are now under threat from goats, rabbits and other large herbivores.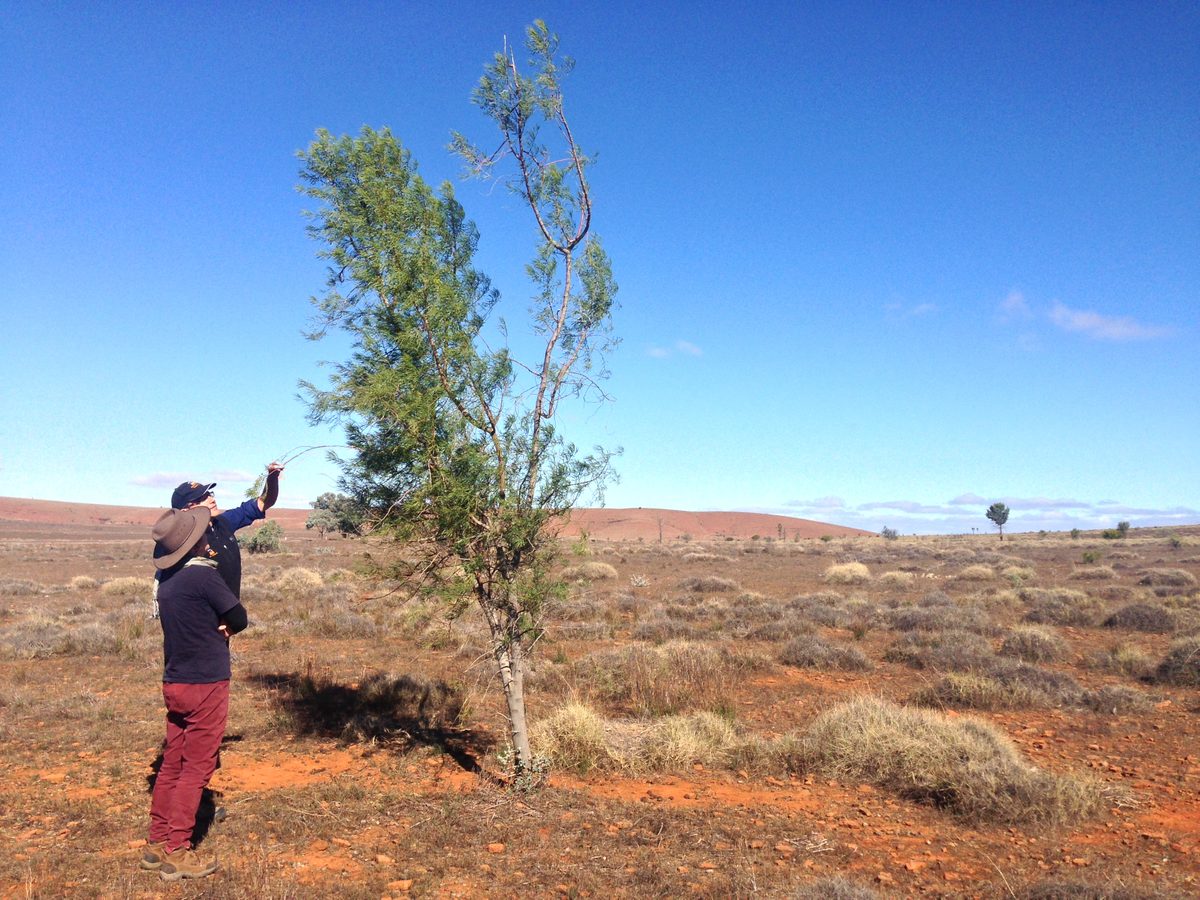 Conversations with pastoralists revealed that freckled duck plants had the local colloquial name Chinese lantern tree and knowing this helped find other populations. Known to germinate from summer rains, it is known as alunga to the Adnyamathanha people of the Flinders Ranges, who consider borers found in the trunk a delicacy.
Exclosures were set up in the 1990s to promote seed recruitment and protect populations of both species from herbivore threats. SAAL plans to work with landholders to fence other populations to further safeguard plants.