Soil management
Eyre Peninsula soil is a critical asset to agricultural productivity and natural biodiversity. The characteristics of soil are one of the key factors that determine where different crops may be grown and the natural distribution of native plant species. The soil also provides habitat for a range of plants and animals including burrowing mammals, marsupials and reptiles, invertebrates and microbial organisms.
The Eyre Peninsula region has 15 main soil groups ranging from calcareous soils, hard red-brown soils over alkaline sub soils, deep loamy textured soils, and deep sands to ironstone soils. For further information about Eyre Peninsula soils and soils limitations, Enviro Data SA is a source of useful information. Our Land Management Control Policy provides more details on land system descriptions and land management risks; as well as setting out land management principles.
Below is a sample of maps outlining key land management attributes from Enviro Data SA.
This page provides information and resources about soil including:
The importance of soil
Soil is important because it:
is one of the primary features that determine vegetation types and land suitability for primary production uses;
is home to fungi, bacteria, burrowing animals, invertebrates and other animals that provide ecosystem services, such as recycling nutrients and binding soil particles; and
has physical, biological and chemical properties that affect the moisture, nutrient and biota levels on which plants depend.
Soil degradation can be caused by:
clearance of vegetation;
disturbance by cultivation for the sowing of crops and pastures;
soil disturbance for weed control;
stubble removal practices such as burning;
over-grazing by domestic stock;
crop failure or poor growth;
grazing, burrowing and hoof impacts of pest animals such as rabbits, deer and goats; and
use of the land that causes inadequate protection.
Degradation of soil can result in:
reduced soil fertility;
poor plant establishment;
reduced productivity of crops and pastures;
loss of native plant species that cannot grow under altered conditions;
susceptibility to invasion by weeds tolerant of degraded soils;
increased recharge of groundwater;
increased acidification of soils;
increased dryland salinity; and
susceptibility to erosion by wind and water.
Degradation of soil can also result in susceptibility to erosion by wind and water which comes with further challenges.
Wind erosion can smother plants and seed reserves; be a health hazard to people, causing breathing difficulties and reducing visibility for traffic; and lead to soil deposition in creeks, rivers and the marine environment which can smother aquatic plants and life forms and alter the hydrology.
Healthy management of soil includes:
managing the risk of wind and water erosion through sustainable management practices, particularly the occurrence, intensity and timing of tilling and the quantity and nature of surface cover;
managing the impact of water erosion through contour banking and flood control dams;
managing soil acidification through the application of lime; and
modern agricultural weed management practices that are selective and integrated.
Resources
We have gathered a range of resources that land managers can use to help manage their soil.
This document provides background and overview information for the land use potential spatial datasets, based on regional-scale soil and land mapping undertaken by the South Australian Government. It shows the land use potential for agricultural crops in southern South Australia.
This three-page document is about understanding your soils and their constraints.
Soil is the most valuable natural asset on any property. Without a well-functioning soil, landscape health will be poor. Soils have three key aspects to their condition: physical, chemical and biological. All are important and each influences the other. Healthy soil which is in good condition across all three areas, results in well-performing soil ecosystem processes which drive the productivity and sustainability of agricultural soils. The following resources may be useful in soil management.
This video below was produced by the Buckleboo Farm Improvement Group through a grant from us. Take a look at this video to get some ideas on how to maximise productivity and improve sustainability. Brett Masters from PIRSA explains soil properties across the Buckleboo district and wider Eyre Peninsula, and how these impact on the agriculture practices undertaken on these soils.
Understanding soils in the Buckleboo district
Soils cleared for agriculture on Eyre Peninsula have a range of management and production limitations including shallow sandy soils, calcareous sandy soils, deep salacious sands and sand over clay. Large areas of these sandy soils - about 550,000 ha - are prone to increased risk of wind erosion due to a number of inherent characteristics which restrict crop germination and growth; and consequently surface cover for protection against wind erosion.
The map below shows the wind erosion potential for the Eyre Peninsula.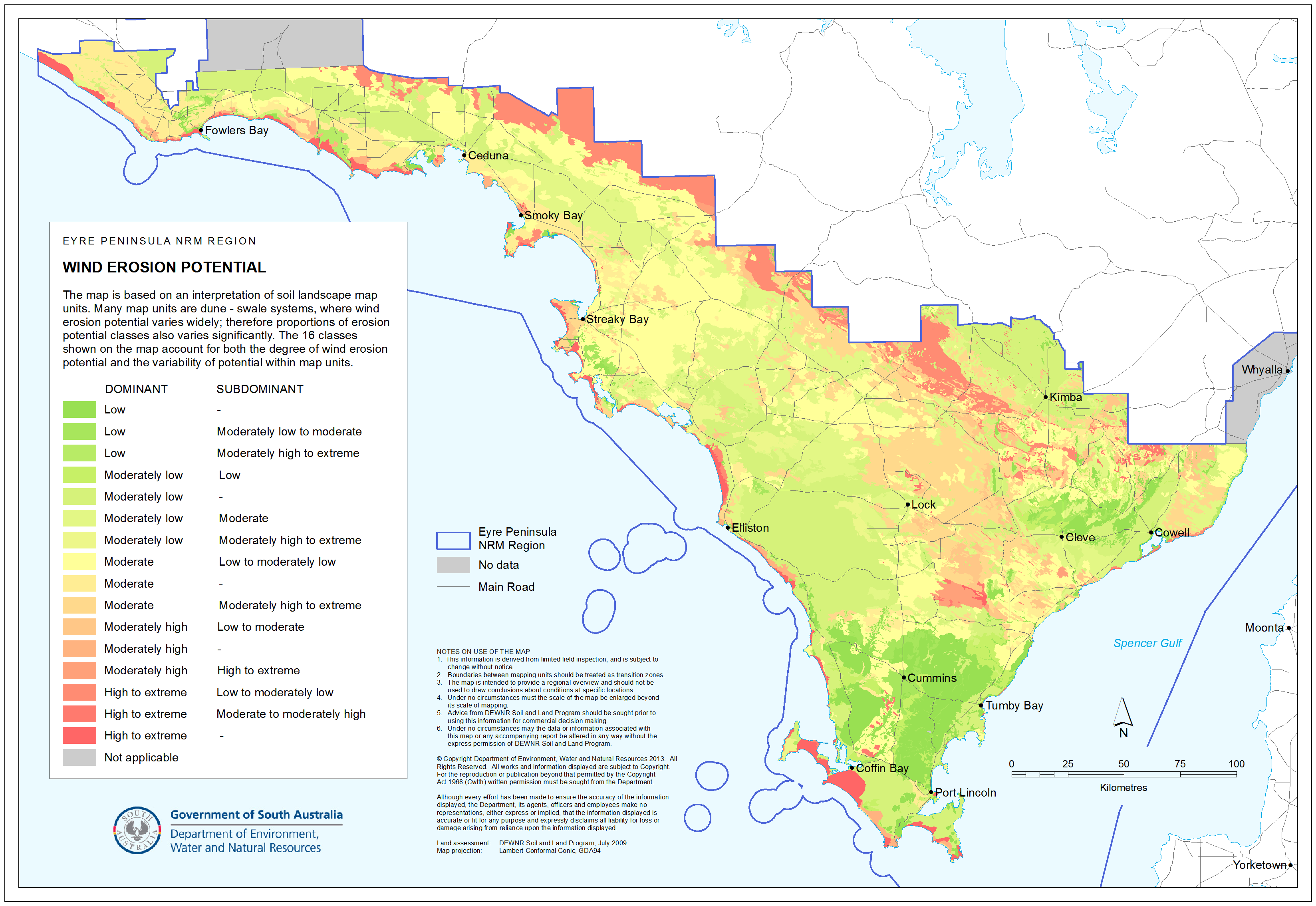 Addressing subsoil constrains using current research techniques have a number of beneficial outcomes including increasing depth productive soil layers, increasing soil organic carbon levels, addressing sodic soils and managing non wetting sands.
Soil acidity is a significant issue on Lower and Eastern Eyre Peninsula with more than 186,000 hectares (7%) of agricultural land in the region prone to acidification. Projects on Eyre Peninsula suggest that the rate of acidification is occurring faster on average with current farming practices, than historical estimates and that, if not treated with adequate applications of lime, a further 509,000 ha (19%) in the region is at risk of acidifying over the next 20-50 years (Forward and Hughes 2019).
Find out more about soil acidity and its potential implications on this fact sheet from soilquality.org.au. The Ag Excellence Alliance website is also a source of information and includes a soil acidity in South Australia page including maps, case studies, lime cheque and calculators.
The map below shows the current and potential acidity of the Eyre Peninsula region (click on map to enlarge).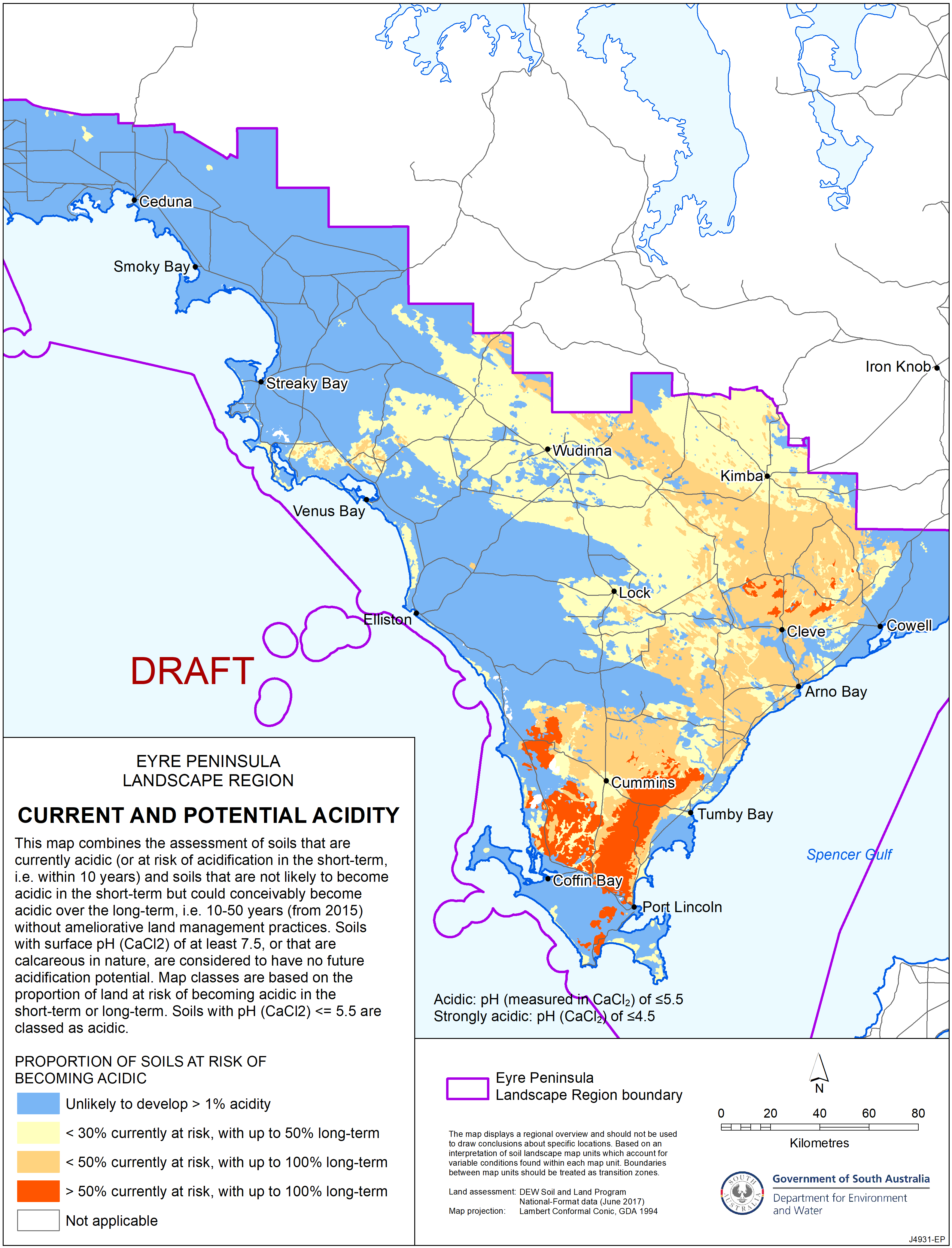 Useful resources on managing soil acidity:
Acid sulphate soils are found in saline, waterlogged environments including coastal swamps and inland areas. They are persistently bare areas of land recognised by being agriculturally unproductive and environmentally damaging.

Dryland salinity affects an estimated 20,400ha of the Eyre Peninsula. Early Landcare groups made substantial progress in addressing the spread of salt scalds and encroaching salinity. In recent times however, we've seen an increase in saline affected soils.
These reports may be a useful reference for managing dryland salinity:
Seeps on the Eyre Peninsula are growing as a result of modern farming systems, landscape and seasonal factors. Take action early to keep land productive and prevent degradation occurring. Our mallee seeps project is looking at this growing issue on the Eyre Peninsula. See our mallee seeps page for more information including a series of videos about how to manage Eyre Peninsula seeps including the below video that shows how a bare scald at Rudall was managed.

An estimated 19% (521,000 ha) of land cleared for agriculture on the Eyre Peninsula has moderate to severe water repellence, and without careful management has a moderate or higher wind erosion risk. Clay spreading and delving, if done well, will encourage crop root growth deeper in the soil profile, increasing the plant's ability to uptake minerals, trace elements and seek out moisture and increase yields and profitability. These soil improvement practices are costly and must be planned to consider individual paddock constraints in order for benefits to be realised. It's not a one–practice-fits-all and that's why we are keen to share lessons learnt and highlight the parameters farmers need to consider.
The following information details soil improvement processes and options:
Clay at the surface or further down the soil profile are sodic or dispersive, with fairly poor structure can be difficult to manage. The structure breaks down when it gets wet which limits root growth deeper into the profile. So the difficulty that we have with this dispersive clay, it can be very hard to work the paddock. When the soil gets wet the structure breaks down and it becomes very slippery and when it dries out it forms a sealing layer like concrete.
This clip from Ag Excellence Alliance is about using gypsum to improve soil and increase water use, yields and profits.
Education resource - Soil activities
Learn more about soil basics with our Soil Activity Pack for kids and adults who want to learn the basics. Adapted from the former South East Natural Resources, the Activity Pack contains some great information on why soil is important, what it is, and soil types to help you out with the first three activities:
Activity 1 – Comparing apples and earth
Activity 2 – Soil Texture: the manipulative test
Activity 3 – Dirt Shake: determining soil types
Unleash your inner soil scientist will these activities.
More information
Manager, Planning and Engagement
86 Tasman Tce, Port Lincoln
8688 3200