Marine debris management
What is marine debris?
Marine debris is a technical term used for rubbish found in the ocean. It includes ropes, plastics, fish nets, packaging tape, bottles and other thoughtlessly discarded things. This rubbish can come from many places; including ships, fishing and recreational boats. It can come from city streets carried into the ocean from the storm-water drains (read more here).
Adopt a beach
In response to community concern about the amount of rubbish on local beaches, we launched the Eyre Peninsula Marine Debris Monitoring and Adopt a Beach Program in 2008. You can take the lead on adopting a beach for clean up in your area using the Tangaroa Blue Australian Marine Debris Initiative.
Making your clean up work count - steps to adopting a beach
In the past, volunteers and Eyre Peninsula Landscape Board staff surveyed beaches from Fowlers Bay to Whyalla. Now we work together to monitor long-term monitoring sites, one being at Bolingbroke. Debris is collected, sorted and recorded into six groups (read the media release).
The EP Landscape Board is also involved with microplastics monitoring sites at the Port Lincoln, Whyalla and Arno bay foreshores. For more information on microplastics monitoring, see the Ausmap website.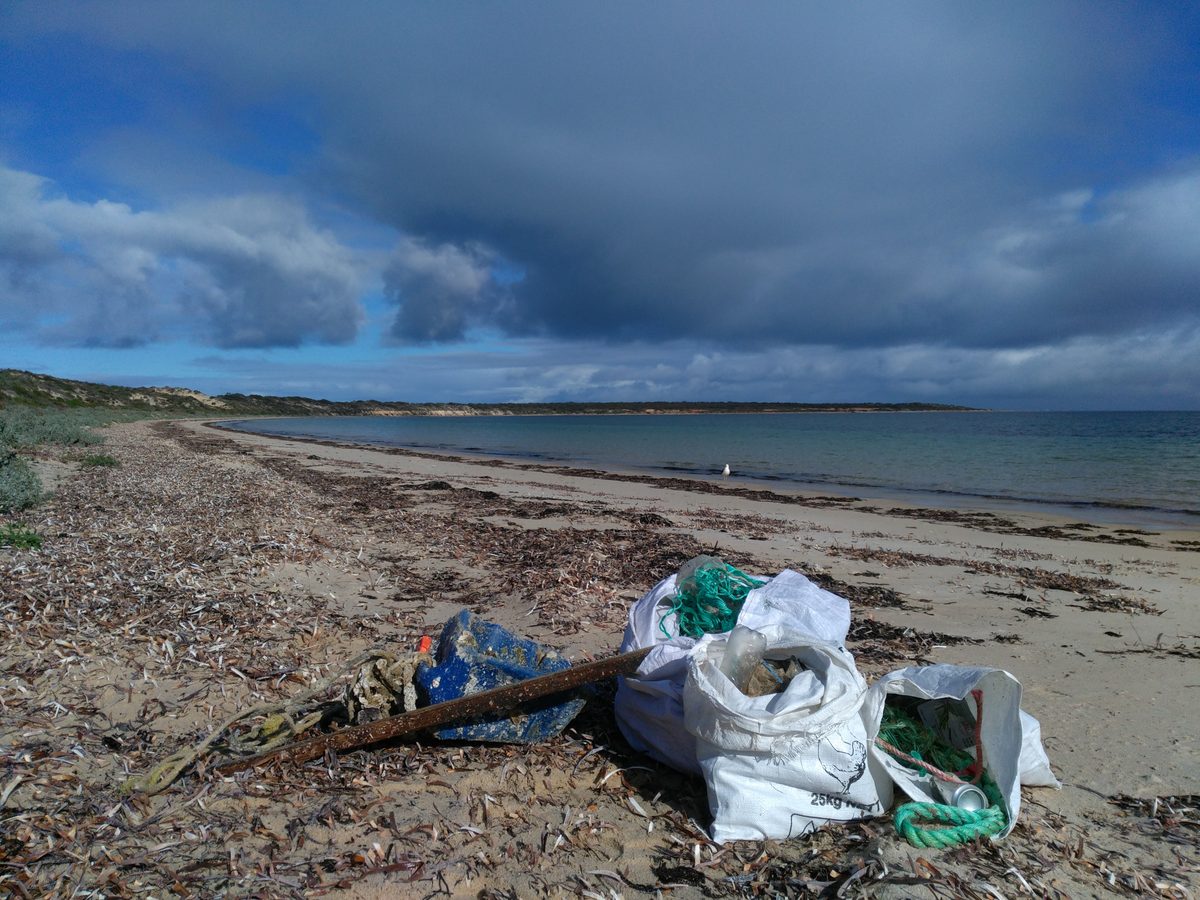 Long-term monitoring
Long-term monitoring sites are important to survey regularly to provide information on long-term trends. A previous long-term monitoring survey site at Black Point on Eyre Peninsula was monitored by volunteer Trevor Nottle, and here is what Trevor had to say during the project:
"Our first survey collection was in May 2009 and we have collected debris every three months from that date. After 36 surveys we have collected approximately 2.8 ton of debris. The beach area is mostly rock and extends for one kilometre on the northern shore of False Bay west of Black Point. The beach is about 30 metres wide, but the debris collects at the top of the beach in small banks of seaweed that extend for its full length.
"The heaviest material we collect is timber and the quantity of this varies greatly between surveys but by volume the greatest amount of debris found is plastic. This usually consists of bags, bottles, food containers, straws, buckets and fragments of all of the above. We also find rope and rope fragments. Sometimes we find animal mortalities including seals, dolphins, shearwaters, cormorants, port jackson sharks, box, puffer and cuttlefish. Our team usually consists of myself with my two daughters and my daughter's partner. It usually takes us about four hours to collect the debris which includes travel time to and from the site. Collating the data from the collection usually takes about six hours which I undertake myself at my leisure."
As of 2018, all marine debris long-term monitoring data we collected has been entered directly into the Australian Marine Debris Initiative (AMDI). There are also currently 14 Eyre Peninsula-based aquaculture companies from the tuna, kingfish, mussel and abalone sectors taking part in the 'adopt a beach' program. Read more about it on the
Department of Primary Industries and Regions website
.

Eyre Peninsula Landscape Board's focus is on: