Franklin Harbor boxthorn blitz to protect valuable ecosystem
News article
|
06 June 2023
A vulnerable but valuable saltmarsh zone at Cowell has been the focus of pest plant control recently by the Eyre Peninsula Landscape Board.
Franklin Harbor hosts the most valuable saltmarshes on Eyre Peninsula when it comes to blue carbon potential – organic carbon that is stored in the plants and soils of coastal ecosystems like saltmarshes, seagrasses and mangroves.
To help protect this important stretch of saltmarsh, extensive African Boxthorn (Lycium ferocissimum) control has been undertaken within the Franklin Harbor Conservation Park as part of the Saltmarsh Threat Abatement and Recovery (STAR) Project which is delivered by the Eyre Peninsula Landscape Board, through funding from the Australian Government's National Landcare Program.
This boxthorn control was an integrated approach involving EP Landscape Board staff, rangers from the Department of Environment and Water, as well as contractors.
Eastern Eyre Peninsula Landscape Officer, Liam Anderson explains that the focus of the weed removal was to target harder-to-reach boxthorn's that were unable to be treated from a helicopter.
"As we expected, the majority of the African Boxthorns in need of treatment were located within native vegetation, therefore requiring careful selection of stems from within native species," Mr Anderson says.
"During the two day project, 793 African Boxthorns were treated in an area of 79 hectares. Following landscape officers and rangers undertaking the initial work, contractors continued the control and treated a further 582 plants on 35 hectares.
"I'm extremely happy with the outcomes achieved during this blitz.
"The Franklin Harbor Conservation Park has a unique landscape that is home to a diversity of native flora and fauna, making weed control of this nature so rewarding."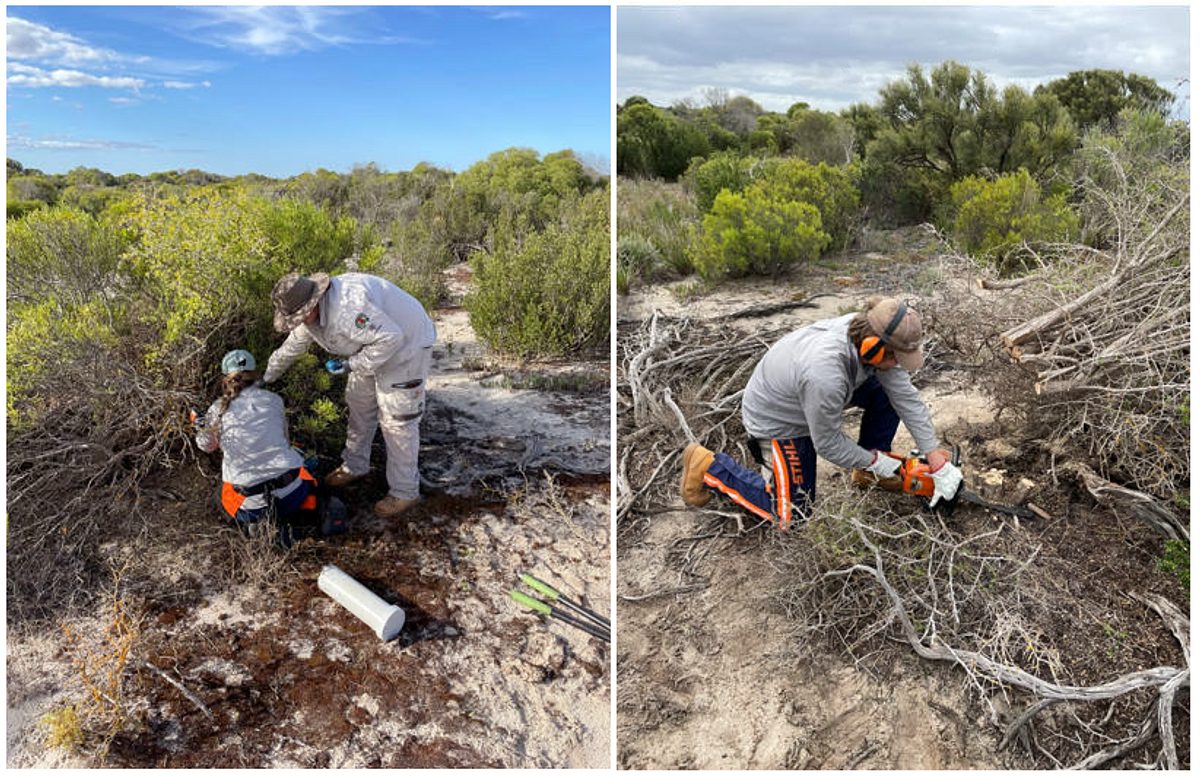 The weed control is part of a larger list of outcomes that the EP Landscape Board is currently working to achieve in this area as part of the STAR project which concludes at the end of June. Other works include track rationalisation; rabbit grazing management; information signs and citizen science Pix Stix installations; and ripping and revegetation of saltmarsh species.
EP Landscape Board Western District Team Leader Liz McTaggart, who has managed the STAR project during the past four years, says significant progress has been made in protecting and improving the condition of Eyre Peninsula's valuable coastal saltmarsh throughout the project.
"Working with landowners and community, we have eradicated weeds from 2605 hectares across 13 priority saltmarsh sites; revegetated or remediated 10 sites; improved hydrological flows at 3 sites; cleaned up 289 hectares of debris; and managed access across 1224 hectares at 7 sites.
"Our preliminary baseline condition reporting for the project, indicates that from the six saltmarsh baseline sites, all are in good to excellent condition with a general stable trend.
"Our temperate coastal saltmarshes are a critical habitat for many commercially-important marine species such as prawns, as well as for resident and migratory shorebirds. Saltmarsh also provide a vital buffer for our shoreline, and saltmarsh ecosystems are the most efficient ecosystems globally at sequestering blue carbon.
"Saltmarsh is such a valuable ecosystem on Eyre Peninsula and we've made some really significant progress in improving its condition during the past four years, as well as raising community awareness of its significance which we hope will help to continue to protect saltmarshes into the future," says Ms McTaggart.
See our STAR project page for more information or watch a video summary of the project achievements.