Shorebirds on show
News article
|
14 March 2023
Thousands of shorebirds have been counted by volunteers and Eyre Peninsula Landscape Board staff across the vast Eyre Peninsula region during the past month, contributing to local knowledge as well as a national program.
The survey data will feed into the BirdLife Australia National Shorebird Monitoring program, and have been completed under the Saltmarsh Threat Abatement and Recovery (STAR) Project which is delivered by the Eyre Peninsula Landscape Board, through funding from the Australian Government's National Landcare Program.
The BirdLife monitoring program surveys key shorebird sites around Australia to increase understanding of the national shorebird population, including threats to the birds and management actions that can be put in place to mitigate the threats.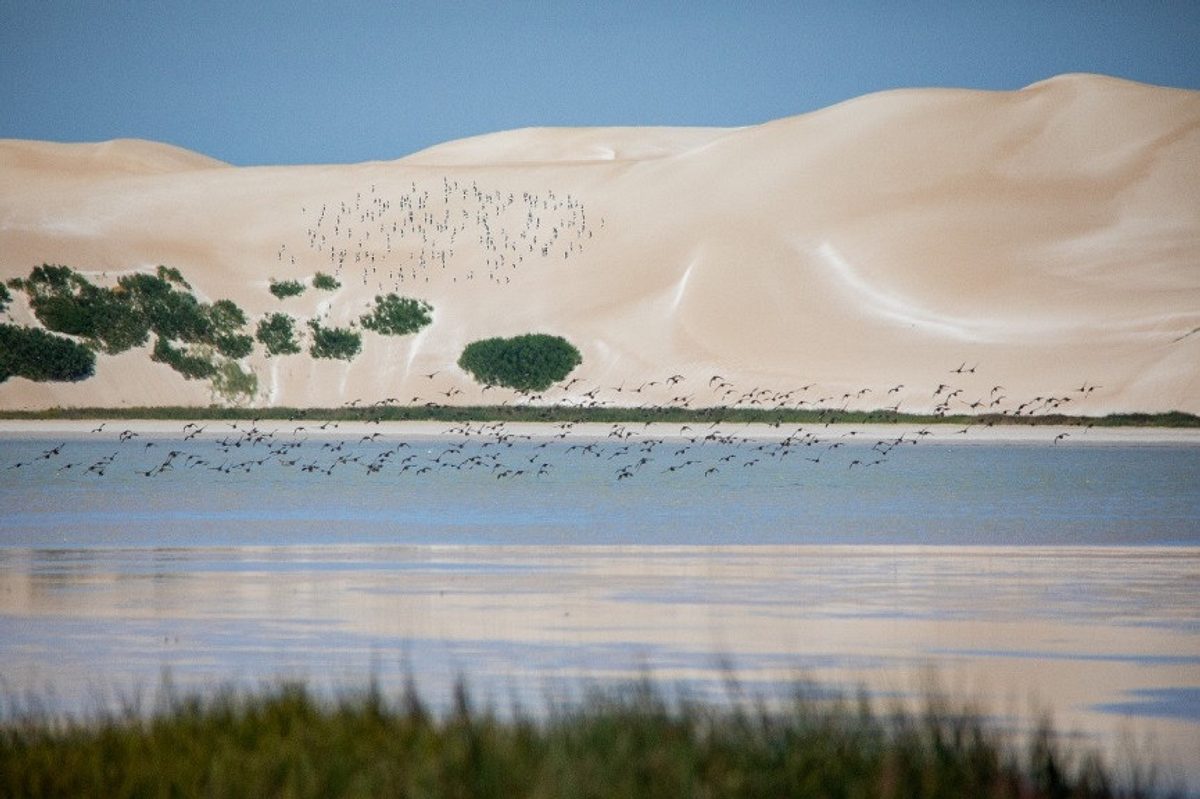 The Western Eyre Peninsula shorebird count areas alone support up to 21 of the 38 international migratory species, which travel thousands of kilometres to reach Australian shores every summer.
Thirty western EP count areas from Lake Newland to Cactus Beach were surveyed during February, with good bird numbers recorded at each site. From rocky platforms to offshore islands, marshy samphires and sandy beaches, these count areas are critical habitat for the feeding, roosting and resting of our resident and migratory shorebirds.
'Our volunteers and staff worked intensely over February to survey incredibly remote spots and island areas depending on tide and weather conditions," says western EP Landscape Officer Libby Hunt.
"These surveys give us a great insight into the diversity of shorebirds around our region with many of these species returning to the same shorebird area every year allowing comparisons to be drawn."
Highlights of the 2023 count included:
5000 Crested Terns in a breeding colony on Eyre Island near Smoky Bay
More than 700 stints at Yanerbie Beach
A total of 22 eastern curlews seen at two sites - Acraman Creek and St Peters Island
860 grey teal ducks Lake Newland
44 Fairy Terns at the Streaky Bay Spit.
"The capture of Fairy Terns at the Spit is a significant sighting compared to previous years of data," says Ms Hunt.
"A vulnerable species, Fairy Terns are at increasing risk from habitat loss and human disturbance, so to record higher than usual numbers at this site is an important observation.
"Another highlight was being able to record the fourth sighting of a Royal Spoonbill at Acraman Creek and a good distribution of Hooded Plovers at count sites across the Western Eyre Peninsula coastline."
Liz McTaggart, Team Leader Landscape Operations Western District, says one of the most pleasing observations for her was to see Red Capped Plover numbers well above last year's count number.
"Red Capped Plover numbers have seen an increase this season with over 200 recorded along the Yanerbie to Sceales Bay reef stretch, and more than 150 around the Point Brown to Acraman Creek area," Ms McTaggart says.
"We believe this may be because of the ideal seasonal conditions in these areas during the past 18 months.
"Seagull Lake was also a plethora of activity with more Red Capped Plovers, Banded Stilts, White Faced Herons, Sharp-Tailed Sandpipers and over 50 Red-necked Avocets."
Data collected during the surveys is fed into the Birdlife database which contains the most comprehensive shorebird data available in Australia. This data is used to uncover significant population changes over the long term and identify and protect critical areas for shorebirds.
If you are interested in becoming a volunteer bird watcher please contact your closest office.