Bookings for Nature of Eyre Peninsula Conference open
News release
16 August 2017
Nature and science lovers and those who want to learn more about Eyre Peninsula's geological history are encouraged to come along to a two-day conference to be held in Coffin Bay next month.
Bookings are now open for the conference, which is presented by Natural Resources Eyre Peninsula and will showcase the regions biodiversity and natural history.
Activities range from Bioblitz nature surveys that include bird watching, fungi and plant walks, and science, art and society workshops with photography, public art installation and planning for community groups.
Natural Resources Eyre Peninsula Landscape Ecologist Dr Greg Kerr has organised over ten specialist guest speakers from across Australia to talk on the natural history of Eyre Peninsula.
"Natural history is the observation and description of the natural world. A key part of this is the study of the fundamental properties of organisms and their relationship to the environment — what they are, how and where they live, and the biotic and abiotic interactions that link them to communities and ecosystems," Dr Kerr said.
"The conference will appeal to people from a diverse range of backgrounds from teachers to farmers to ecotourism operators, specialisit knowledge like seasoned Twitchers through to people with a general interest in the natural environment.
"Complete nature novices are welcome, especially if you are looking to escape the rush of modern life and slow down to enjoy and understand nature."
Conference speaker Professor Graham Heinson will explain the 2.7 billion year geological history that underpins the rich mineral deposits and diverse soils of Eyre Peninsula. Senior Meteorologist and Climatologist Dr Darren Ray will talk on the region's past, present and future climate.Other speakers will give insights into fungi, plant communities, bird behaviour, migratory waders, mammals, freshwater fishes, snails and marine invertebrates of Eyre Peninsula.
"The conference is not just about listening to and learning from experts. Each afternoon there will be a range of hands on activities that will get you involved and learning," Dr Kerr said. The Bioblitz survey program is the perfect opportunity for participants to get a snap shot of the biodiversity of Coffin Bay National Park and practise wildlife monitoring techniques.
The workshops on Friday afternoon focus on personal expressions of nature and natural history through art, photography, nature play and social impact.
The conference is funded and supported by the Nature Foundation South Australia, BP Developments Australia, Inspiring SA, Eyre and Western Regional Science Hub, the Australian Governments National Landcare Programme, Southern Eyre Birds, Eyre Peninsula Community Foundation, District Council of Lower Eyre Peninsula, City of Port Lincoln, Port Lincoln Arts Council, Marine Parks - National Parks SA and the Eyre Peninsula Natural Resources Management Board.
Conference details
Thursday 14-Friday 15 September
Coffin Bay Golf Course, Coffin Bay
Book online via SA Tickets.
For the full conference program and lineup, visit www.natureofep.com.au/
For other ways to get involved in managing natural resources, visit www.landscape.sa.gov.au/ep/get-involved/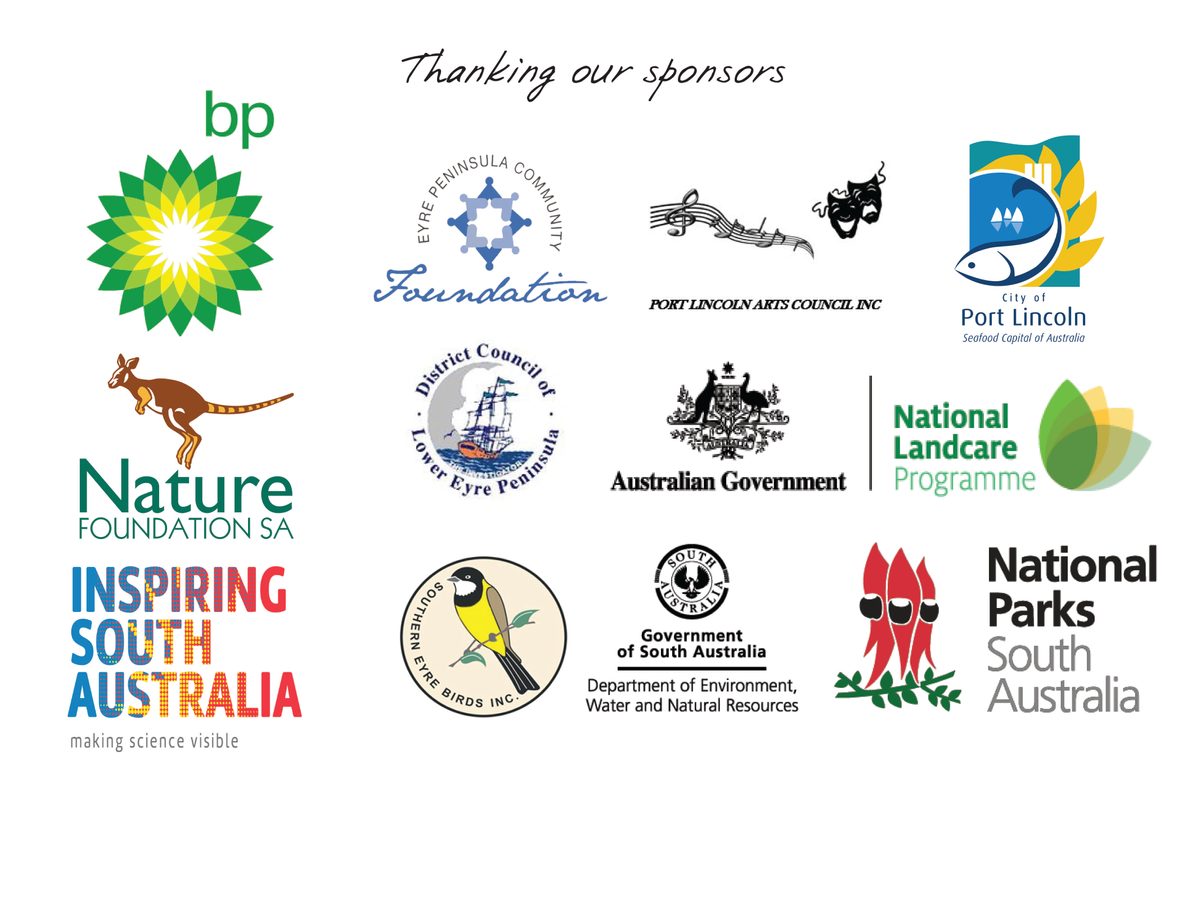 More information
Communications and Engagement Officer
(08) 8688 3111