Time to look out for goannas
News release
26 October 2017
As the weather warms up, it is time to be on the lookout for native goannas.
That's the message from Natural Resources Eyre Peninsula, who say that more than 1,000 goanna sightings have been reported in the two years since Natural Resources Eyre Peninsula started the EP Goannas Citizen Science Project.
NRM Officer Gemma Marshall said goannas are important apex species that are an important part of a healthy ecosystem.
"Goannas prey on small birds, small lizards, and mammals including rabbits, but they will also feed on road kill and carrion," Gemma said.
Two goanna species occur on southern Eyre Peninsula; Rosenberg's Goanna (Varanus rosenbergii) listed as a threatened species in the region, and Sand Goannas (Varanus gouldii).
Gemma thanked everyone who submitted their goanna observations since the project began.
"We now have a significant amount of data that we didn't have before, including information on location, body size and photographs highlighting goanna behaviour in Lincoln and Coffin Bay National Parks.
"We are still very interested to hear from people that observe goannas in the Wangary, Marble Range, Greenly, Coulta, Tulka, Sleaford and the urban-rural zone surrounding Port Lincoln areas," Gemma said.
"We also encourage anyone that has historical records of goannas on their properties to get in touch with us or record their sightings on the website. This information is invaluable and will help us see how they might be moving and surviving across the landscape."
The high number of goanna reports also reveals the importance of maintaining the region's natural places so people can experience all Australian wildlife species living together in balance with their environment.
Members of the public can pick up brochures at the Lincoln and Coffin Bay National Park entrance to record their sightings or visit the website directly at epgoannas.com.au.
For further information call Natural Resources Eyre Peninsula on (08) 8688 3111 or visit www.epgoannas.com.au
View goanna donated photos from Natural Resources EP's online photo library: www.landscape.sa.gov.au/ep/get-involved/citizen-science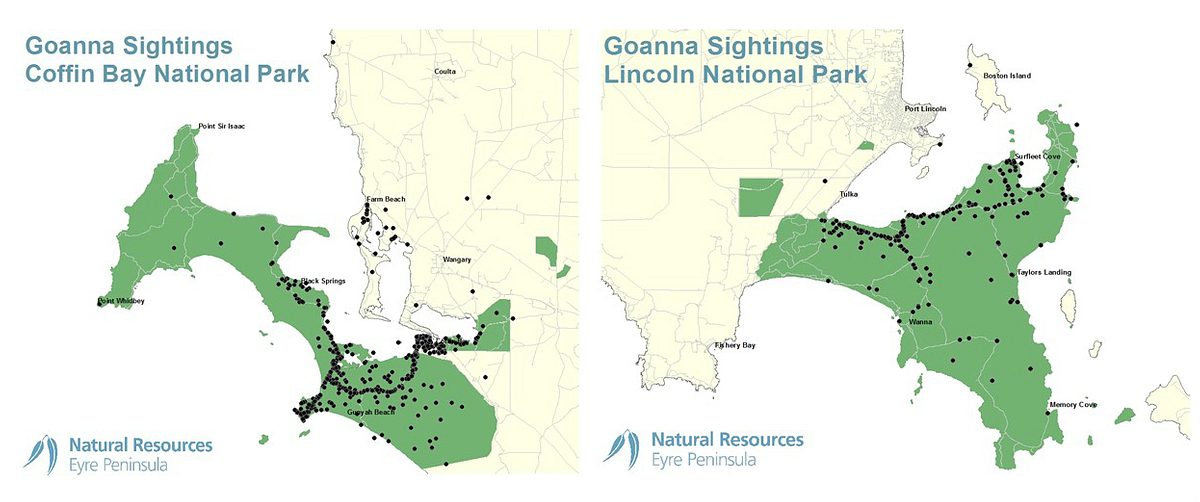 More information
Communications and Engagement Officer
8688 3111