Fox bait distribution brought to Eyre Peninsula communities
News article
|
21 February 2023
The Eyre Peninsula Landscape Board's annual fox bait distribution days have been finalised for this year, with landholders encouraged to collect baits and work on their control strategies.
The Eyre Peninsula Landscape Board's annual fox bait distribution days are coming up, with landholders encouraged to collect baits and work on their control strategies.
Landscape Board Operations Manager Seb Drewer encourages Eyre Peninsula landholders to take up the opportunity to buy fox baits locally and talk to landscape officers about using the baits as part of an integrated control strategy.
"In late summer and early autumn we start to see young foxes leave their dens and disperse to find a new territory, making this an ideal time to bait for these pest animals," Mr Drewer says.
"A lot of farmers who have livestock also find this a good time to start baiting to get numbers down before lambing begins.
"With the current value of livestock, baiting is a small cost to potentially assist with improving lambing percentages.
"In a typical 'farm forest' environment such as we have on the Eyre Peninsula, it's estimated there can be between 4-8 foxes per 100 hectares. We are never going to eradicate foxes but landholders certainly play an important role in managing the damage caused to livestock by foxes, as well a fulfilling their obligation to control foxes which is part of the Landscape South Australia Act."
The 1080 meat baits are prepared by landscape board staff with eligible landholders able to purchase them for fox control for $1.50 per bait as per the statewide Landscape SA Pest Control Pricing Policy. At distribution days, a 20% discount applies, as well as when groups of three or more adjoining landholders purchase baits as part of a coordinated baiting program at other times throughout the year.
Land managers are reminded to bring along a bucket with a sealable lid when collecting baits or they are available to purchase for $12. The baits are frozen meat which is best kept frozen until use. Land managers will also be required to provide the section numbers for the properties they intend to bait.
If a landholder is intending to send a third party to collect their baits, please contact us in advance so that the correct paperwork can be completed and we are able to facilitate the distribution.
Alternative commercially produced fox baits such as Foxoff may also be purchased at some distribution locations. EFTPOS facilities will be available and is preferred.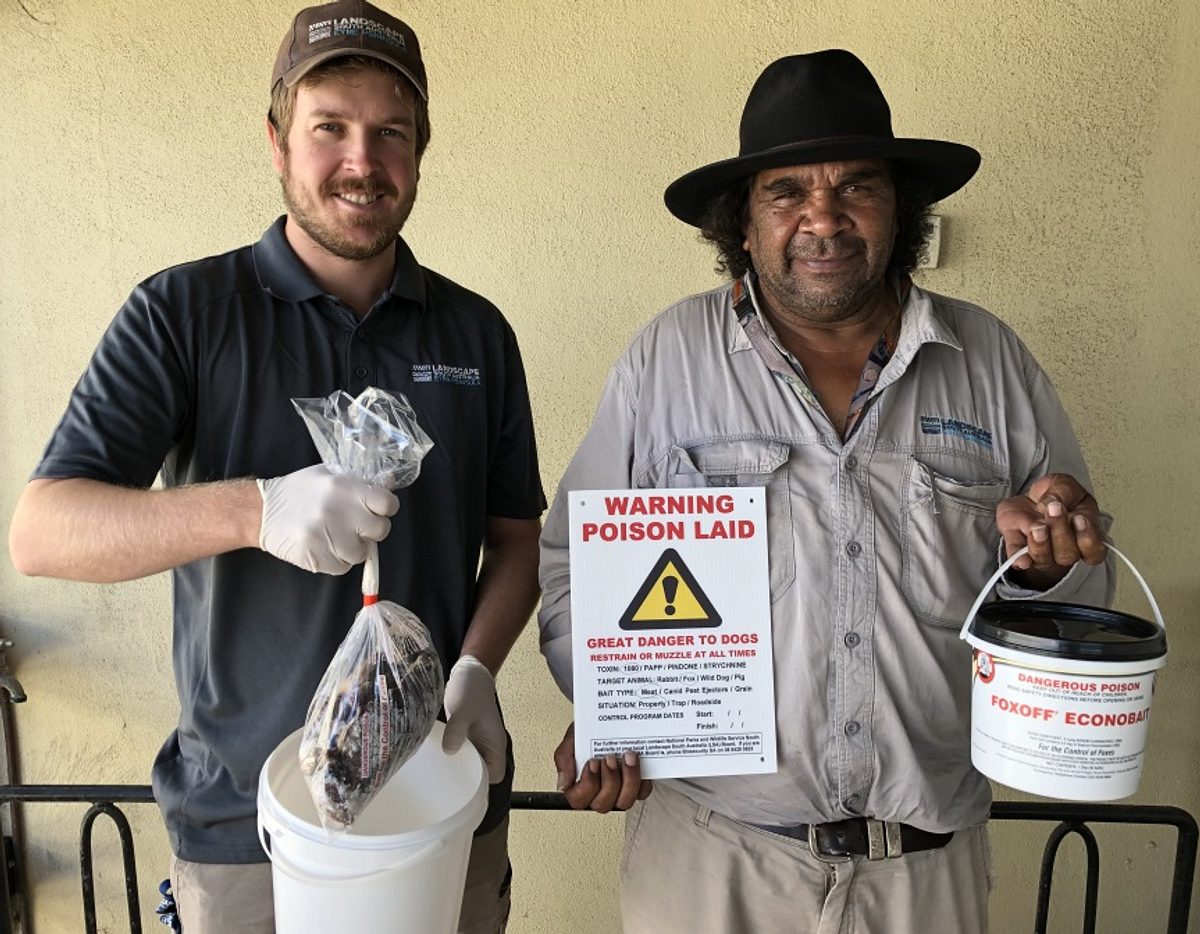 Southern district
Feb 27-28 and March 3 – Tumby Bay officer by appointment only (0407 603 574).
March 6 to 10 – Port Lincoln depot, Henderson St, 10am to 4pm
March 6 to 10 Cummins oval, 10am to 4pm

Eastern district
Feb 27, 10am Kelly Hall
Feb 27, 11:30am Waddikee Oval
Feb 27, 2:00pm Alsbra Park
Feb 28, 10am Darke Peak Silos
Feb 28, 1pm Buckleboo Oval
March 6, 10am Mangalo Hall
March 6, 11:30am Coolanie/Glynn at Jack Curtis' Farm House
March 7, 10am Wharminda Hall
March 7, 11:30am, Arno Bay at Calliss Farm, Bayview

Western district
Feb 28, 8.30am Kyancutta at Chris Heaths shed, 70 Mullan Rd
Feb 28, 9:30am Poochera at the pub
Feb 27, 2:00pm Mudamuckla at the school
Feb 28, 12:00pm Wirrulla at the pub
March 2, 5.30pm Elliston at Honner Bro's shed
March 3, 5.00pm Lock, adjacent the Lock Hotel
March 3, 9:00am Goode at Warren Beatties farm house
March 3, 11:00am Charra Hall
March 7, 8.30am Minnipa Sports Club
March 7, 9:00am Streaky Bay DEWNR shed, opposite silos
March 7, 11:00am Forrest at Treceina Hollitts farm house
March 7, 2:00pm Haslam CFS shed
March 7, 6:00pm Smoky Bay CFS shed
March 8, 12:00-4:00pm Wudinna Shed, 3 Coleman St (or by - Sam Morley 0417 404 129)
March 15, 1:00-3:00pm Wudinna Shed, 3 Coleman St
March 15, 2:30pm Penong at Westies tennis courts
March 15, 4:30-6:00pm Warramboo Sports Club
For further information call us on 8688 3200 or find your nearest landscape office.