Fox control time across the Eyre Peninsula
News article
|
16 February 2022
As many livestock producers across the Eyre Peninsula approach lambing time, the Eyre Peninsula Landscape Board is encouraging landholders to invest some time in managing fox numbers.
To help with fox control, the Board is providing free fox meat baits for eligible landholders across the Eyre Peninsula through distribution at more than 35 locations.
Latest data provided to the Board shows that in any 10 kilometre radius of typical farming land, up to 1,200 foxes are present at any one time.
Free fox baits are to be distributed to land managers by Landscape Officers from February 23 to March 15.
The Board's new Landscape Officer at Cleve, Cindy Hannemann, will be among those at local distribution days and encourages farmers to collect fox baits and talk to their neighbours about baiting simultaneously for best results.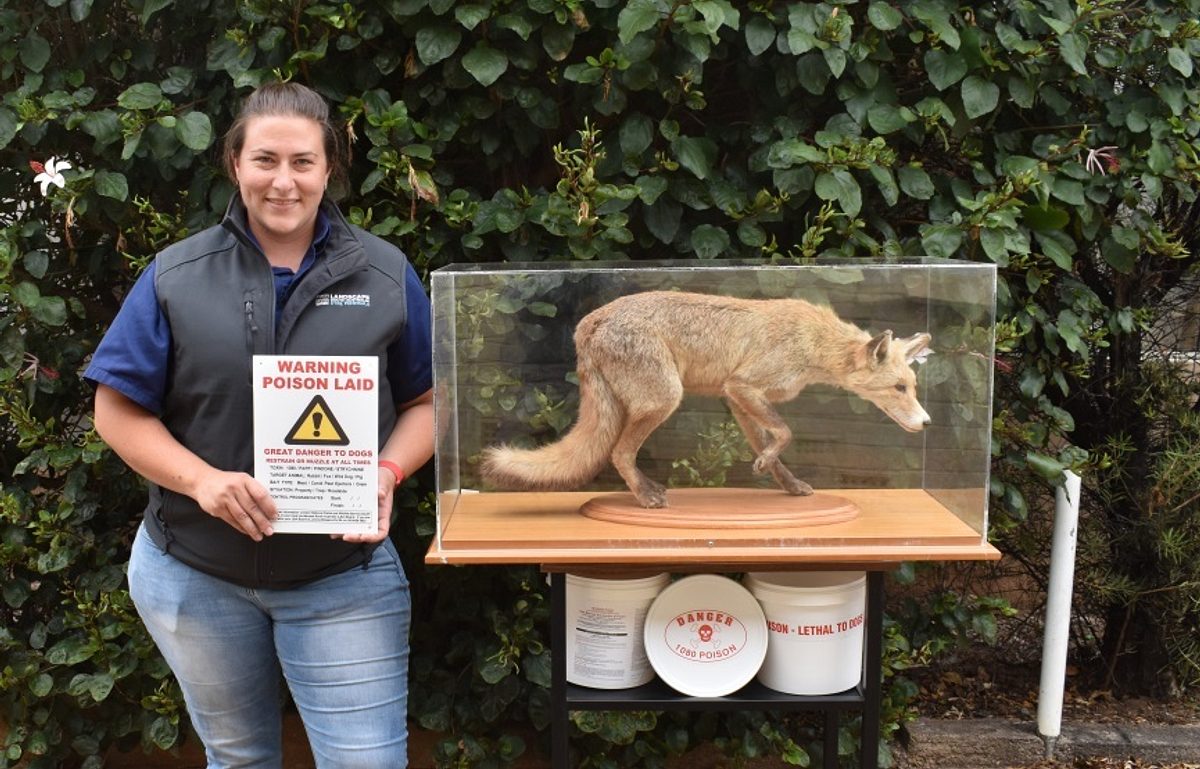 "A community coordinated approach to fox baiting is the most effective and has the best economic and environmental outcomes," Mrs Hannemann says.
"Land managers bait for a variety of reasons including reducing predation on livestock especially during lambing, as a good neighbour policy, or to protect native wildlife such as birds and reptiles on their property.
"It is estimated that foxes cost the Australian environment and economy $230 million a year through predation on livestock; and they are also a major predator of native wildlife.
"It is an ideal time for baiting – juvenile foxes are on the move and being naïve are more likely to take baits. It is also beneficial to reduce fox numbers before the peak lambing season to help reduce the risk of predation on lambs."
Last year more than 7,500 baits were distributed across the Eastern Eyre Peninsula by the EP Landscape Board.
Wudinna Landscape Officer Sam Morley will also be among the staff distributing the fox baits this year and available to offer advice to landholders. Sam joined the Board late in 2021.
"I look forward to working with local community and landowners in finding the balance in sustainable land management practices including pest management strategies and vegetation enhancement," Mr Morley says.
"With my first focus in trying to put a dent in the fox population, we are kicking off this season's fox baiting program for the Eyre Peninsula with the first distribution day being in the Wudinna area on February 23. This'll give me an opportunity to meet some of the local land managers, and talk about fox baiting strategies as well as other landscape issues."
It is recommended to bait throughout the year with a focus on a few months before lambing – often late summer and autumn for Eyre Peninsula livestock producers; and again during fox breeding season in spring.
Land managers are reminded to bring along a bucket with a sealable lid when collecting baits. The baits are frozen meat which is best kept frozen until use. Land managers will also be required to provide the section numbers for the properties they intend to bait.
If a landholder is intending to send a third party to collect their baits, please contact us in advance so that the correct paperwork can be completed and we are able to facilitate the distribution.
Alternative commercially produced fox baits such as Foxoff may also be purchased at some distribution locations. EFTPOS facilities will be available and contactless payment is preferred.
Landholders are strongly encouraged to collect baits at their local distribution day as collecting baits at other times of the year may be difficult to arrange because of COVID restrictions and staff working in the field.
Distribution locations and times are listed below.
Wudinna area
Various times, as indicated after date
| | |
| --- | --- |
| Yaninee town oval | Wednesday, February 23 at 10am |
| Minnipa oval | Wednesday, February 23 at 11:30am |
| Mt Damper CFS shed | Wednesday, February 23 at 2pm |
| Warramboo Cricket Club | Wednesday, February 23 at 4pm |
| Kyancutta, Heath's house, 70 Mullan Rd | Thursday, February 24 at 8:30am |
| Koongawa, Grocke's house, 21390 Eyre Hwy | Thursday, February 24 at 12 noon |
| Wudinna workshop, 3 Coleman St | Thursday, February 24 at 2:30pm |
Lock area
At 5.30pm at the following locations
| | |
| --- | --- |
| Elliston at Larry Honner's shed | Thursday, February 24 |
| Lock Hotel | Friday, February 25 |
Eastern district
9.30-11.30am at the following dates and locations
| | |
| --- | --- |
| Waddikee oval | Monday, February 28 |
| Coolanie/Glynn (Curtis' farm house) | Tuesday, March 1 |
| Kelly Hall | Wednesday, March 2 |
| Tuckey/Rudall (Rudall Sports Club carpark) | Thursday, March 3, 11:30am |
| Darke Peak (Darke Peak Silo's) | Friday, March 4 |
| Mangalo hall | Monday, March 7 |
| Elbow Hill (Williams' shearing shed) | Tuesday, March 8 |
| Wharminda hall | Wednesday, March 9 |
| Arno Bay (Calliss Farm, Bayview) | Thursday, March 10 |
| Buckleboo oval | Friday, March 11 |
Far west region
Various times, as indicated after date
| | |
| --- | --- |
| Goode at Warren Beattie's farm house | Thursday, February 24 at 9am |
| Charra hall | Thursday, February 24 at 11am |
| Mudamuckla at the school | Thursday, February 24 at 2pm |
| Kaldoonera, Poochera pub | Tuesday, March 1 at 9.30am |
| Wirrulla pub | Tuesday, March 1 at 11.30am |
| Nuinjikompita hall | Tuesday, March 1 at 1.30pm |
| Calca crossroads | Thursday, March 3 at 9.30am |
| Inkster at Hulls driveway | Thursday, March 3 at 11.30am |
| Chandada hall | Thursday, March 3 at 1.30pm |
| Chilpanunda at the golf club | Wednesday, March 9 at 9.30am |
| Forrest at Treceina Hollitts farm house | Wednesday, March 9 at 11.30am |
| Haslam at the CFS shed | Wednesday, March 9 at 2pm |
| Smoky Bay at the CFS shed | Wednesday, March 9 at 6pm |
| Streaky Bay at DEWNR shed opposite silos | Thursday, March 10 at 9.30am |
| Penong at Westies tennis courts | Tuesday, March 15 at 2.30pm |
Southern district
10:00am to 2:00pm at the following dates and locations
| | |
| --- | --- |
| Tumby Bay - Landscape Board office, 25 West Tce | 28 Feb – 4 Mar |
| Cummins – Cummins Oval | 28 Feb – 4 Mar |
| Port Lincoln – Henderson Street | 7 – 11 Mar |