A new partnership delivering positive environmental outcomes for Kangaroo Island
News article
|
21 June 2023
The Kangaroo Island Landscape Board is excited to announce it has recently received $77,000 of funding from the Foundation for National Parks & Wildlife to support the KI Native Plant Nursery and revegetation activities.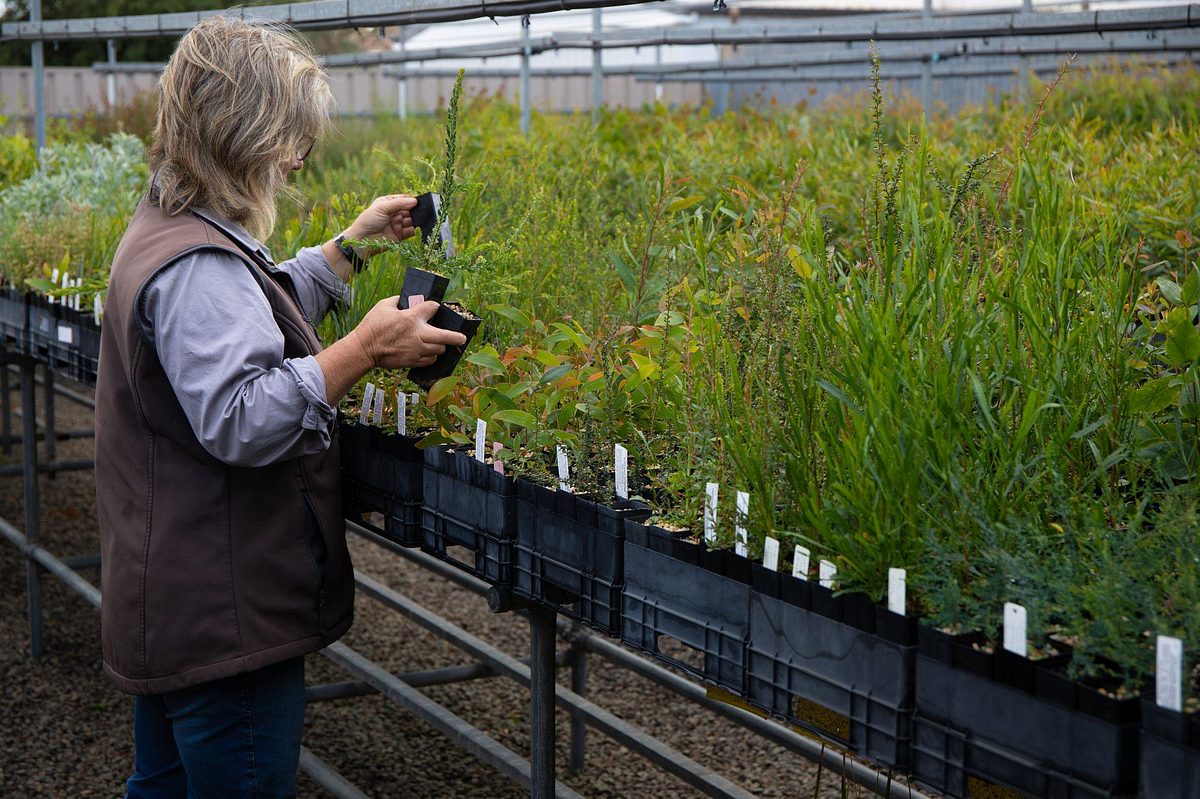 Over the next two years the KI Native Plant Nursery will work in partnership with the Foundation for National Parks & Wildlife to deliver outcomes of their Nursery Program and the Fire Wise Program.
The Foundation for National Parks & Wildlife is the charity partner of national parks and wildlife services across Australia. They are a non-government organisation with a mission to safeguard Australia's ecosystems, wilderness, and flora and fauna now and for future generations.
The announcement includes $55,000 from the Foundation for National Parks & Wildlife's Nursery Program, which supports organisations to propagate local provenance plants for ecological restoration projects. This money will employ nursery staff for a day a week over two years to grow 20,000 plants that will be supplied to local revegetation projects.
A further $22,000 has been received from the Foundation for National Parks & Wildlife's Fire Wise Program to deliver a two day hands on community workshop on seed and cutting collection, propagation and revegetation planting to increase the community's capacity to support revegetation activities. The workshop will be open to land managers wanting to undertake revegetation on their properties or volunteer groups or people wanting to undertake volunteer work supporting revegetation activities. This will result in around 1500 plants being grown by attendees to establish or support revegetation projects.
The workshop will likely be run in September or October 2023 so keep an eye out for further information if you are interested in participating.
In addition, the Kangaroo Island Landscape Board and Foundation for National Parks and Wildlife will be working in collaboration with other project partners covering the Kangaroo Island, Yankalilla, Onkaparinga, Mount Barker, Adelaide Hills and Alexandria LGAs to develop and update educational resources associated with native revegetation activities.
The Foundation for National Parks & Wildlife's Fire Wise Program has been established to engage community members in activities such as:
investigation of fire retardant local native plant species and planting methodologies.
community education workshops, including learning through hands on seed collecting, plant propagation and revegetation planting.
the development of seed banks and living seed banks to increase the diversity and availability of appropriate seed stock.
revegetation planting together with local landholders on private land as well as on demonstration sites in public locations.
the development and distribution of educational resources, in written and/or digital formats.
collaboration with Aboriginal communities whenever possible.
development of ongoing partnerships as part of the FNPW Landscape Resilience program.
For more information please contact KI Native Nursery Manager Jo McPhee on 0437 322 692 or Sandy Eager, Landscape Resilience Manager, Foundation for National Parks & Wildlife on 0484 578 015.

This project received grant funding from the Australian Government through the Preparing Australian Communities local stream.