KI's Native Plant Nursery
On this page:
1. About the nursery

The Kangaroo Island Native Plant Nursery grows over 100 different species of KI native plants, which can be used for revegetating land, windbreaks, shelterbelts, coastal plantings and home garden use. The Nursery Manager is available to support landholders with advice about what best to plant where and how, to suit the conditions of their property.
The Kangaroo Island Landscape Board's Native Plant Nursery and seed bank was originally established at Parndana School with the help of Greening Australia to supply seed for direct seeding on farms in that area.
The nursery has in excess of 50,000 tubes of island-provenant plants – approximately 70% of these fill orders and the remaining 30% are available for general purchase.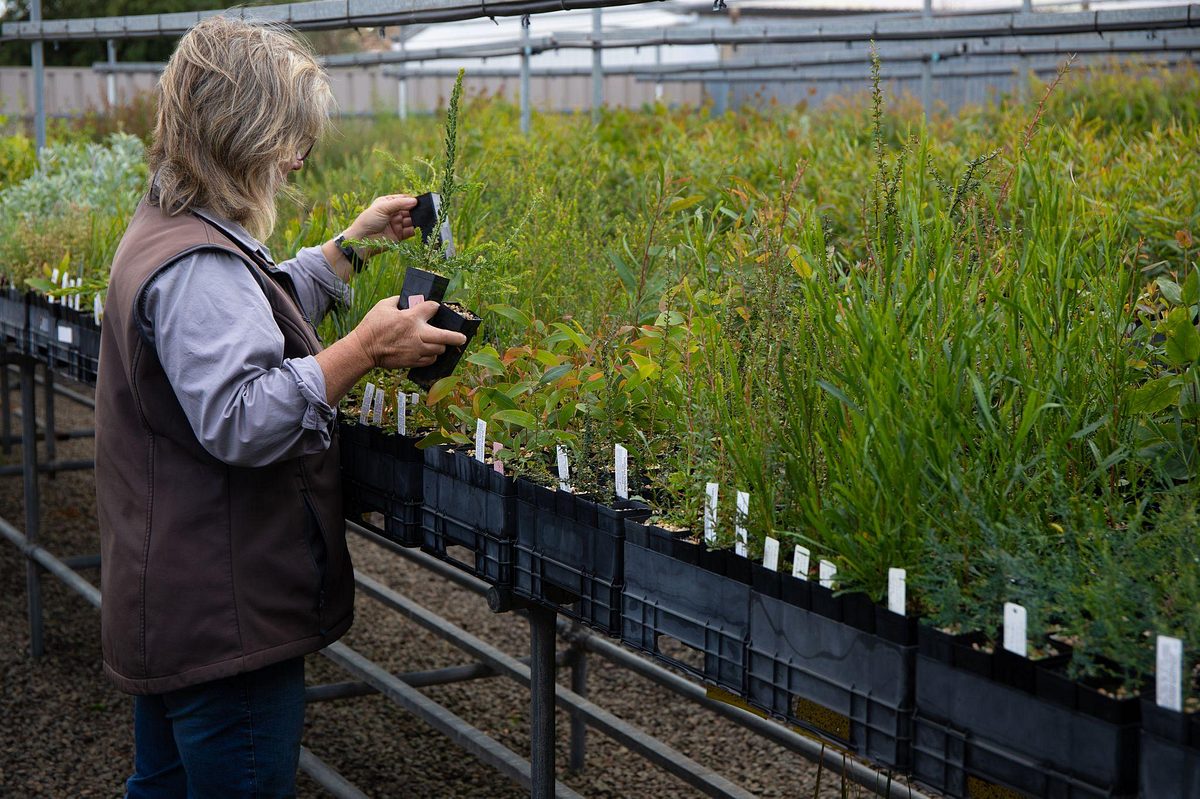 2. KI Native Plant Nursery: Fire Recovery Fund
Following the bushfires on Kangaroo Island which saw over half of the island burned, the Native Plant Nursery has established a fund with our partners at Nature Foundation SA to help restore habitat on the island, both for our wildlife and to help protect our farmers' livestock. If you would like to make a donation to the fund, you can do so here.
It is critical that the nursery is able to support recovery efforts on the island so please give generously. Your donation will be used to provide fire-affected landholders with a diverse range of native KI plants, together with tree guards (where needed) at no cost. All donations $2 and over are tax-deductible. You can also donate via Electronic Funds Transfer (EFT) to:
BSB:105 900 Acc No: 963747240
Name: Nature Foundation
Description: (Your name and) KINF
Please email info@naturefoundation.org.au to advise you have done the EFT.
Thank you to everyone who has supported the Fire Recovery Fund already because without habitat there is no wildlife.
3. About the plants
The nursery offers well over 100 different species of KI native plants, which can be used for revegetating land, windbreaks, coastal plantings and home garden use.
The primary species of plants available are eucalypts, acacias and melaleucas. Many of these have specific requirements about where they grow and some are listed as rare or endangered on KI.
Click here for information about KI native garden plants suitable for coastal areas.

4. Opening times
Please note: The nursery is currently growing plants for planting in 2023. It will be re-opening to the public in May 2023. It is currently only open to the public by appointment, or if the nursery gates are open please feel welcome to drop in. See 5. Further Information for contact details.
The nursery is located at 22b Telegraph Road, Kingscote.
4.1 Orders
For larger orders of 300 or more plants, we collect seed from around the area where the plants are to be grown, to ensure that provenance is continued. Plants grown from provenance seed have excellent survival rates as their genetics are adapted to tolerate those particular environmental conditions.
Orders are now closed for 2022/2023.
Take a look at our plant list here
4.2 Price list

Plants grown from seed (50 mm forestry tubes) $2.50 each
Plants grown from cuttings (50 mm forestry tubes) $4.50 each
All prices include GST.

A 20% deposit is required for orders over 500 plants at time of order.
A range of guarding materials and stakes are available to purchase from the nursery.

5. Further information
Enquiries can be made at any time of year to the Nursery Manager by calling 0437 322 692 or emailing kinativeplantnursery@sa.gov.au
6. Thank you to our supporters
The KI Native Plant Nursery is supported by the Kangaroo Island Landscape Board, through funding from the Australian Government's National Landcare Program and Bushfire recovery package for wildlife and their habitat and the Nature Foundation, Prince Albert II of Monaco Foundation, Foundation for National Parks & Wildlife and Collette Travel.


More information
KI Landscape Board's Native Plant Nursery Manager
22b Telegraph Road, Kingscote
0437 322 692