Art Meets Science: Ceramic razorfish shells growing new life on Kangaroo Island reefs
News article
|
04 March 2023
Science and art have collaborated to recreate two native oyster reefs around Kangaroo Island.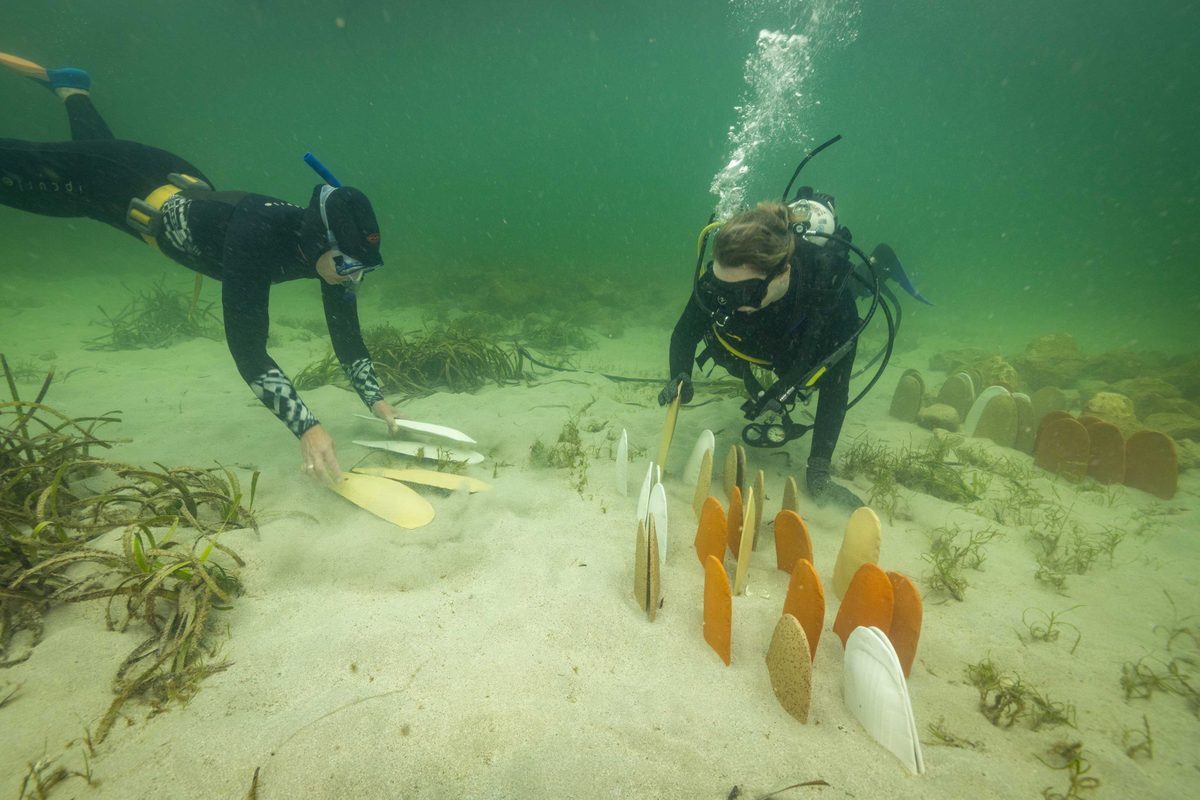 The Kangaroo Island Landscape Board has taken a ground-breaking collaborative design approach to shellfish reef restoration in South Australian waters.
In the first of its kind, the Board's biodiversity team has built a series of small-scale native flat oyster reefs in Kangaroo Island's (KI) north coast waters and will this autumn seed them with native flat 'angasi' oyster spat (settled baby oysters) wild-caught from the island's local bays.
The concept behind the reefs is to replicate what is already found in nature and what native oysters show a preference for in the wild.
To achieve this, the reefs are made of locally sourced and recycled biodegradable materials including limestone, oyster shells, terracotta tiles, ceramic forms and timber, providing a substrate for marine organisms to settle and grow on.
Ceramicist Jane Bamford has produced 1000 ceramic forms in the shape of razorfish or 'pinna'. KI Landscape Board Coasts Project Officer Alex Comino said "pinna are an important structural element found in the coastal waters around KI."
"Their shells provide habitat for a myriad of marine life, including oysters," Ms Comino said. "This relationship between pinna and angasi native flat oysters is extremely important on KI and around SA as there are so few suitable habitats left where native oysters are found."
Ms Bamford said her arts practice "involves collaborations with scientists to create forms to support habitat and threatened species".
"These handmade ceramic pinna forms are created from different clay bodies, offering different textures and chemical compositions," she said. "Similarly, the Kingscote Men's Shed have built terracotta tile modules resembling dense pinna beds. Trialling these different clays may identify a preferred substrate mineral composition for KI's native oysters."
Ms Comino said that every summer the small population of native angasi oysters surrounding Kangaroo Island release millions of larvae into the waters.
"These larvae drift in the tides and seek out suitable hard areas of seabed to settle and grow. Sadly, many of these larvae do not survive due to natural predation and the lack of suitable substrate to colonise. Angasi oyster reefs were once common along the southern coast of Australia. They were over-harvested in the late 1800's to the point where only a few pockets of native oysters still exist.
"The new reefs will have dual benefits, providing important habitat for recreational and threatened fish species, such as King George whiting and Southern calamari, pipefish and seadragons, with access from both Kingscote and American River boat ramps. At the same time, they will restore exploited native flat oyster reefs by providing a structure for angasi oysters to settle on and grow."
The Landscape Board has installed 1000 ceramic razor forms on their new reefs this summer, coinciding with the angasi spawning period. They are protected from waves and water currents in the new reefs between patches of limestone so naturally settled spat are protected while young.
"It's hoped that once the oyster reefs are seeded and established, they will continue to grow as native oysters are extremely gregarious, meaning they actively seek out habitats where other oysters live during the larval stage before settlement," she said. "The successful techniques may then be scaled up in the future."
A high-end seven minute documentary video by Ocean Imaging's Stefan Andrews has been made about the project which is available to watch here: www.greatsouthernreef.com/razorfish-reefs
This project has been assisted by the Australian Government through the Australia Council for the Arts, its arts funding and advisory body and the Fisheries Habitat Restoration Program.