Kangaroo Island's mother of native plants retires from Landscape Board to help growth of family and community
News article
|
14 August 2023
After 16 years removing Kangaroo Island's weeds and propagating its native plants, Veronica Bates is retiring to focus on family and the needs of community.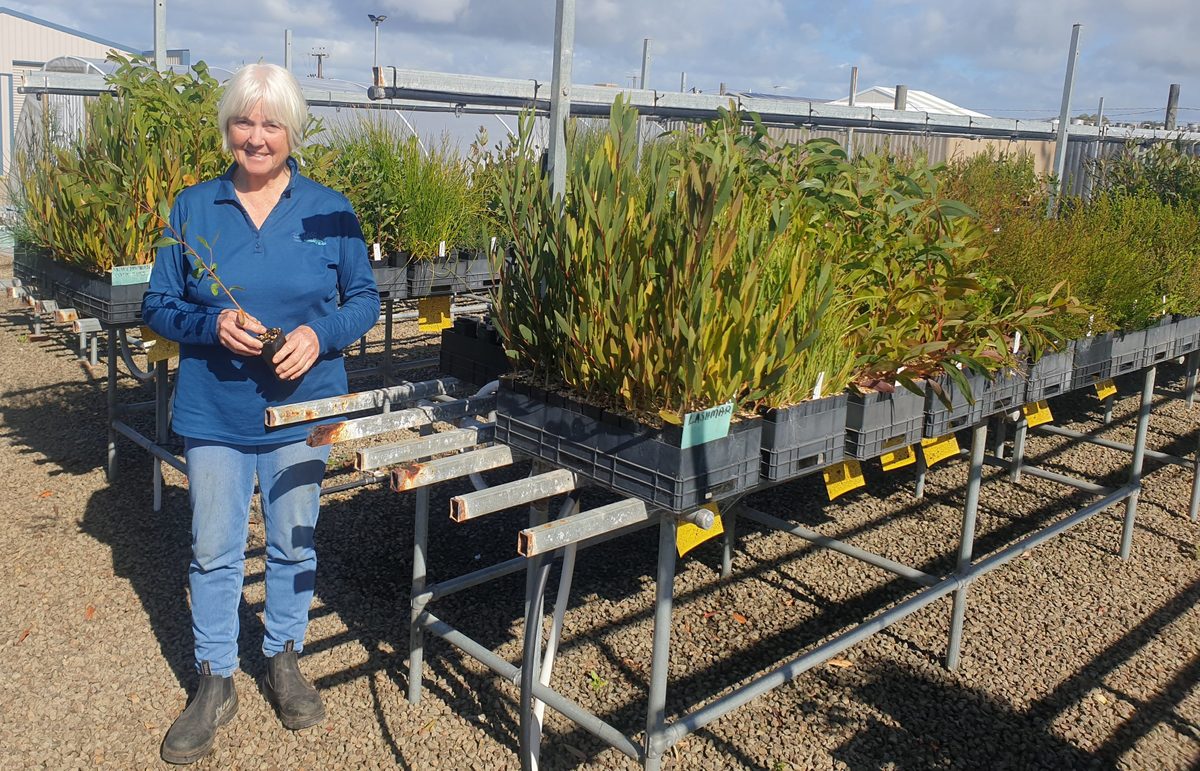 Veronica, who started working for the Board in 2007 and is now serving as an island councillor, said she remained passionate about the island's flora and will continue to help and advise where she can.

She began her work for the Board as an Animal and Plant Control Officer, conducting weed work with Keith Hodder. "After a few months I was also offered a half-time role as a nursery co-ordinator when Jack Dunstan resigned from the position," Veronica said.
"At the time the nursery was located at the Primary Industries compound on Arranmore Road. It was a small nursery, only holding about 8000 plants, mostly to supply the yearly On Ground Works projects with plants, and it wasn't open to the public for sales."
Veronica worked at the site with a casual employee for close to six years, where she began welcoming the public for purchases.
"Soon every possible space in the compound was taken up with makeshift benches and we increased the capacity to 11,000 tubestock," she said.
"During this time I was lobbying my General Manager for a larger nursery in Kingscote to facilitate the growing need for KI native plants and accessibility to the public. As a weed officer for several years, I thought if people had the option to plant our natives in their gardens there may be a lighter weed load in coming years."
In 2010 the nursery was moved to its current location on Telegraph Road, a site that could accommodate 54,000 tubes.
"I was able to take up full time nursery work and we grew lots of spares and opened to the public. It has grown exponentially since then, increasing in the number of species available to some 150 during certain years. I loved experimenting with new species, trying for a bigger range for people to use in their gardens.
"For many years the nursery was on a knife edge because of a lack of funding to keep it going and at times I didn't know whether to start the yearly propagation cycle. It was a tough job trying to convince people to use KI natives in their gardens as we don't have the big brassy species that flower all year round that attract butterflies and have a wonderful scent.
"But if you put different leaf shapes and colours together, you can make a formidable display that doesn't need to be watered over summer and our birds, bugs and bees love."
Veronica said that after 16 years of missing her grandchildren's birthdays and special events, she has decided to retire to "more fully immerse myself in their lives".
"I loved working in the nursery, growing it to what it is today, managing at the most 71,000 plants in one season. I enjoyed the relationships I formed with my customers, many of whom are now friends. I enjoyed advising and informing people and making sure the right plants went into their projects. I wanted success as much as they did.
"I will always be passionate about KI flora and will continue to give advice to people if they ask. I am humbled by the lovely comments I have received from my customers over the years and the trust they have put in me when I've finally managed to convince them to try a few local natives."
Media contact
Daniel Clarke
Communications and Media Coordinator
0407 771 072
dan.clarke@sa.gov.au