Wireless trap technology closes the net around Kangaroo Island's feral cats in successful community partnership trial
News article
|
30 August 2023
A first of its kind community-led feral cat management initiative that utilised cutting edge technology has helped remove 259 of the introduced predators from the Stokes Bay region on Kangaroo Island.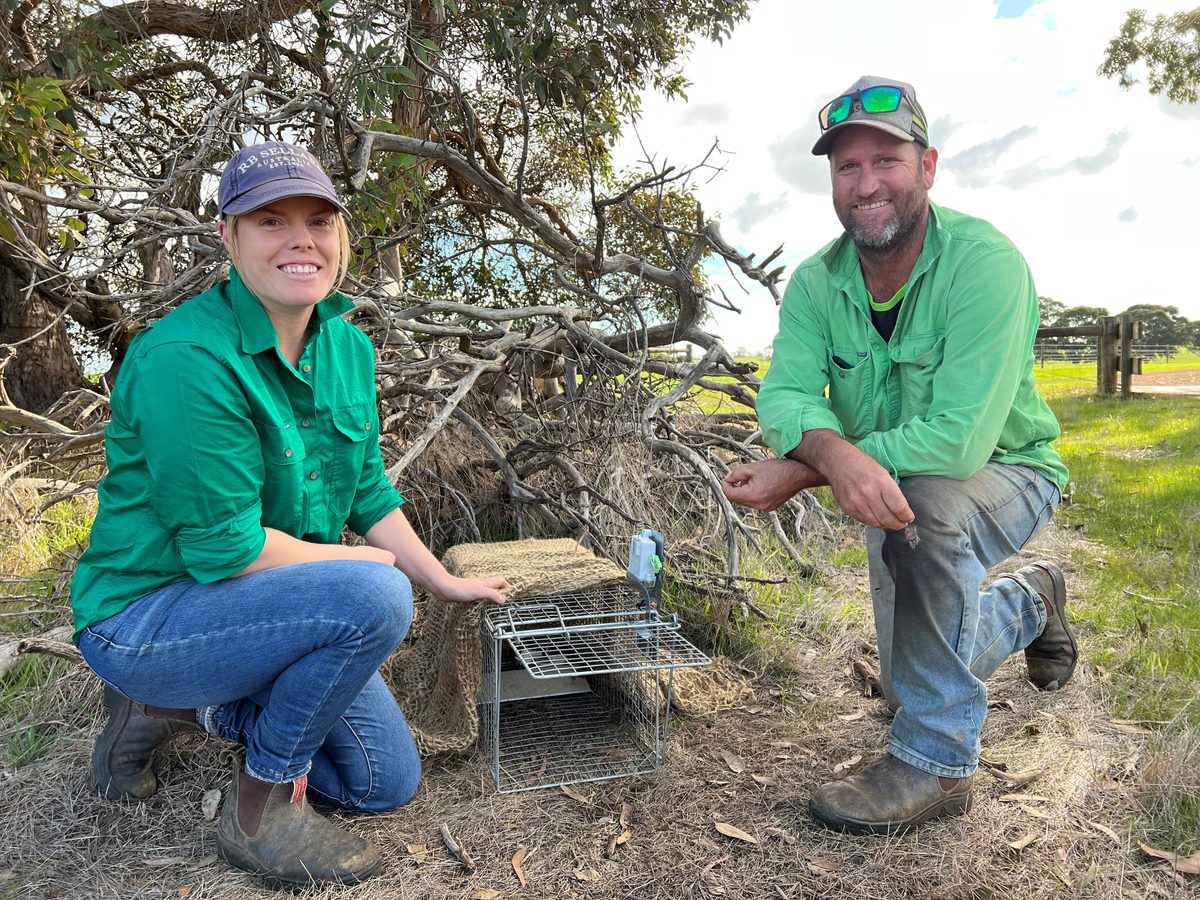 Over an eight week period earlier this year, 19 private landholders participated in a 'Farmer Blitz' trapping program. The Kangaroo Island Landscape Board (KILB) managed the program using cutting edge wireless cat trap alert technology connected to an app to keep tabs on troublesome tabbies.
In a result that outstripped expectations, 259 feral cats were removed during 13,209 trap nights over a 20,000 ha area.
AgKI co-Deputy Chairperson, Stephanie Wurst, said the trial had "proven a great success" because many producers had previously undertaken cat trapping on their properties individually, but not collectively within a program.
"Undertaking intensive trapping across the whole Stokes Bay region has provided an outstanding result and sparked an interest from producers around the Island who would like to be involved in future programs," Ms Wurst said.
Feral Cat Eradication Project Leader Paul Jennings said the project was a partnership between the KILB and AgKI, which was initiated when AgKI successfully received funding through the Livestock SA Kangaroo Island Bushfire Recovery Innovation Grants Program.
"The program has proven how effective new technology can be in removing feral cats from the landscape," Mr Jennings said. "Novel wireless trap monitoring technology has fundamentally changed the way introduced predator control programs are delivered and have overcome many of the challenges with this work."
Feral Cat Project Officer Chantelle Geissler, who coordinated the project on the ground, said the Encounter Solutions Celium trap alert technology "allows trap (open-shut) status to be monitored in near real time, meaning that only triggered traps need checking after landholders are alerted on their phones".
"The technology decreases person-hours required to check traps and increases animal welfare standards as trapped animals can be removed sooner," Ms Geissler said.
"We were extremely grateful to the landholders for their commitment throughout the program and patience shown to embrace the new trap alert technology and app. It allowed us to cover much of the landscape simultaneously, achieving broad-scale knockdown across a very large area."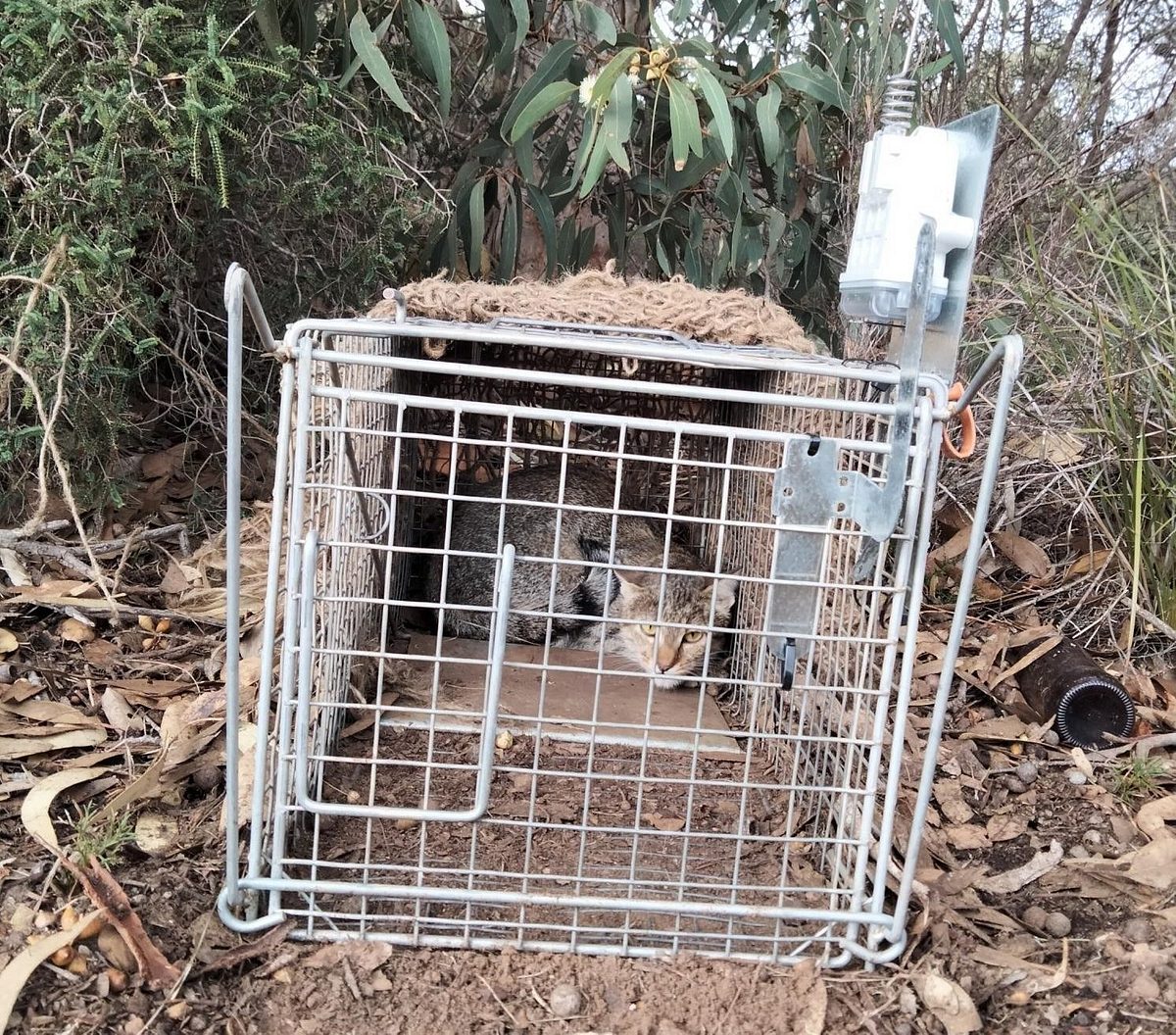 Ms Geissler said the proof of concept project demonstrated how new technologies could improve the efficiency and impact of control programs to build capacity and support community and the primary production sector to achieve long-term conservation and economic outcomes.
"The blueprint provided by this project supports future programs to effectively manage feral cats over much larger areas and recognises the critical role community has in achieving these objectives. Use of this technology improves efficiency, makes trapping easier and provides quality data enabling control programs to be delivered at landscape-scales and for strategic coordination to optimise benefits.
"Feedback from landholders during and after the trial was overwhelmingly positive, which has helped us to further improve the ease and efficiency this technology has to offer programs like this."
Ms Wurst said feral cats, as an apex predator, have been able to breed up large populations, which greatly impact the cost of sheep production on the Island.
"Consequently, the impact and prevalence of cat-borne diseases such as Sarcocystosis and Toxoplasmosis occur in much greater rates on the Island than other regions across Australia," she said.
"The use of this technology means as a producer I can assist in trapping without having to commit a large amount of time and resources to constantly monitor traps. It was a really engaging process, being able to share knowledge and learnings with other landholders throughout the program. There was great participation from producers across the region, we all want to play a part in not only reducing the impact of feral cat populations on the cost of production, but reduce their impact on native wildlife and the environment.
"Future programs will look to work with more landholders and cover a greater area of the island. If we could continue to grow this initiative towards an annual winter program, it will allow us to develop better ways to manage feral cats, as well as support island-wide eradication in the future."
Media contact
Daniel Clarke
Communications and Media Coordinator
0407 771 072
dan.clarke@sa.gov.au