Young glossy black-cockatoos get first look of outside world as breeding season takes flight
News article
|
18 May 2023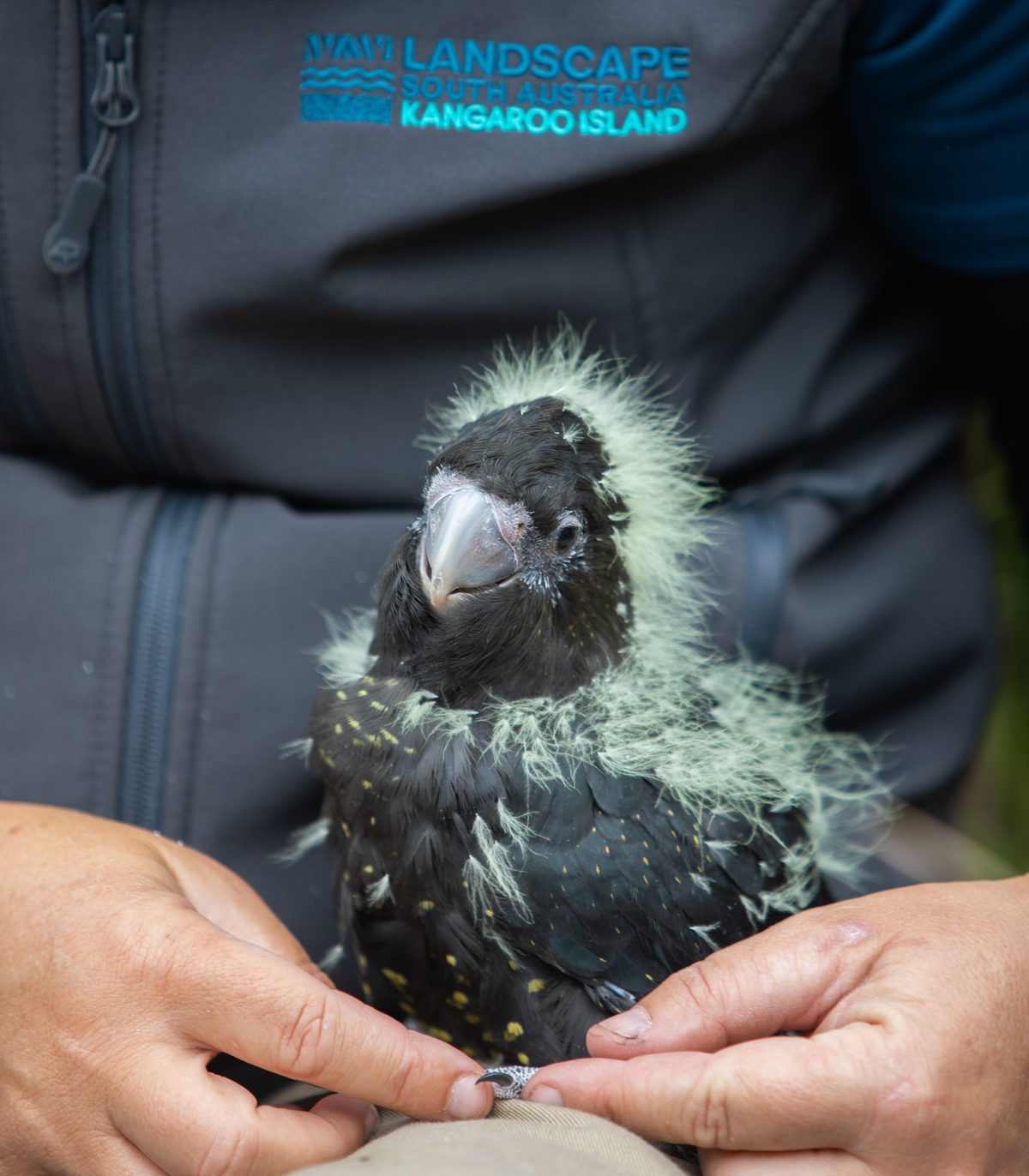 Kangaroo Island's endangered glossy black-cockatoo population has produced an early cluster of nestlings in a welcome boost for a species surviving in small pockets of unburnt vegetation.
Twenty-three nestlings have already been banded by members of the Kangaroo Island Landscape Board's glossy recovery team, who have given the young birds an early peak of the world outside their nest boxes. It is expected around 40 chicks will hatch over the course of the breeding season.

Glossy black-cockatoo banding
Project Officer Karleah Berris said the early cluster of nestlings was a promising sign for a species only about 400-strong. "Initially after the Black Summer bushfires we were really worried because so much habitat had been taken out but I'm amazed how resilient they've been," Ms Berris said.
"There are quite large groups of birds persisting in these tiny patches of habitat in the west of the island. We're also feeling really positive because we've had so much population growth on the eastern end in unburnt areas."
Ms Berris said each of the birds located in the specially designed nest boxes have been banded with individual numbers in order to trace them throughout their lives.
"Carefully deployed bands by experienced, trained staff are such a fantastic way to collect data. On that band is an individual number that stays with that bird for life. When the bird is flying we can use a very good camera to zoom in and see that little number. From that, we know where it's come from and can decipher how far it moves, where it resides as an adult, and where it breeds as an adult.
"We've still got birds out there that were banded in the late 1990s when this banding program started. They are still around and still breeding. We did spot a 25 year old bird last year and that's one of the oldest banded. He's still out there and healthy and getting around with his flock."
Ms Berris said that given glossy black-cockatoos only raise one chick per year, the population recovery over the past 25 years has been "spectacular". "There were 158 birds in 1995 and our last count was well over 400. That's been achieved through ongoing management and protection of nests to keep those nestlings coming through. However population growth has waned in recent years, likely due to large areas of drooping sheoak being burnt during the 2019-20 fires.
"Glossy black-cockatoos represent a truly conservation-dependent species whose survival is reliant on human management actions. The Kangaroo Island Landscape Board knows what works, how to deliver it, and we've monitored the incredibly positive outcomes achieved through these actions.
"These birds only eat drooping sheoaks which are really important to protect. Since the fires we've planted almost 25,000 sheoaks across the island. That's about 50 hectares of additional sheoak out there. They only take about 8-10 years to start producing seed so the future is looking brighter."