KI Landscape Board to Start Oyster Reef Construction in Kingscote and American River this December
News article
|
30 November 2022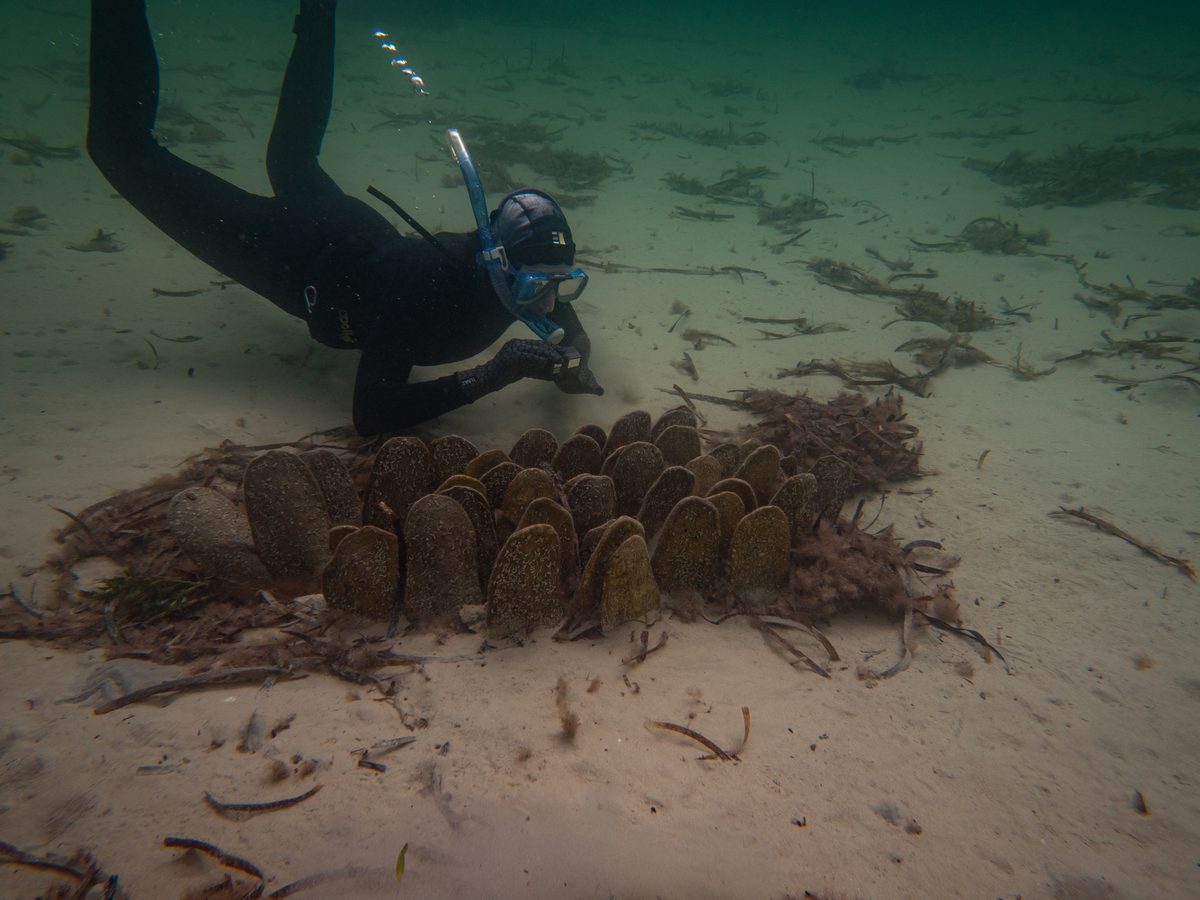 KI's native oyster reefs to be built in time to catch wild spat!
In an effort to restore Kangaroo Island's lost reef ecosystem, the Kangaroo Island Landscape Board (KILB) will begin construction of their native flat oyster reefs at two sites this December.
Every summer, native angasi oysters release millions of larvae into the waters surrounding Kangaroo Island. These larvae drift in the tides and seek out suitable hard areas of seabed to settle and grow. Historically, this would have included shellfish reefs made up of generations of living and dead oyster shells. Angasi oyster reefs were once common along the southern coast of Australia. They were over-harvested in the late 1880's, to the point where only a few pockets of native oysters still exist. The KILB project aims to improve fish habitat and access for recreational fishers near Kingscote and American River. Oyster reefs will provide suitable habitat for King George whiting, other fish, squid, and native oysters. The KI Landscape Board plans to build 20 small reefs in 3-4 metres of water, which will provide suitable areas for the young oysters to live on. Forming the base of each reef, 200 tonnes of local limestone will be deployed to sites just offshore of Kingscote and American River. Alistair Scott-Young's team from Goolwa PipiCo will be using local boat ramps to load and deploy the rock. Each build will coincide with the timing of the natural spawning period of native oysters and provide a preferred substrate for oyster spat to attach and grow.
Other materials including timber and terracotta tile reef modules made by the Kingscote Men's Shed and ceramic razorfish forms created by artist Jane Bamford will be installed throughout summer by the Landscape Board with some help from The Oyster Farm Shop in American River.
"Native angasi oysters are a unique part of our businesses at American River and for Kangaroo Island's brand" explains Ken and Amanda Rowe, owners of The Oyster Farm Shop and KI Shellfish.
"We began this reef restoration initiative back in 2018 with the KI Landscape Board as part of our commitment to restorative aquaculture principles, so it's great to finally see it happening. We are excited to watch these reefs establish and the experiences this will provide for fishers and tourists visiting the island."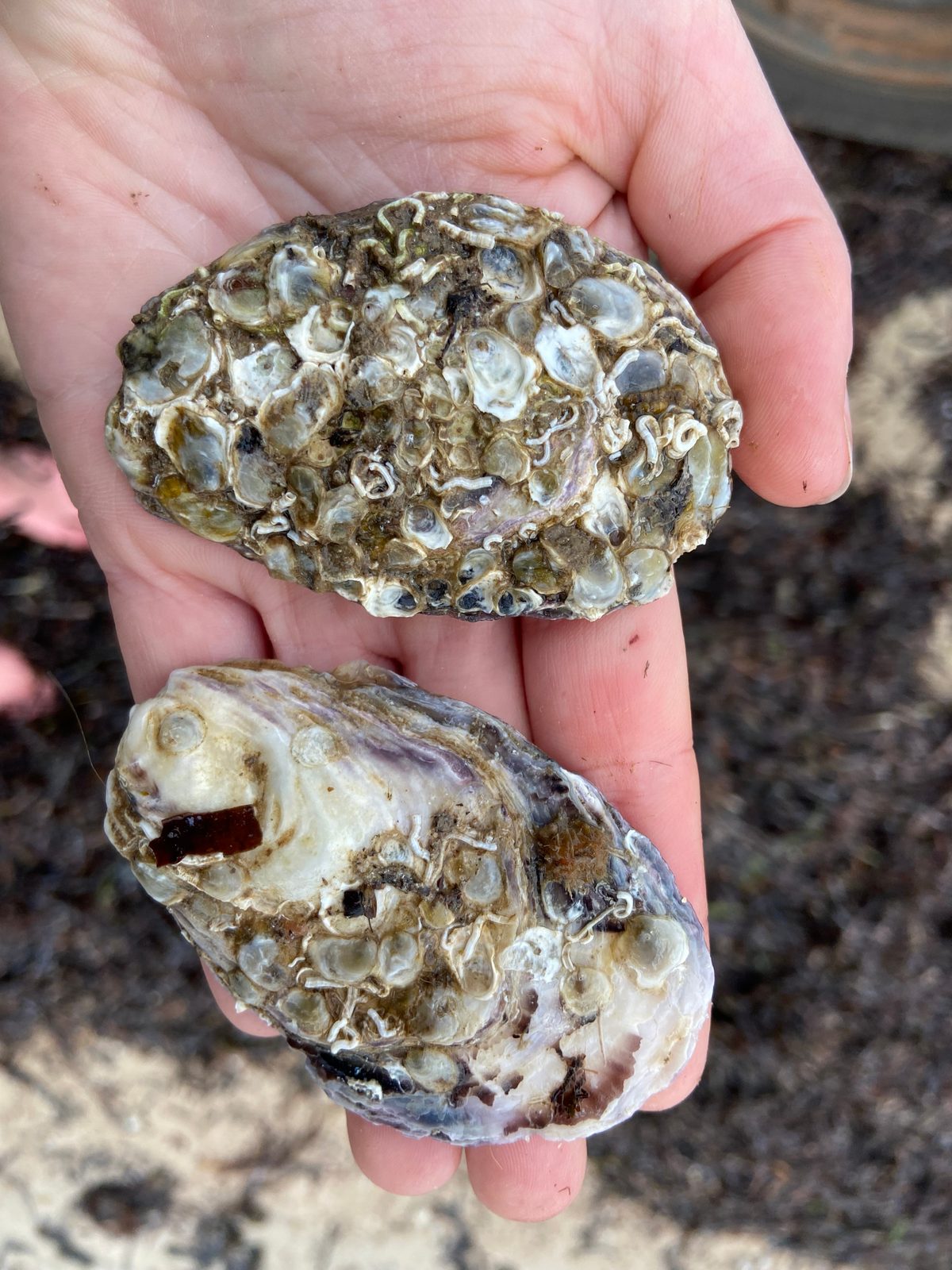 Working with local oyster growers during the 2021-2022 summer spawning season, the Landscape Board trialled a variety of materials to collect local baby oysters (spat). These collectors were installed in the bay where our small population of wild adult angasi breed in high numbers. Spat settled onto each material which will be used to construct the reefs (ceramic, tile, timber, limestone and shell), indicating that we can expect natural recruitment across the new reefs.
To give natural recruitment to the reefs a boost, spat collection will take place this spawning season as well. Paul Jennings and Alex Comino from the Landscape Board will install collectors made from discarded oyster shell in November, and use the collected spat to seed the new reefs in late summer.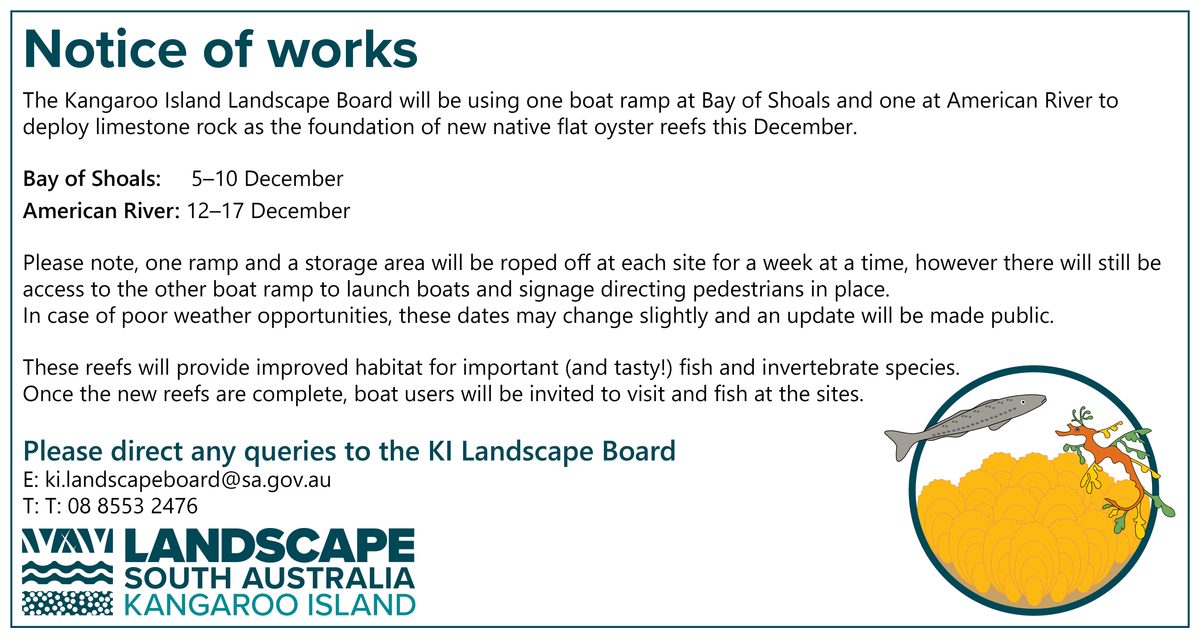 Limestone deployment is scheduled to be completed before the busy school holiday period at the following boat ramps:
5th December – 10th December, Bay of Shoals Boat Ramp
12th December – 17th December, American River Boat Ramp
For more information contact Alex Comino on (08) 8553 2476 or alexandra.comino@sa.gov.au or
visit our Kangaroo Island Oyster Reef Restoration Project page.