Mallee seeps: taking back profitable land
News article
|
26 May 2022
Eyre Peninsula farmers who experience Mallee seeps on their properties in the future, are set to benefit from a three-year project that the Eyre Peninsula Landscape Board is now finishing up, which has trialled the best management options for local land.
The Mallee seeps project is supported by the Eyre Peninsula Landscape Board with assistance from the Regenerative Agriculture Program, through funding from the Australian Government's National Landcare Program.
Eyre Peninsula Regional Agricultural Landcare Facilitator with the Board, Amy Wright, who has been involved with the trials on five farms at Kimba, Rudall and Lock, says there have been significant advances in management options over the past three years of the project.
"Working with farmers to ensure the most appropriate management strategies were put in place - and in line with practical solutions for them to employ - was a successful action in the project," says Ms Wright.
"We know that it's vital for local farmers to be involved in these trials so that there's a greater chance of them adopting these best practice management strategies that we now know are suitable for our local properties."
The Eyre Peninsula has two types of water table-related saline land degradation. The first is associated with established creek lines through very large catchment areas with highly saline shallow water tables. These cannot be easily managed or rehabilitated by individual farmers at a local paddock level, as problems of water flows need to be addressed on a larger and coordinated scale, with significant groundworks required to change water flows and discharge impacts.
The second type is Mallee seeps. They are a direct result of excess water passing through sandy rises and collecting as perched water tables on less permeable clay layers beneath, causing land degradation.
"Wet periods and high summer rainfall events like those experienced in February across the Eastern Eyre Peninsula, strongly impact the initial seep development, while the extended dry periods increase capillary rise and evaporation that concentrate salinity in the surface layers," says Ms Wright.
Chris McDonough of Insight Extension for Agriculture who has been the lead researcher in the project explains this further.
"Mallee seeps have become more prominent in recent years as modern farming systems control deep-rooted perennial summer weeds on surrounding sandy catchment areas that contribute recharge water into the perched water tables where the seeps and scalds form," Mr McDonough says.
Interventions to help manage Mallee seeps include planting lucerne and puccinellia. A farm at Kimba trialled this method with great success.
"Planting lucerne and puccinellia has definitely proved to be effective for Eyre Peninsula scalds," Ms Wright says.
"We also trialled adding sand to seep sites and pumping water out of them."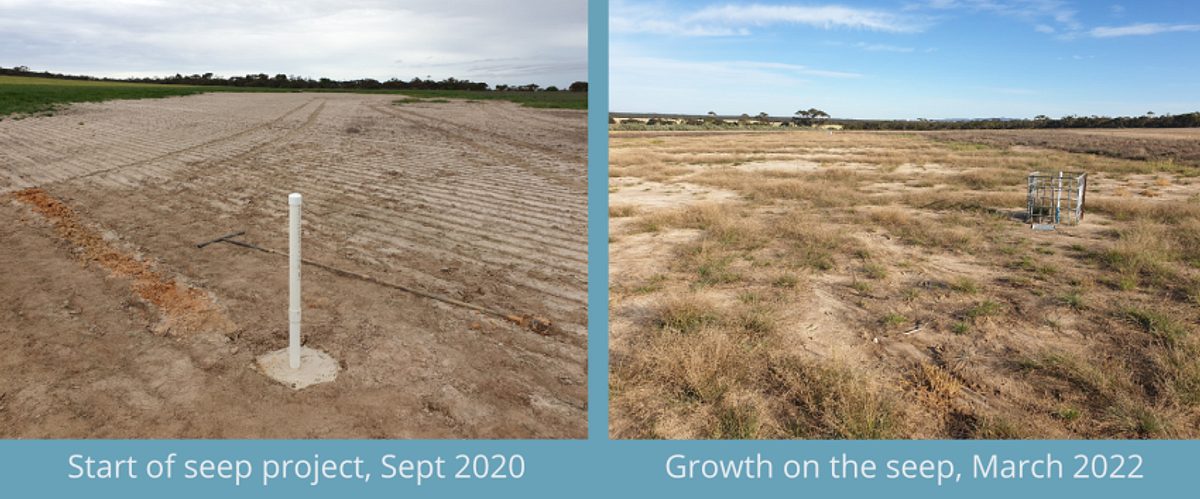 Local farmers who want to know more details about the results of these trials are invited to join the project team for a workshop at Rudall on June 16.
An online decision tree which helps farmers correctly identify the type of salinity and the appropriate management actions depending on severity of the issue, has also been developed in conjunction with Mallee Sustainable Farming grower group. The decision tree incorporates a series of videos about the trial outcomes.
The first two videos – about managing creek line salinity and planting lucerne and puccinellia to manage a seep – are available now on the Board's YouTube channel; while the decision tree is available on the Mallee Sustainable Farming website - https://msfp.org.au/mallee-seeps-decision-tree/.
More details about the resources now available to farmers will be discussed at the Rudall workshop which will be hands-on with consultant Chris McDonough presenting the findings from the three-year project as well as providing tools to identify and devise practical management plans to reduce the impact of Mallee seeps.
RSVP by June 10 for the workshop to Amy Wright on 0467 004 555, Sustainable Agriculture Project Officer Josh Telfer on 0460 000 290 or visit https://bit.ly/MalleeSeepsEP.