Dog fence on track for 2024 finish
News release
17 December 2021
Up to eight road trains are needed to deliver fencing materials to rebuild each new stage of the South Australian Dog Fence.
Already 310km of fencing has been completed, another 460km is underway and approvals have been completed for sections of fence at Moolawatana (129km) and Wertaloona (70km).
In the Marree Local Dog Fence Board area, the 130km leg at Mundowdna is underway, Muloorina (87km) is completed, and a realignment has been proposed along Finniss Springs/Callanna boundary to avoid floodways.
The longest stage to date of 196km at Mt Eba/Millers Creek stretch is also underway with a realignment through Millers Creek to move the fence out of many small, but steep gullies.
Further west, a private section at Malbooma will require a mix of steel and wood posts, and electric fencing to prevent incursions by wombats and camels; while the Penong Local Dog Fence Board area will need about 60,000 wooden posts to cater for saline soils.
Department of Primary Industries and Region's Dog Fence Rebuild Manager Lindell Andrews said the first stage at Erudina and Curnamona had allowed for the trialling of the fence design, materials and actual costs.
She said the $25 million project had been challenged by rain, industrial strikes, pollution restrictions, container shortages, increased steel prices and delivery logistics.
SA Dog Fence Board chair and National Wild Dog Coordination Committee chair Geoff Power said four properties alongside the fence had now restocked sheep after decades of wild dog problems.
He said while strategic ground and aerial baiting and trapping programs had made a difference, this was not the time to relax.
"We need to stay proactive rather than be reactive once the fence is completed, by strategically ground and aerial baiting and trapping," he said.
The replacement of the SA section of the dog fence is due to be finished by June 2024.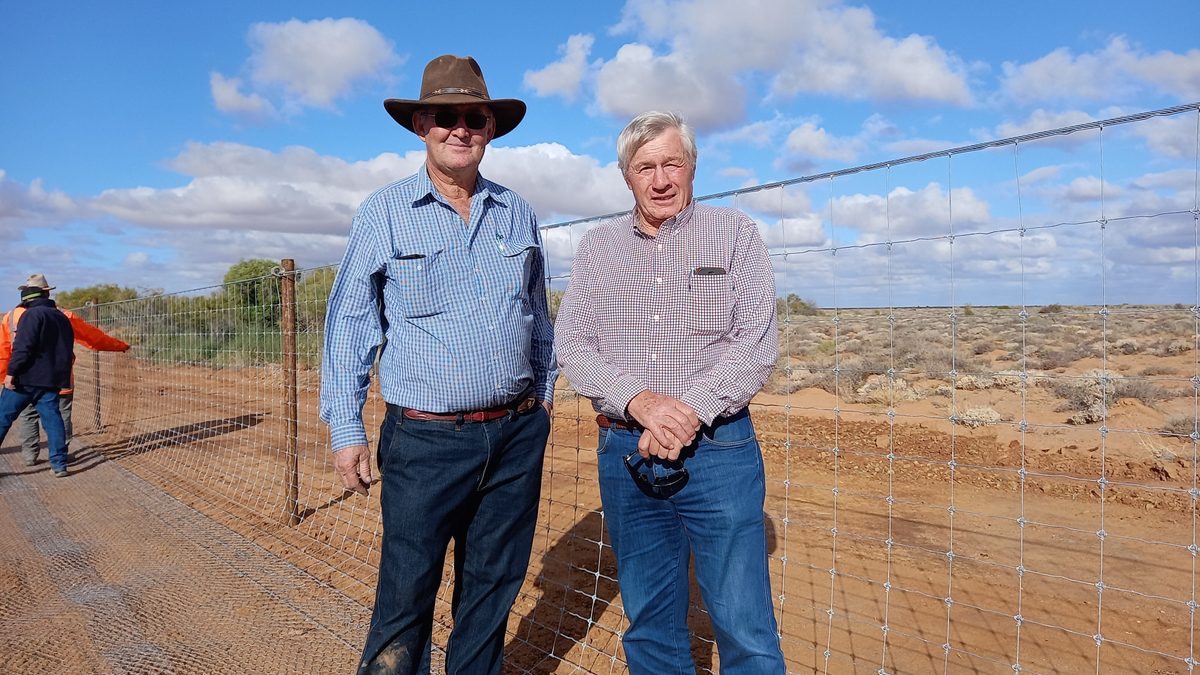 Marree Local Dog Fence Board chair Peter Litchfield and SA Dog Fence Board chair Geoff Power inspect the rebuild.