Getting on top of a pig issue
News article
|
17 December 2021
A record number of feral pigs were culled in the Far North Channel Country through an aerial operation funded through the Coongie Wetland Wonders project, and delivered by the SA Arid Lands Landscape Board. It's the largest number of pigs the board has controlled, and has highlighted the scale of the problem across some areas of the region.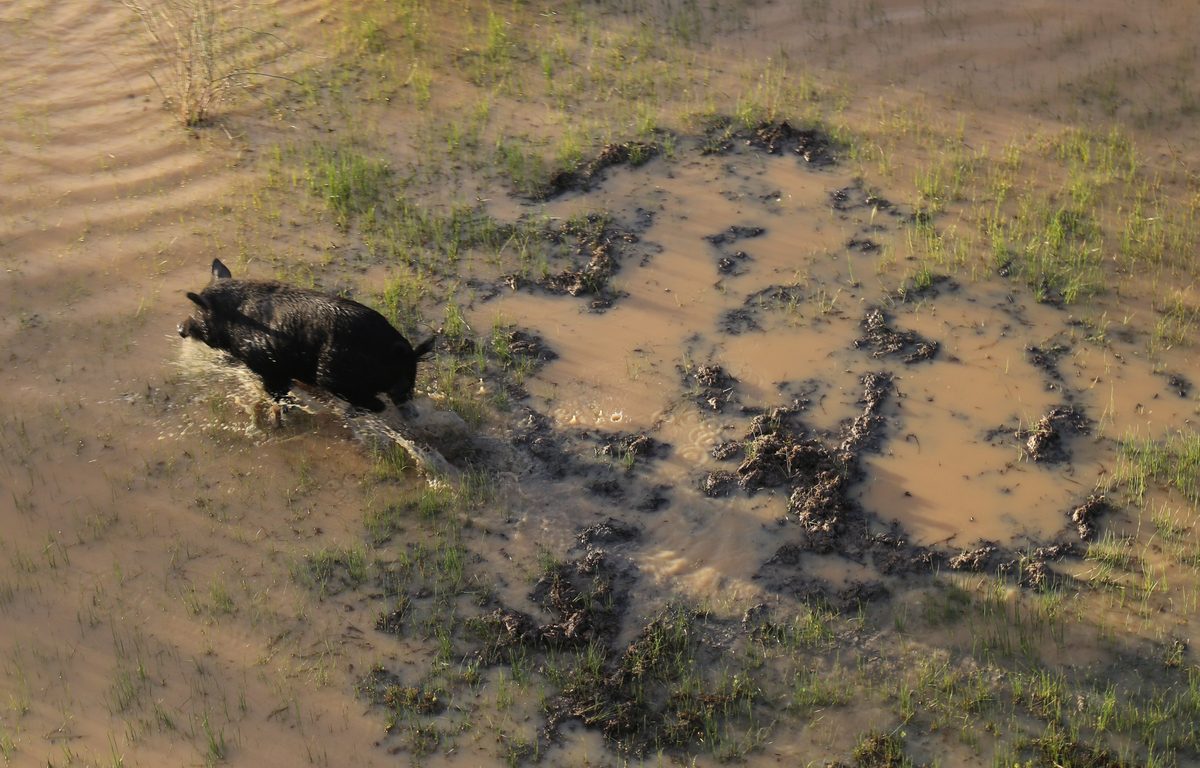 An aerial shoot in mid-December controlled more than 884 feral animals in the Far North Channel Country, 853 of those feral pigs. Also included in the tally were large feral herbivores and feral cats. It's been two years since the last aerial controls in the area occurred with only 19 pigs controlled, highlighting the rapid rate feral pigs can breed from.

The $60,000 exercise over the Coongie Lakes Ramsar area and five nearby properties complemented additional aerial pig control by the Desert Channels Group, which removed more than 2000 pigs in neighbouring channel country in Queensland. The shoot was supported by skilled marksmen from the Department for Environment and Water.
Reports of pig sightings received by the SA Arid Lands Landscape Board has increased considerably in the outback channel country, with Queensland floodwaters pushing into South Australia posing a risk of further spread of pigs.
Board staff have met with land managers across the Marree-Innamincka district to discuss pig control options and strategies that can be used to help address the problem. This includes complementing aerial control with other forms of control by land managers, in liaison with their neighbours and trialling the newly-developed Hoggone© (Sodium nitrite) pig baits.
A regional SA Arid Lands Feral Pig Strategy is being developed and Feral Pig Management Property Plans will be prepared in consultation with affected properties.
Land managers are encouraged to record pig sightings and activities on the Feral Scan app. Contact Marree-Innamincka Community Landscape Officer Charlie Eager if you need to find out more about using the app on 0437 795 792 or charlie.eager@sa.gov.au
SAAL Team Leader, Landscape operations and projects Greg Patrick said the SAAL Landscape Board was keen to support a coordinated approach to pig control across the region.
He said staff would also meet with land managers in the North East Pastoral district that have seen signs of recent pig activity to discuss management options.
The aerial cull was completed as part of the Coongie Wetland Wonders project, which is supported by the SA Arid Lands Landscape Board, through funding from the Australian Government's National Landcare program.