Wild Dog news
News article
|
21 June 2023
News from the Biteback program includes updates on baiting efforts, aerial control, the latest webinar and spring service dates.
Inside Fence Ground Baiting (2022-23 Financial Year)
The number of properties baiting inside the dog fence in the past six months has reduced by three per cent and the total number of baits distributed to landholders has also reduced by almost 12,000 baits. There is concern that a reduced wild dog control effort may result in an increase in wild dog numbers, resulting in increased stock impacts.
The intent of the Wild Dog Policy and mandatory baiting levels is to ensure everyone does their bit to help reduce wild dog impacts, as baiting needs to be administered at a landscape scale to be effective.
Please contact the board's biosecurity officers if you are unsure of baiting requirements. The team can help you plan to secure meat baits or order manufactured baits. They will be reaching out to all properties who may not be regularly achieving their minimum baiting requirements, to ensure all properties meet their responsibilities in the future.
It's important to remember while wild dog activity may not be visible on a property, it doesn't mean there are no wild dogs present. It has also been shown that a broad-scale wild dog baiting reduces fox numbers, which impact production and biodiversity
Monitoring of wild dog activity and impacts
Rainfall has provided favourable conditions for wild dogs to persist inside the dog fence. This is consistent with the increase in wild dogs seen and controlled in the past six months. Consistent dog control through baiting, shooting and trapping will reduce the future impacts expected to result from an increase in population.
This graph shows the number of wild dogs controlled through shooting or trapping, wild dogs seen,and reported stock loss inside the dog fence for the since spring 2020.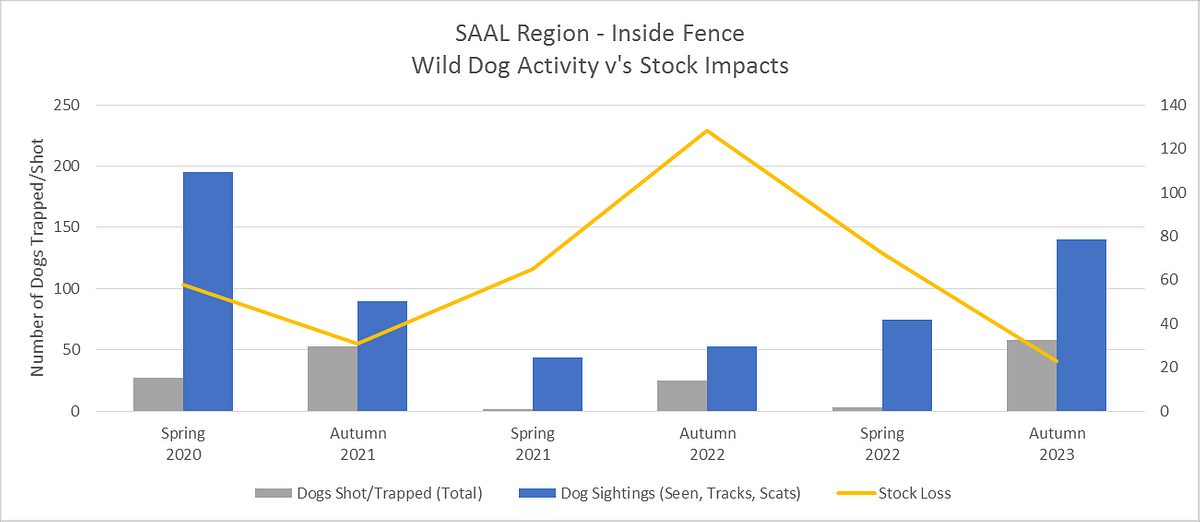 There has been a decline in properties reporting wild dog activity – either through hard copy maps or the WildDogScan app. All property staff can report through the app.
The information received by the board helps to guide future management programs. A map reporting no wild dog activity on your property is valuable, because it helps determine where extra wild dog control effort is needed.
The graph below shows a large decrease in properties reporting wild dog activity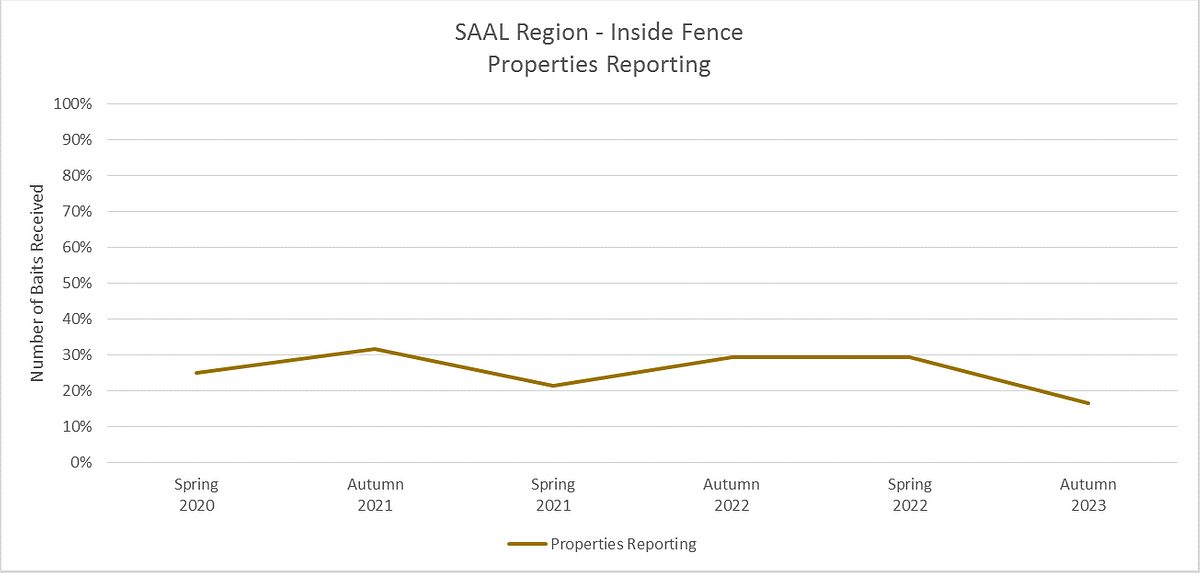 The spring 2023 hard copy paper maps will be posted in July 2023. Pleasereturn your autumn 2023 or older maps when you receive the new one. If you are using the app and need help reporting no dog activity, please contact the board's biosecurity officers.
Aerial baiting
The 2023 aerial baiting program was completed in June 2023 with18,375 baits distributed across 25 properties.
Outside fence ground baiting (2022-23 Financial Year)
Properties outside the dog fence are not required to carry out any dog control, unless in the 35km buffer zone, and are restricted to one bait per two square kilometres. Injection services are only offered in spring for landholders that request it due to high wild dog stock impacts.
This graph below outlines the number of baits landholders outside the Dog Fence have used in the previous six financial years.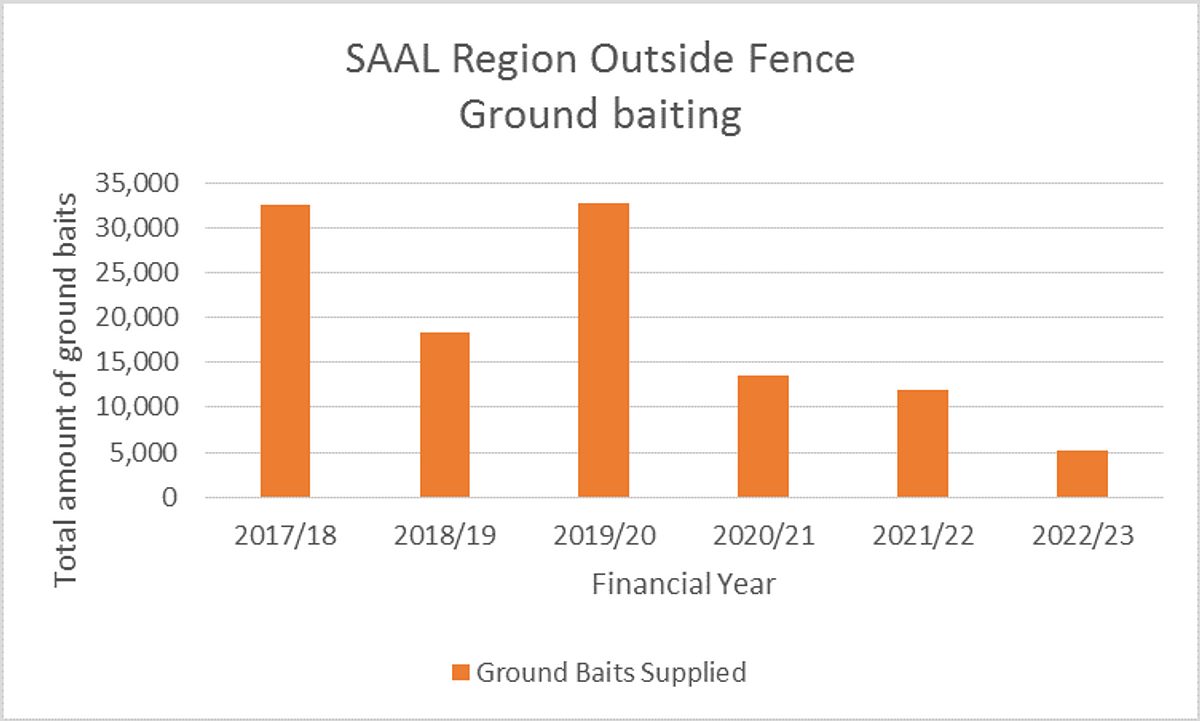 Biteback webinar
A Biteback webinar on 15 June provided a refresher on the State Wild Dog Policy, an update on the Biteback program and a brief presentation about the new Meat & Livestock Australia funded program run by PIRSA.
You can catch up on all the Biteback webinars on our Youtube channel here
Proposed dates for Spring injection services
Tentative dates have been set for coordinated spring injection services:
Port Augusta/Quorn: 25 September
North Flinders/Marree: 25-28 September
Gawler Ranges: 4-5 October
Kingoonya/Gawler Ranges: 9-12 October
North East Pastoral: 16-19 October
Marla/Oodnadatta: 30 October-3 November
Marree/Innamincka: 6-10 November
If the proposed dates clash with community events, please contact the biosecurity officers as soon as possible on 8429 9666 to allow dates to be changed.